Patriots
Bill Belichick told Cordarrelle Patterson the Patriots will unlock his potential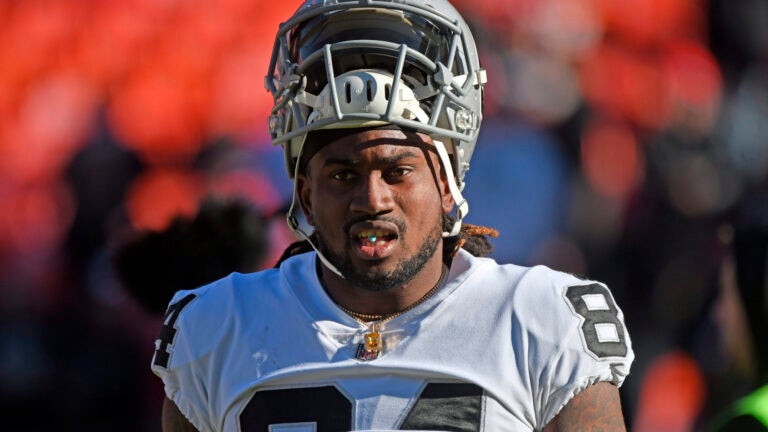 The Patriots acquired Cordarrelle Patterson in an offseason trade with the Oakland Raiders and Bill Belichick plans to maximize the newcomer's potential. Patterson said that he found out about the trade from Raiders general manager Reggie McKenzie and then heard from his new head coach.
"I don't know what you've been through in the past, but basically, we get the job done here," Patterson says Belichick told the wide receiver. "We're gonna make you the player that you should be."
Patterson relayed the story during an appearance Wednesday on Good Morning Football. He said he couldn't be in a better position than the one he finds himself in with the Patriots.
"I was excited. Like you said, they make it to the Super Bowl almost every year," Patterson said. "If they don't, they win it."
After talking to Belichick, Patterson made the trip to Foxborough to meet with Josh McDaniels.
"Just put me on the field," he told the offensive coordinator. "It will take care of itself."
"That's something I've been doing my whole life, making plays, playmaker. I don't like when somebody tries to label me as this or that, I just go out there and do what I'm supposed to do and have fun while I'm doing it."
The 27-year-old has five touchdowns as a kick returner, as well as 163 receptions for 1,625 yards over the course of his five-year career. Dion Lewis, the Patriots' primary returner in 2017, signed with the Tennessee Titans in March. Patterson said that the NFL should not eliminate the kick return despite concerns about injuries during the play.
"That's just crazy, man. That's nonsense. They're just trying to take the fun out of some people's game," Patterson said. "Some people only play special teams. That's what they're in the league for. Me, I make my bread and butter out of that."