Patriots
Bill Belichick and Linda Holliday just got an adorable new puppy
Meet Nike Brinkley Belichick.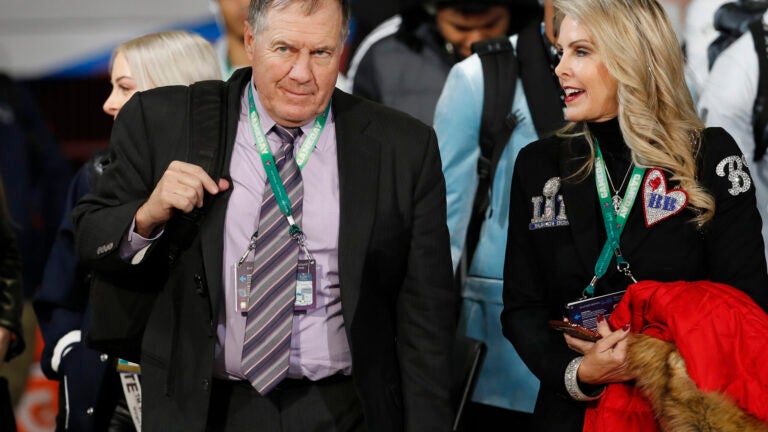 The Patriots have stayed busy this offseason, but coach Bill Belichick's latest acquisition is perhaps the cutest one of all.
Belichick's longtime girlfriend Linda Holliday shared a photo of the couple's new puppy, Nike Brinkley Belichick, on Instagram Wednesday. According to Holliday's post, Nike is an Alaskan Klee Kai with one blue eye and one brown eye.
Holliday's stylish twin daughters, Ashley and Kat Hess, also shared a photo of the pup on their joint Instagram account. They captioned the post: "His name is Nike, but we're really hoping he doesn't become a shoe dog. "
Per Instagram, Holliday acquired Nike last Tuesday from Team Klee Kai, a Quincy-based breeder. The American Kennel Club describes Alaska Klee Kais as an energetic and brilliant breed, who are often wary of strangers.
Emily Hua, the owner of Team Klee Kai, said Nike was part of a litter of four puppies born on Jan. 29. Hua told Boston.com Nike "was a bit more rambunctious" compared to his siblings, but "tender and sweet" at the same time.
When Holliday expressed interest in purchasing him via Team Klee Kai's Facebook page, Nike was 8 weeks old — the ideal age for a puppy to be taken home, according to Hua. Because the breed is relatively rare, Hua said she hasn't had much trouble in generating interest for the puppies.
As for whether Nike will stay so tiny?
Alaskan Klee Kais come in three sizes: toy (7 pounds), mini, and standard (20 pounds). Hua said Nike is likely a mini.
https://www.instagram.com/p/BhHg_dBhvLB/?taken-by=teamkleekai