Patriots
Here's why Patriots owner Robert Kraft visited imprisoned rapper Meek Mill
"It makes it clear to me that we have to do something with criminal justice reform."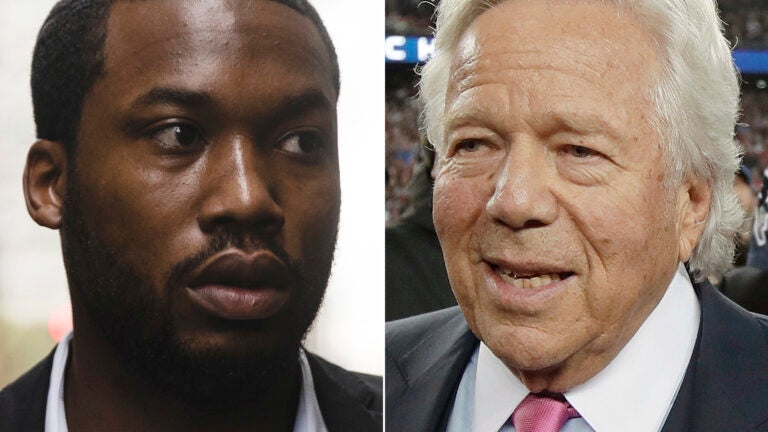 Bon Jovi isn't the only music star with Robert Kraft on his side.
The Patriots owner is calling for the release of imprisoned rapper Meek Mill, an "amazing young man" who Kraft says has been unfairly punished. While the 76-year-old billionaire's outspoken support this week is perhaps unexpected, Mill's prison sentence has been the subject of criticism since it was handed down last November.
"It's just sad," Kraft told reporters Tuesday, after visiting the 30-year-old rapper at a prison outside Philadelphia. "This guy is a great guy and shouldn't be here."
Why is Mill in prison?
Mill, a Philadelphia native whose legal name is Robert Rihmeek Williams, was sentenced to two to four years in prison last November for two arrests earlier in the year that violated the terms of his probation. The decision by Judge Genece E. Brinkley was immediately criticized as heavy handed for multiple reasons.
First, Mill's probation dated all the way back to a 2008 conviction on gun and drug charges. In addition, the premise of the then-19-year-old's arrest has been called into question. Mill has said he was physically assaulted by police during the arrest and, in February, a former Philadelphia cop accused one of the arresting officers (whose credibility was already under doubt) of falsely testifying that Mill pointed a gun at police.
Furthermore, Mill's legal team has accused Brinkley of taking an unusual interest in his case. The Pennsylvania judge, who repeatedly extended the rapper's probation for minor infractions, handed down the latest prison sentence against both the recommendations of prosecutors and Mill's probation officer. His lawyers have repeatedly argued Mill is being targeted for his fame.
"(Meek's) frustrated, really frustrated and knows he's being treated different than anyone else," Mill's attorney, Joe Tacopina, told CNN last November. "If his name was John Smith, he wouldn't be in jail and he certainly wouldn't be on probation."
Mill's first violation of his probation came in a March 2017 arrest for getting into a scuffle with a photo-seeking airport employee. The second violation came last August for a video of him popping a wheelie on a dirt bike without a helmet in Manhattan.
According to CNN, Mill's probation officer recommended "no incarceration for technical violations," but Brinkley disagreed.
"I gave you break after break, and you basically just thumbed your nose at this court," she told Mill at his sentencing last November, according to Philly.com.
The ruling sparked protests in the streets of Philadelphia and criticism from Mill's fellow rappers and local athletes, including NBA legend Julius Erving and several Philadelphia Eagles players.
Mill's two-to-four-year prison sentence came one day before Philadelphia elected progressive criminal justice reform advocate Larry Krasner as its next district attorney. Krasner has since said he would not oppose efforts to get Mill released on bail as his team appeals Brinkley's decision — which have even received support from Pennsylvania Gov. Tom Wolf.
I support D.A. Larry Krasner's position in the case of Robert Williams (Meek Mill). Our criminal justice system is in need of repair. That's why my admin has made efforts to invest in programs that divert individuals from the system, improve public safety, and promote fairness. https://t.co/f8s3JjGOuP

— Governor Tom Wolf (@GovernorTomWolf) March 23, 2018
Nevertheless, Brinkley rejected the latest request to consider Mill's release, writing a 48-page opinion earlier this month defending her sentence as "reasonable" and "appropriate." The rapper's lawyers have filed a motion to take his case to Pennsylvania's Supreme Court.
Why did Kraft go to visit him Tuesday?
Kraft said Tuesday that he had gotten to know Mill over the past two or three years through his friendship with Michael Rubin, the co-owner of the Philadelphia 76ers. Rubin says that Mill is "one of his closest friends" and that he has visited the rapper about 10 times in prison. According to Kraft, Rubin brought up the idea of visiting Mill while the two billionaires were vacationing together.
Kraft told reporters Tuesday that Rubin thought it would be "special" for the two to visit Mill and make a statement.
"He's an amazing young man." @Patriots owner Robert Kraft speaks on his meeting with jailed Philly rapper @MeekMill https://t.co/0xLURWWIfE pic.twitter.com/Eq8faQOBet

— NBC10 Philadelphia (@NBCPhiladelphia) April 10, 2018
Kraft and Rubin both spoke about how Mill made them increasingly aware of the barriers facing people who grow up in poverty. The two men derided a "broken" criminal justice system.
"It makes it clear to me that we have to do something with criminal justice reform," Kraft said, later adding that he would be "really angry" if he was in the same situation.
"This has been a situation where it started with a wrongful conviction and then it ended up with a really bad judge, where everything that could go wrong has gone wrong," Rubin said.
However, Rubin said that Mill is doing well considering the circumstances and knows the "world is fighting for him." According to Rubin, Mill is hoping to lead a criminal justice reform effort when he is released, beginning with an overhaul of probation laws so that "technical violations" do not lead to long prison sentences.
Kraft also said he was impressed by how the rapper was dealing with the situation.
"I'm going to make a prediction," he told reporters. "And this is what amazed me about his depth and intellect. When he gets out, he's going to turn this thing around and inspire a lot of other young people who have been treated unfairly. And he will turn this negative situation into something very positive."