Patriots
Robert Kraft: Uncertainty surrounding Rob Gronkowski 'isn't even an issue for me'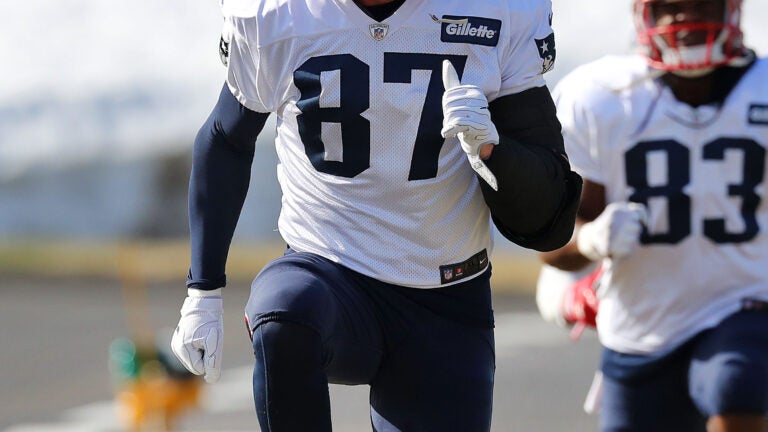 The official start to offseason workouts is right around the corner for the Patriots, but tight end Rob Gronkowski still has yet to provide a firm indication about his plans for the upcoming season.
Owner Robert Kraft, however, is not concerned.
"It's not even an issue for me," Kraft told The Athletic's Jeff Howe. "I didn't know about it until I read about it in the paper."
Kraft also told Howe he recently saw Gronkowski at Gillette Stadium. Despite not publicly disclosing whether he intends to return to the Patriots, Gronkowski has been spotted training at the TB12 Sports Therapy Center this offseason.
"I was impressed that he was coming in late and doing whatever he had to do to make himself feel right and get his body right," Kraft said.
Gronkowski reportedly contemplated retirement throughout the entirety of last season, but his thoughts first became public knowledge during his press conference following New England's Super Bowl LII loss.
According to ESPN's Jeff Darlington, Gronkowski's postgame comments were neither "an emotional approach to the loss of the Super Bowl, nor an emotional response to the concussion" he suffered in the AFC Championship. But Kraft noted he believes players can "feel differently" after a loss.
"That was a tough loss," he said. "We'll let things sort out and see what happens."
Kraft acknowledged things can change, but expressed optimism for the team's future. Not only do the Patriots have quarterback Tom Brady returning for his 19th NFL season, they also will welcome back offensive coordinator Josh McDaniels, who almost left New England for the head coaching position with the Indianapolis Colts.
Kraft noted both he and coach Bill Belichick are "very happy" about McDaniels's return, but did not offer any insights regarding the status of Belichick and Gronkowski's reported "disjointed" relationship. As for Kraft and Gronkowski's relationship? The 76-year-old says it's "fun" and "good."
"I think he is the best tight end in the game, maybe in the history of the game," Kraft added. "We're privileged to have a quarterback and tight end in those positions."
Things are often fluid within the Patriots organization — given how quickly they can can change — but Kraft said he does his best to maintain stability.
"It's always something," he told Howe. "My job is to try to keep things cool, have continuity, and attract the best people. And we've done OK over the last 24 years from where we were the [previous] 35. I can't predict everything that is going to happen. There are acts of God. Anyone could be in a car accident, so we have to develop contingency plans for everything — coaching, players. But I'm optimistic about the future."