Patriots
Rob Gronkowski's absence at offseason workouts is reportedly related to money
The Patriots tight end apparently wants to restructure his contract — again.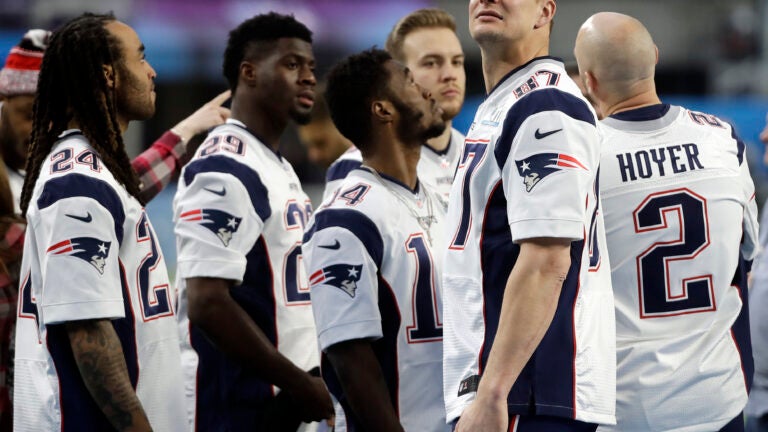 A new explanation has emerged for Rob Gronkowski's noncommittal offseason: Money.
According to ESPN, Gronkowski will not attend the Patriots' voluntary offseason workout program this week, as the Pro-Bowl tight end continues to privately mull his future with the team. The news Sunday came amid reports of recent tension between Gronkowski and the Patriots, particularly coach Bill Belichick.
However, The Athletic's Jeff Howe reported Sunday that the 28-year-old's absence at this point is about his contract, which signals an interest in returning to the Patriots this season. According to Howe's source, Gronkowski has been interested in reworking his contract since the team's Super Bowl loss — even if money wasn't the reason behind his initial murky comments about possibly retiring.
Howe reports that the Patriots "understood Gronk's desire" to restructure his deal at the time and Patriots owner Robert Kraft has been optimistic about his return. Gronkowski has also been spotted working out independently in Foxborough in recent weeks, another indicator that tight end intends to rejoin the Patriots this years.
Gronkowski has two years and $17 million left on his current contract, which he also restructured last offseason to include incentives tied to his performance on the field. The bonuses eventually resulted in earning an additional $5.5 million, pushing his total 2017 salary above $10 million to make him the highest paid tight end in the NFL.
According to Howe, Gronkowski is currently set to make up to $9 million, including bonuses, in 2018.
The Patriots reportedly have nearly $14 million in cap space, so it doesn't seem unreasonable that they could pad Gronkowski's contract with a few more million-dollar bonuses (ironically, the tight end is forgoing a $250,000 workout bonus by missing the team's voluntary program).
The Boston Herald reported Sunday that the Patriots have been in communication with Gronkowski's camp, with some of the discussion focused on his contract. According to ESPN, which first reported Gronkowski would miss the voluntary workouts, the talks have been positive.
Still, Howe wrote Monday that it's uncertain how hard the two sides would bargain — or how far they would go to fight for their position. The Patriots already gave Gronkowski what Howe describes as a "player-friendly" contract extension back in 2012.
But for all the attention paid to Gronkowski's purportedly uncertain future, Kraft has said it's a non-issue for him.
"I didn't know about it until I read about it in the paper," the 76-year-old owner told Howe last week.