Patriots
Who was Gil Santos? The guys who worked with him have a few good stories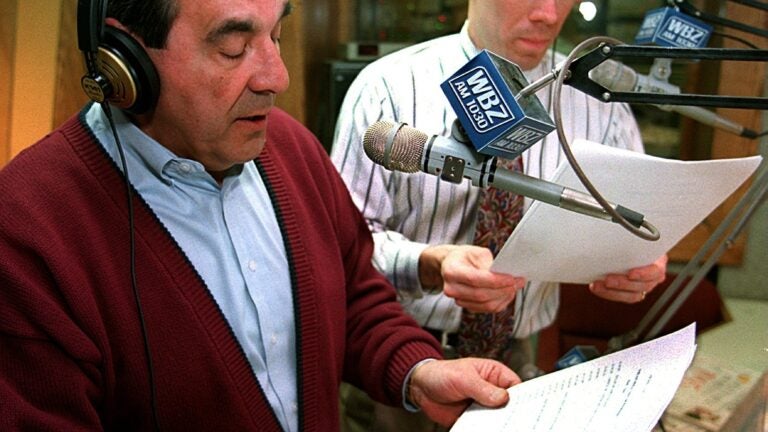 If there were a test that must be passed to become an official Patriots fan, it would have to include a word-for-word recitation of Gil Santos's perfect call of Adam Vinatieri's winning field goal in Super Bowl XXXVI.
Start with Santos's stage-setting words: "For Adam Vinatieri, a 48-yard field goal attempt …'' Then go straight through his jubilant and slightly incredulous conclusion. "THE PATRIOTS ARE SUPER BOWL CHAMPIONS!''
It would not even be a difficult question. It is one of the best and most satisfying big-moment calls in the history of Boston sports, if not all of professional sports. That call by that broadcaster was meant to be known by heart in New England.
Santos, the voice of the Patriots for 36 years (1966-79, 1991-2012), died Thursday on his 80th birthday and 57th wedding anniversary with his wife, Roberta.
In the hours since, there has been an outpouring of sadness from those who knew him and worked with him, but also many warm, funny, and illuminating stories on what it was like to know him.
For instance, Marc Cappello, the producer of the Patriots radio broadcasts on 98.5 the Sports Hub, worked with Santos for 18 years. Cappello remembers that it wasn't just Santos's call at the end of Super Bowl XXVI that was special, but the way he began the broadcast as well.
"He would do a five-minute monologue and have not a word in front of him,'' Cappello said. "His monologue for Super Bowl 36, there was nothing written down. Not a word, a note, anything. He could say anything he wanted to say without fumbling, mumbling, anything, like he was reading off a script. We called him One-Take Santos. He was the definition of a pro. I'd ask him, 'Gil, you ready to go?' and he'd said, 'Oh, I'm ready to go.' Some other broadcasters, you could just tell they were antsy or nervous. That was never Gil. He was doing something he was born to do.''
Here are a few more memories and anecdotes collected Friday morning:
***
Scott Zolak, who worked with Santos in his final year in the booth in 2012, remembers him as an entertaining travel partner.
"He was a gem of a person, but like a lot of people his age, he would have the usual stories of having to walk 12 miles barefoot to shovel driveways for 25 cents. He'd be cranky if his food wasn't right. It was almost like having that favorite uncle or grandpa that you always loved to be around. Gil had that booming personality, while Gino [Cappelletti, his Patriots broadcast partner] was so laid back.
"You always get that one lousy road trip every year, guaranteed. And you never had to [complain], because Gil would do it for you. He had that salty edge to him. He reminded me of Al Michaels and Walter Matthau, all rolled into one.''
***
Cappello remembers him not just as Cappelletti's broadcast partner – they worked together for 28 years – but as his crossword puzzle assistant.
"Gino would do crossword puzzles on the bus while we were waiting in Foxborough to go to the airport. Gino would yell out, 'I need a six-letter word for blah-blah-blah,' and Gil, like five rows back, would say the word and Gino would go, 'That's it!'
"Five minutes later, he'd say, 'I need a three-letter word' for this or that,' and Gil would answer it correctly. Finally, Freddy Kirsch [the editor of Patriots Football Weekly] would say, 'Hey Gino, do you just want Gil to do the crossword for you?' The whole bus just lit up laughing.
***
Channel 4's Dan Roche remembers a voice that was friendly but unintentionally intimidating.
"When I joined WBZ Radio in 1994, I used to pair with Jay McQuade, who was the midday anchor then, and we would do the live newscast and sportscast every day. That's when I got to interact with Gil, and as a Massachusetts kid who grew up listening to Guy Mainella on Calling All Sports while shooting Nerf hoops or firing hockey pucks in the basement and then listening to Gil and that voice in the mornings, it was a thrill.
"But he was also my ego check. Because every time I'd walk by him, I'd say [in a high-pitched voice], 'Hi Gil!', and he'd say in that famous perfect baritone [imitates Santos],"Danny, how are you this morning?'' He didn't mean to put you in your place. But it sure did.''
***
Zolak remembers some sage advice.
"I've got a mouth like a sailor, and during the breaks on the broadcasts, I'm bleep this, bleep that. And he said once early in my first year, 'I'm going to tell you this one time, and one time only. No matter how long you do this, never trust a live microphone. There could be a time back in the studio when the producer is distracted and doesn't have that dump button.'
"Gil gave me so much advice and guidance, but that's at the top of the list.''
***
Cappello remembers a particularly amusing example of his attention to detail.
"We were in Atlanta, and Gil smoked, and of course you can't smoke anywhere anymore, and we were in a dome so you certainly can't smoke there. So Gil was smoking, and there was a glass partition in between us and Atlanta's booth. They were knocking on the glass and looking at me like, 'He's not allowed to be smoking.'
"So I talk to Gil and tell him the guys from Atlanta don't want him to be smoking anymore. And he'd say, 'Give me the Atlanta media guide.' I said, 'OK, Gil, what do you want me to look up for you?' He said, 'Just give me the media guide.'
"So he's flipping through the pages, flipping through the pages, and he gets to the thing he's looking for, and I say, 'What is it?' And he says, 'When I call him a [expletive-expletive], I want to call him by his first name.' That was Gil to a T. He called it the way he saw it.''
***
Cappello remembers their dinners on the Saturday nights before road games.
"Gil and Gino knew all the great restaurants in every city. He'd know exactly where to go. Gino would book the restaurants. We'd have a wonderful dinner and a lot of laughs. We'd be talking about football, life, politics even came up. We would talk about everything. Those Saturday night dinners were what I looked forward to most.
"Gil was so comfortable in who he was. He'd have the same Manhattan drink every time we went out to dinner. He'd have the same dinner, dark chicken rather than white chicken, a cigarette before dinner, a cigarette during dinner, and one after dinner. He had a routine for everything, and he never deviated from it. You finds something that works for you, you stick with it.''
***
Zolak remembers their last conversation.
"His son Mark called me two weeks ago and said, 'Dad fell. He's back home now. You think you could give him a call?' I said, 'Oh my God, of course, because I wanted to talk to him anyway. It had been a little while, too long.' He was in great spirits. We went through all the stuff that happened in the Super Bowl loss to the Eagles, and Gil had points on all of it, on stuff that happened through all four quarters. It was like I was doing a broadcast with him again. I couldn't tell you how much that meant to me.''