Patriots
Mailbag: A look at the Patriots' draft day plans, Tom Brady's successor, and Celtics playoff predictions
Share your thoughts in the comments.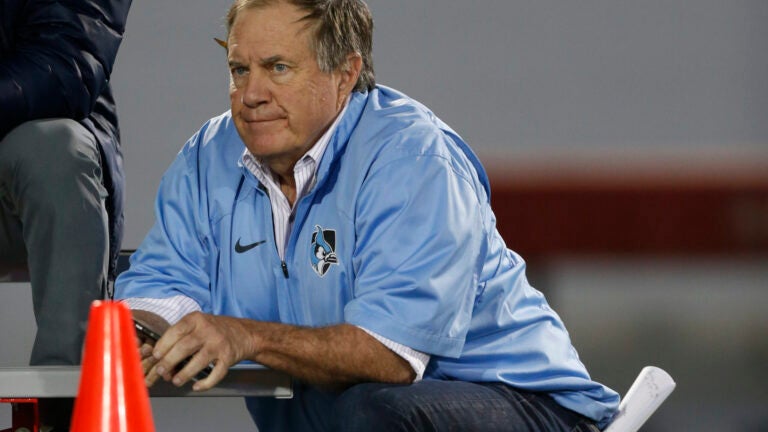 Welcome back to the Boston.com sports mailbag. Every week we'll respond to your questions about the Patriots, Red Sox, Celtics, Bruins and anything else tangentially related to Boston sports. Have a thought, theory, or question for the mailbag? Send them into [email protected].
Perhaps you've been distracted by the Red Sox' hot start or the Celtics and Bruins' playoff runs, but the NFL draft is right around the corner. And the Patriots have everyone guessing.
@Raudy06: Given the picks the Patriots have in the first and second round, Brady's eventual retirement, as well as having no backup, is it safe to assume the Pats can gamble for a QB?
Nik: I wouldn't ever pretend to know Bill Belichick's next move. It'd probably benefit us all to stop trying to guess it. But yeah, that certainly seems like the logical move. Just ask Robert Kraft.
"Obviously at some point we have to," Kraft told ESPN last month.
The bigger question is whether the Patriots flip a few of those picks to trade up and go after a highly coveted prospect. Given the abysmal league-wide history of evaluating top quarterbacks, that would indeed be a gamble and uncharacteristic of Belichick. Under Belichick, the Pats have yet to draft a quarterback in the first round.
Considering the coach's record, it seems far more likely the Patriots use one of their two second-round picks to go after a quarterback (which, by Belichick's standards, would still be a relative gamble). Or if they wanted to go take the ironic approach, they could wait to pick Brady's successor in the sixth round. After all, they do have the 198th pick, which is pretty close to lucky No. 199.
Nicole: Speaking to Patriots.com's Megan O'Brien at the 2018 NFL Scouting Combine, NFL insider Adam Schefter said it's not a matter of if New England will draft a backup passer, but a matter of when.
"The question is where are you going to pick one?" Schefter told O'Brien. "Are they going to gamble and roll the dice on a guy like Lamar Jackson who could be there for them in Round 1? That would be interesting. Are they going to wait until Round 2 and go get a guy like Luke Falk or Kyle Lauletta, somebody like that?"
Given Bill Belichick's recent draft history (Jimmy Garoppolo in Round 2, Jacoby Brissett in Round 3), Schefter said the 66-year-old has been "hesitant in the past to go quarterback-high" when the team has Tom Brady. Selecting a passer in Round 1 doesn't necessarily reflect a change in the organization's short-term priorities, but there's definitely an understanding that a backup with more potential (and talent) than Brian Hoyer is needed.
Tedy Bruschi said on ESPN's NFL Live that he would be "shocked" if the Patriots didn't draft a QB in the first two rounds of upcoming NFL Draft.

— Adam Schefter (@AdamSchefter) April 4, 2018
I don't anticipate the Patriots will package some sort of deal to move up in the draft order, but like Nik said, I also don't want to pretend to know Belichick's next move. That being said, it'll be rather costly for New England to swing a trade — after all, the Jets gave up three second-round picks to jump from No. 6 to No. 3. I don't imagine Belichick is interested in giving up significant draft capital just so he can possibly acquire one of the "elite" prospects.
He's had success finding passing talent in the later rounds, and respectable options like Falk, Lauletta, and Mason Rudolph should still be available.
@Joshmackb: Is Baker Mayfield a viable successor to Brady? Pros and cons?
Nik: Viable successor? Sure. I don't give a ton of credence to the superficial comparisons to Johnny Manziel. As ESPN's Bill Barnwell recently noted, Mayfield's passing accuracy is "in another universe" compared to the rest of this year's elite quarterback class.
But whatever "affinity" the Patriots have for the Oklahoma quarterback, the Patriots would need to trade into the top five (if not the top three) to actually draft him, which would require a pretty gargantuan offering. It seems pretty far-fetched that they would do all that to pick a quarterback who would sit on the bench for at least a year.
I'd guess that we will see Mayfield in New England by the end of year, but that's because they finish the season on Dec. 30 hosting the Jets.
Nicole: I think the pros of drafting Mayfield would be his superb statistics — he threw for 4,627 yards and 43 touchdowns last season, with a 70.5 completion percentage. That accuracy and offensive production is pretty impressive.
Mayfield also has that "chip-on-his-shoulder" mentality that so many Patriots seem to embody. His interest in proving himself, after years of being overlooked, fuels his competitive drive. As his childhood friend put it to USA Today, "he definitely feeds off people doubting."
The cons of drafting Mayfield, on the other hand, have to do with his personal life. Mayfield was arrested in Feb. 2017 for public intoxication, disorderly conduct, and resisting and fleeing arrest. Sure, he was a 22-year-old college student, but I'm not sure Belichick has the patience for those types of shenanigans.
Plus, as noted before, why would Belichick risk integrating Mayfield into the Patriots' system — which will involve losing some combination of assets in order to trade up — when there will be perfectly viable options available in the later rounds? Richmond quarterback Kyle Lauletta is literally a self-proclaimed "big lacrosse guy," whose dad and uncle attended the Naval Academy. Sounds like a fit to me.
@jcm142: If the Pats have a shot at DJ Moore, do they pass or draft him?
Nik: Knowing Bill Belichick, they'll probably pass. Just as Belichick is allergic to first-round quarterbacks, the Patriots coach has also never drafted a wide receiver in the first round.
The Patriots reportedly hosted Moore, the Maryland speedster who impressed at the 2018 NFL Scouting Combine, for a pre-draft visit earlier this week. They've also hosted Alabama wide receiver Calvin Ridley and Texas A&M wideout Christian Kirk — both of whom are also projected first-round picks. So perhaps this is the year they break the streak? Just don't be disappointed when they draft another lineman.
Nicole: Moore is obviously very talented — he recorded 1,033 receiving yards and eight touchdowns his junior season — but the Patriots don't really have a glaring need at wide receiver.
Even without Danny Amendola and Brandin Cooks, the team is adequately stocked with proven players, like Julian Edelman and Chris Hogan, as well as those eager to get their shot in New England, like Phillip Dorsett and Kenny Britt. Malcolm Mitchell, who shined his rookie season but missed last year due to a knee injury, should also be returning the field, which will only provide more depth.
Offseason additions Jordan Matthews and Cordarrelle Patterson will also be looking to contribute. If the Patriots want to draft Moore, they'll probably have to use one of their second-round draft picks, if not a first. I assume the team would rather take a player in a position of perceived need, like offensive tackle.
Could the Patriots acquire Dez Bryant?
@Lunmox88: Have we any interest in Dez Bryant?
@derekmedina87: Possibility we get Odell or Dez?
@TheAlanSamson: Do the Patriots take a chance on Dez being like Moss and turning it around in NE?
Nik: There's a big difference between "should they" and "will they."
Bryant isn't going to command the $16.5 million the Cowboys would've owed him this year, which was one of the reasons behind his surprising release. The NFL is a cutthroat business and Bryant's performance had dramatically fallen off since he signed a five-year, $70 million contract extension in 2015.
2012-14: 48 games played, 273 catches, 3935 yards, 41 touchdowns

2015-17: 38 games played, 150 catches, 2035 yards, 17 touchdowns
The answer to your question really depends on Bryant's price.
The Patriots have around $14 million in cap space this year. Even though it looks like they may have to devote some extra money to Gronk, they should have flexibility to sign Bryant on a mid-tier contract. Plus, the Cowboys will still be paying him $8 million this year, which in theory, makes taking a lesser contract a little easier to stomach for Bryant. 
Bryant will turn 30 in November — the same age Randy Moss was when he joined the Patriots — and, like Moss, his talent is undeniable. At 6-foot-2 and 225 pounds, he would add some needed size to the Patriots' receiving corps. The idea of him lining up opposite of Gronk would be a matchup nightmare for opposing defensive backs.
In a vacuum, it's all definitely fun to think about. However, the Patriots reportedly aren't in the market for controversial star wideouts this offseason and their recent acquisitions signal they're more interested in taking flyers on low-cost, low-risk receivers. When it comes to big pass-catching targets, Tom Brady will have to settle for Jordan Matthews and Kenny Britt.
Nicole: Bryant was wearing a Celtics hat during his post-release interview, so I mean, anything is possible. Except for the Patriots trading for Odell Beckham Jr. That's not happening.
"I know for a fact I'm misunderstood."

Part III of @SlaterNFL's exclusive interview with @DezBryant: pic.twitter.com/BkjypMfvW2

— NFL Total Access (@NFLTotalAccess) April 13, 2018
@LHFpaster: When is Xander Bogaerts expected back?
Nicole: Manager Alex Cora told WEEI's "Dale & Keefe" Bogaerts took ground balls at third base Tuesday because the team didn't want him moving around at shortstop. He also took batting practice. Both exercises are positive signs, but Cora said there is still no timetable for return.
Bogaerts was placed on the 10-day disabled list with a cracked bone in his left ankle after he injured it sliding into the dugout against the Orioles on April 8. He was originally expected to miss 10 to 14 days.
"Whenever I feel it makes sense for us that he's healthy and he can go out there and perform the way we want him to perform, he will be out there," Cora said. "As long as he's making progress."
@StevenMcAHockey: Do you know if Brian Gionta is traveling with the team during the playoffs? He has not played a game yet.
Nik: Gionta appears to be traveling with the team, but has been a healthy scratch so far in this first round. I mean, he's 39 years old. Not everyone can be Zdeno Chara or Tom Brady and sustain elite performance levels into what is retirement age for most professional athletes. Though he got off to a great start after joining the Bruins in February, he only recorded one point in his last 14 regular-season games.
@Profootballboy: Wouldn't the Bruins be better off playing Ryan Donato over talented but soft Rick Nash? Donato plays with more effort and is at least as productive. Nash may be a bit better on the defensive end.
Nik: If Gionta is too seasoned for this series, Donato might be too raw. After the 22-year-old Scituate native was held out of Game 1, Bruins coach Bruce Cassidy explained that he wanted Riley Nash's experience at center. As well as Donato has played his joining the team, Cassidy said "we've got to make sure we're solid down the middle" and noted that the Harvard standout still hasn't played a ton of minutes at the position in the NHL.
As far as Rick Nash, he's been pretty solid so far this series and the Bruins are up 3-1, so I just would quibble with the lineup too much. If the Bruins seem in need a burst of energy next round (assuming they get there), maybe then we should return to this subject.
@ACoble0344: Any credible proof that Brady and Gronk are considering retirement or leaving?
Nicole: Based on recent reports, I expect Tom Brady and Rob Gronkowski to both return to the Patriots for the upcoming season. But their attendance doesn't mean all is well in Foxborough.
The Patriots need to solve the ongoing problem of how the team is going to handle Alex Guerrero's treatment with certain players. Guerrero's involvement — along with Malcolm Butler's inexplicable benching — is still a lingering question mark from last season. ESPN's Seth Wickersham told WEEI's "Kirk & Callahan" Wednesday that Kraft has acknowledged Guerrero is "a problem," but proceeds to send inconsistent messages regarding how to handle his undefined role.
"I don't know how it resolves itself and I am not sure it will," Wickersham said.
The primary reason why Brady and Gronkowski haven't attended the Patriots' voluntary offseason workouts, in my opinion, is not because they're seriously contemplating retirement — which they very well may be — but the driving factor behind their absence is the fact that they would rather work with Guerrero and the TB12 staff over the team's staff.
The first phase of New England's offseason program is exclusively strength and conditioning, which means they're working with team trainers. Brady — and now Gronk, and possibly others — likely prefer to follow the TB12 method. Belichick, however, reportedly reduced Guerrero's access to the team in December.
According to the Boston Herald's Karen Guregian, Belichick — early on in the regular season — also criticized Gronkowski in front of other players for being a TB12 client. If players can't train the way they want to the train, it should come as no surprise they don't want to be there.
Jeff from Maine: After the very public humiliation of Malcolm Butler, who deserved better and was witnessed by the entire football-watching world, has BB lost the locker room?
Nik: "Lost the locker room" might be a little strong, but it definitely seems like Patriots players have long had a pretty strong love-hate relationship with Belichick. And his benching of Butler seems to have tipped the scales, even if temporarily, away from love.
I think the most telling comments on this subject come from the players no longer on the team. For instance, Danny Amendola seemed genuinely incensed by the decision to bench the former Super Bowl hero. The recently departed Patriots wide receiver called Butler "a brother of ours" and said no one on the team ever got an explanation for Belichick's decision.
"I was out there putting my blood, sweat and tears out on the field that night, and one of our best players wasn't on the field," he recently told ESPN's Mike Reiss. In the same interview, Amendola said Belichick could be an "a–h—" at times, even if he respected the coach.
Danny Amendola said Bill Belichick is the best to ever coach the game, but said he faced challenges when it came to playing for the Patriots legend. pic.twitter.com/VOC0SlCGoy

— NFL on ESPN (@ESPNNFL) April 14, 2018
From the all the reported Gronk-Brady-Belichick-Kraft tensions to the real reason for Butler's benching, I can't wait for when the future tell-all book is written on the latter years of the Patriots dynasty. To quote Seth Wickersham, perhaps the person most likely to write it: "I have a feeling that when the chapter is written about this [past] season, it's going to be a really good one, once people are a little bit more liberated to talk."
@HenryDonson: Is Brady human?
Nik: Yes, he's just more pliable than most.
Poll of the week:
Is this Celtics-Bucks series going…

— Boston.com Celtics News (@BDCCeltics) April 18, 2018
Nicole: I agree with the followers. Boston in five, though it would be certainly be something if the Celtics pulled off the sweep here. Now that I think about it, if the Celtics win Game 3, there's slim to no chance the Bucks can scavenge a Game 4 win.
Boston looked fantastic in Game 2 and the Bucks looked pretty checked out. Milwaukee seemingly just didn't want to be there. Maybe their home crowd will inspire some intensity, but they probably won't be able to tell Joe Prunty that playing Giannis at the five doesn't work.
The Bucks' offense is too disorganized and inefficient to string together four quarters of consistent scoring, while the Bucks' defense hasn't been optimizing its length at all. The pieces are there (for the most part), but something is clearly off. I think the Celtics will retain the edge because Brad Stevens > Prunty.
Nik: Bucks in six! Sorry, that was my inner Brandon Jennings. I also agree with our followers here. I think Giannis drags this team to a win in front of their home crowd (probably tonight), the Celtics steal another away win in Game 4, and then clinch the series back at home.
I wouldn't have predicted such a decisive outcome before the series, but this decimated Celtics has proved very capable of containing the Bucks' one-note offense (two notes, counting Khris Middleton) and forcing Milwaukee into turnovers. It'll be interesting to see how this young team reacts to a playoff game against an energized Milwaukee crowd, but I have confidence the Brad Stevens effect is good for one road win.
Somewhat unrelated aside: Jennings was recently asked about his infamous "Bucks in Six" prediction in 2013 and his answer is great. For the culture!
What's on deck this weekend?
Nik: Another loaded sports weekend in Boston. The Celtics have the late game Friday night in Milwaukee, the Bruins return to the TD Garden on Saturday night with a chance to close out the Leafs, and then the Celtics and Bucks play another Sunday matinee game at 1 p.m.
Also, while the Red Sox continue their West Cost trip, Fenway Park is hosting an Army-Navy… baseball game? Tickets are just $10. Not a terrible option for anyone still without plans Friday evening. Plus it's for a good cause!
Nicole: Nik pretty much covered it. Plus, the weather is supposed to finally feel like spring! Too bad I'll be inside watching sports.