Patriots
Patriots broadcasters Bob Socci and Scott Zolak reflected on Gil Santos's impact
"Great broadcaster, better family man."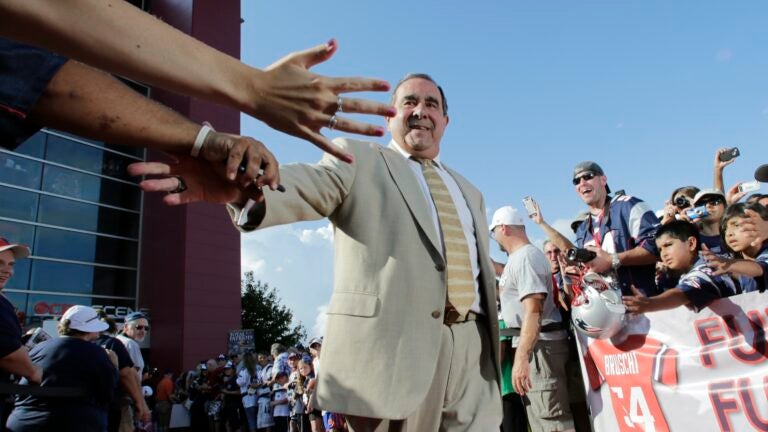 Upon hearing the sad news of Gil Santos's death, the younger generation of Patriots radio broadcasters were left to reflect on the impact of one of their famous predecessors.
Santos, who died Thursday on his 80th birthday, was the play-by-play announcer for 743 radio broadcasts of Patriots games. When he retired at the end of the 2012 season, he was replaced by Bob Socci (who remains the Patriots' regular play-by-play voice).
In the wake of the news, Socci and his fellow broadcaster Scott Zolak offered their thoughts on Twitter about Santos' impact.
Oh my god no. Just spoke with him last week. Great broadcaster , better family man. Devastated …he and Gino were so good to me. Class act. I am so saddened by this https://t.co/RbWRu5lK0z

— Scott Zolak (@scottzolak) April 20, 2018
I will never forget Gil's typewriter in the WBZ newsroom which rested now next to his chair at home & his grandkids asking him "what is that thing grandpa?"

— Scott Zolak (@scottzolak) April 20, 2018
My first visit to Gillette Stadium was in January 2004. My ticket was in the Colts' section, thanks to a friend and college classmate of Indy's Marcus Pollard. That snowy Sunday is remembered by others for how Ty Law and the Pats confounded Peyton Manning in the AFC Championship.

— Bob Socci (@BobSocci) April 20, 2018
For me, the truly lasting memory is the sound of Gil Santos, and a voice I still hear in my head as clearly as that afternoon listening to him and Gino on my old Sony Walkman. As New Englanders had long realized, Gil was the perfect – yes, perfect – football broadcaster.

— Bob Socci (@BobSocci) April 20, 2018
Sure, Gil had the pipes meant to call meaningful moments. But what separated him was the description ("direct snap to Brady…he shoots it long…") to paint the picture and a wonderful sense of humor to go with it. I was hooked.

— Bob Socci (@BobSocci) April 20, 2018
A few years later, after my wife and I moved to Boston, Gil was on my radio on weekday mornings and Sunday afternoons. I reached out to him, asking for a critique of samples from own broadcasts calling Navy football. Gil being Gil, he obliged.

— Bob Socci (@BobSocci) April 20, 2018
Gil offered constructive criticism, naturally, but also had enough good things to say to help me believe I too might call NFL games someday. A year later, @985TheSportsHub launched and Gil helped to point me to a door to knock on. When he retired, that door opened.

— Bob Socci (@BobSocci) April 20, 2018
I realized then, as today, there's no replacing Gil Santos. He was, is and will remain the Voice of the Patriots — the voice of football in New England. He and Gino have a legacy all their own, leaving @scottzolak and me to try to create our own distinct soundtrack for the Pats.

— Bob Socci (@BobSocci) April 20, 2018
A large framed photo of Gil and Gino — Pats Hall of Famers — hangs in our broadcast booth. And Gil's voice still resonates in my mind every Sunday, as I take my place trying to earn my place as his successor.

— Bob Socci (@BobSocci) April 20, 2018
https://twitter.com/BobSocci/status/987162538629652480