Patriots
What you need to know about Tom Brady's status with the Patriots
Brady will likely be back, but there's a different reason fans should be concerned.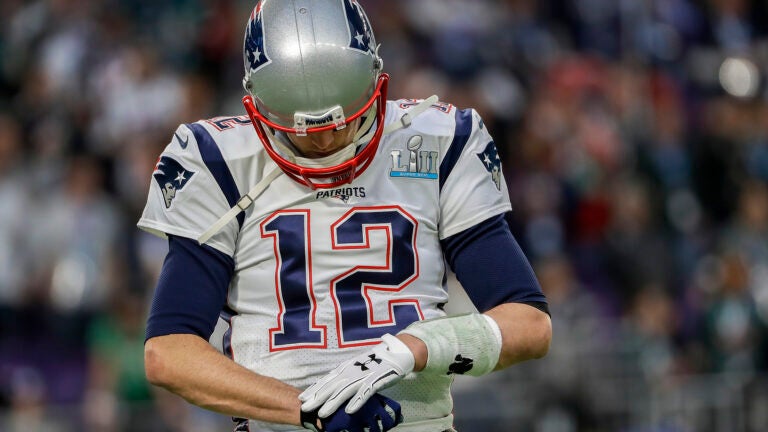 COMMENTARY
There's a lot going on within the walls of Gillette Stadium.
Things are seemingly far from copacetic, as the Patriots continue to navigate how trainer Alex Guerrero fits into the reported changing dynamic between their aging quarterback and rigid head coach. Through the ongoing drama, however, Tom Brady and Bill Belichick's dedication to the organization appeared to be steadfast.
There are essentially no questions regarding Belichick's role headed into the upcoming season — he will return for his 19th year at the helm — and Brady's position, up until recently, seemed to be a lock as well.
A recent report, however, raised some eyebrows.
According to ESPN's Adam Schefter, the Patriots quarterback has yet to formally commit to playing football in 2018, despite those close to him believing he will return for his 19th season.
Patriots' QB Tom Brady still has not committed to playing in 2018, even though people who know him believe he will back coming season, league sources told ESPN.

— Adam Schefter (@AdamSchefter) April 18, 2018
"The Patriots are still awaiting official word from Tom Brady about his future," Schefter said. "He has not yet committed to playing. I think the people around him and the people inside that organization think he'll play, but they don't know he will play — and that question lingers as the draft approaches next week."
Schefter's report is a bit of a mystery, as there is no league requirement that players declare their intention to play. Brady was not present for the start of New England's voluntary offseason workouts Monday, but it is still possible he will attend OTAs — and there have been no reports he plans to skip mandatory minicamp. It's also not the first time Brady has missed part of the offseason program.
So could Brady actually call it quits before training camp?
A sudden retirement is not all that likely, but there's still reason for concern. Guerrero's role is reportedly a major source of tension — not "dysfunction," as Kraft noted in April — among New England's leading trio.
Here's what we know about the situation:
Why would Brady retire now?
Brady, who turns 41 in August, has long insisted he plans to play until he's 45 years old, repeatedly pushing back on his wife Gisele Bündchen's persistent requests that he retire. Ahead of Super Bowl LII, he told Westwood One's Jim Gray he was going to continue playing in 2018 — regardless of the game's outcome.
"You're going to see me playing football next year," he said. "I don't envision not playing."
The Patriots lost the Super Bowl to the Eagles, 41-33, but — despite the disappointing result — Brady offered reporters a more-than-lukewarm commitment for the upcoming next season in his postgame press conference.
"I expect to be back, so we'll see," he said. "It's 15 minutes after the game ended, so I'd like to process this a little bit, but I wouldn't see why I wouldn't be back."
The ominous ending to Brady's "Tom vs. Time" docu-series, however, sparked some doubts regarding the quarterback's approach for the remainder of his career. Five more seasons of football, which was always contingent upon his physical health, suddenly didn't seem all that likely for a different reason: Brady's mental focus.
"It's a big commitment," he said of the sport. "What are we doing this for? Who are we doing this for? Why are we doing this? You gotta have answers to those questions. They have to be with a lot of conviction. When you lose your conviction, then you probably should be doing something else."
In the finale, filmed after the Super Bowl, Bündchen says the past two years have been "very challenging" for Brady "in so many ways." She says he tells her, "I love [football] so much and I just want to go to work and feel appreciated and have fun."
Bündchen didn't elaborate on the exact reasons as to why the most recent seasons have been so difficult for the five-time Super Bowl champion, but the struggles are likely related to the Patriots' management of Guerrero — Brady's body engineer and TB12 guru, and overall disgruntlement from the most recent year. Guerrero has become a controversial figure within the organization, as Belichick reportedly stripped the trainer of many of his team privileges in December.
Per the Boston Globe's Bob Hohler, only Brady is permitted to visit Guerrero at his office at Gillette Stadium. Other players seeking his treatment must see him at the TB12 Sports Therapy Center at Patriots Place. ESPN also reported in January that Guerrero's involvement with the Patriots is a major source of disagreement among Brady, Belichick, and owner Robert Kraft.
NBC Sports Boston's Tom E. Curran also reported in February "some of the principal players" on the team were not happy with "the atmosphere and the climate" at the conclusion of the season.
What has Brady been up to?
According to ESPN, Brady plans to spend more time with his family and continue working with Guerrero during the offseason. He recently traveled to Qatar with Bündchen and their two children, Benjamin and Vivian. Though Brady was there on behalf of Best Buddies, he still incorporated some workouts into his trip.
As for when he will join the Patriots, if he is, in fact, playing next year? It's unknown.
"Two of the Patriots' biggest stars [Brady and Rob Gronkowski] were not at offseason conditioning and are not expected to be at offseason conditioning going forward," NFL Network's Ian Rapoport reported Monday. "How long that takes? A couple of weeks, maybe when they get to the on-field portion both could show up, or one could show up. What we know is they are not there right now."
.@RapSheet has the latest on Tom Brady and Rob Gronkowski not being present at @Patriots' voluntary workouts ⬇️

?: #UpToTheMinute pic.twitter.com/KCMdyo8kDT

— NFL Network (@nflnetwork) April 16, 2018
Speaking about Brady specifically, Rapoport said his absence is "not entirely related" to his visit to Qatar.
"Remember, there's still the on-going issue with Brady and the Patriots about actual weight training," Rapoport said. "Brady prefers his own personal guy, Guerrero. The Patriots obviously prefer strength and conditioning coaches themselves, so maybe Brady will stay away until they get to the football portion."
The Patriots are currently in the first phase of their offseason workouts, which is limited to strength and conditioning. The on-field phase will begin later in April. The Athletic's Jeff Howe reports Brady is also organizing a passing camp for his receivers in Montana before training camp starts. Guerrero joined Brady, Julian Edelman, and Danny Amendola on the trip last summer.
Tom Brady, Rob Gronkowski, Julian Edelman and potentially more Patriots will be in Montana in July to work out together before training camp.

— Jeff Howe (@jeffphowe) April 19, 2018
Should fans be concerned?
Rapoport, along with other reporters, have expressed confidence in Brady's return.
"Tom Brady is going to play in 2018," Rapoport reported. "He said it. Everyone close to him has said it. Everyone I've spoken to has said it. The Patriots are going forward with the very strict and stern belief that he will be playing for 2018. I don't get the sense that they considered any of these reports."
Even if Brady does return, the Patriots are still expected to draft a quarterback with one of their eight draft picks. A new backup passer, however, likely won't impact how the franchise views Brady. Kraft recently told Howe he would like to see Brady "play as long as he can."
"I don't think anyone would have believed 10 years ago that he would have played this year, gone to the Super Bowl and been MVP of the league at 40 years old," he told Howe. "It's just unbelievable. It speaks to the way he takes care of himself, the way he trains, how much film he watches, one of the hardest working guys. He is driven to excel. I think as long as he feels he is like that, he'll keep playing. We're so lucky to have him in our system."
The Patriots and Brady have yet agree to a new contract extension, but Kraft said "neither side has an issue with it." Brady is currently signed through the 2019 season, though he would "most certainly entertain" contract negotiations, according to Howe.
"It's not a pressing issue," NFL Network's Mike Garafolo reported Wednesday. "It's not anything that is contentious right now, but Brady would absolutely be interested in revisiting this contract."
Neither Garafolo nor Rapoport believe any hesitation from Brady to return to play is a ploy to expedite negotiations. With or without a new deal, they both anticipate the reigning NFL MVP will be back on the field in 2018.
Where fans should be concerned is how the Patriots handle their Guerrero's involvement with Brady and other TB12 clients, including Edelman and Gronkowski. ESPN's Seth Wickersham said on WEEI's "Kirk & Callahan" Wednesday that Kraft has been sending inconsistent messages in how the team should operate.
"I was told that before the Super Bowl Robert Kraft had told people, 'Look, we have to figure out a way to limit Alex. Yeah, he's a problem,' and then he flew out to the Super Bowl on Robert Kraft's private plane," Wickersham said. "There's inconsistencies. I don't know how it resolves itself and I am not sure it will."