Patriots
3 things to know about the Patriots' Nick Caserio
The team's director of player personnel is involved in just about every aspect of the team's success.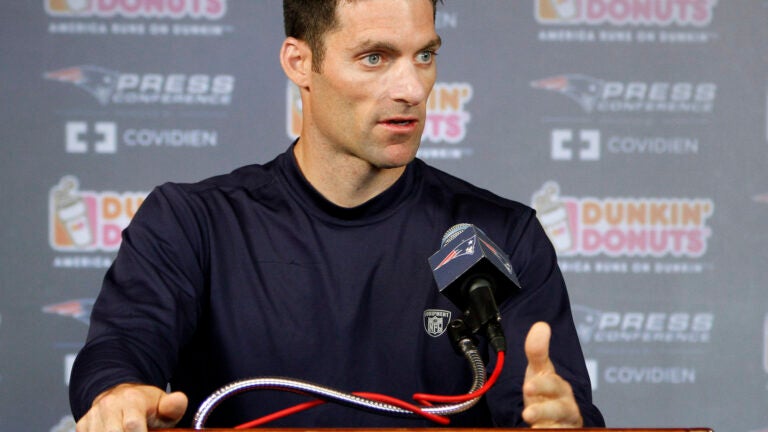 The Houston Texans requested to interview Nick Caserio for their general manager position in January. Bill Belichick denied the request. The Patriots head coach is well aware how important his director of player personnel is to the organization's success.
Caserio is involved in everything from the day-to-day coaching operations to the waiver wires, from the press box to the practice field. He attends the coaches meetings, knows the game plans, and communicates with the offensive coordinator over the headset during games. That's in addition to operating as the team's de facto co-general manager.
"I can't think of any other personnel person that would even come close to that," he said. "I don't know who it would be. I don't know what everybody else does, but I don't know of anybody."
Caserio, a native of Lyndhurst, Ohio, joined the Patriots in 2001 as a personnel assistant. In the 17 years since, he's worked in just about every capacity within the front office as the team won five Super Bowls. Caserio will attempt to build yet another championship contender Thursday night at the 2018 NFL Draft.
Here's what you need to know about the Patriots' director of player personnel:
Caserio was a quarterback at John Carroll. Josh McDaniels was one of his receivers.
At John Carroll University, a school of 3,500 students to the east of Cleveland, Caserio beat out Josh McDaniels for the backup quarterback position. Caserio, who played high school football in nearby Hunting Valley, won the job. McDaniels moved to wide receiver as Caserio led the team to a 33-7-2 record over the course of his four seasons.
Caserio was a two-time captain for the Blue Streaks, earning an All-Conference nod three times while he pursued his degree in finance. (Caserio later added a Master's of Business Administration from Saginaw Valley State.) He left John Carroll in possession of the school's all-time records for career passing yards, total offense, touchdown passes, career completions, and completion percentage. His teammates included McDaniels, former NFL linebacker London Fletcher, Patriots assistant quarterbacks coach Jerry Schuplinski, and the team's director of pro personnel Dave Ziegler.
Despite the accolades Caserio collected in college, Tom Brady thinks he's much better suited to his current role.
"He's out there on the practice field throwing to people — you guys see, I'm sure — but it is really unique," Brady said. "It's fun to have someone do that, to kind of embrace that challenge. Nick was a quarterback in college, but I think he's better in his role now than he was a quarterback because I saw some film. But, he's doing the right thing and he's a great friend. So, really impressed with him."
He's less impressed by Caserio's throwing form.
"It's terrible," Brady said with a smile. "Terrible. You probably have a lot of elbow pain with that technique."
Ohio State defensive backs going through drills with Bill Belichick and Matt Patricia now. Patriots director of player personnel Nick Caserio throwing the ball to the defensive backs. pic.twitter.com/X5ebDZoKPD

— Dan Hope (@Dan_Hope) March 22, 2018
He's climbed the coaching and personnel ranks with the Patriots.
After graduation, Caserio worked as a junior financial adviser at Merrill Lynch, pitching a fee-based mutual fund to prospective clients. The person who hired him there, Jeff Rotsky, told the Boston Globe that Caserio was the first one in the door each morning.
"He would have been a star in our business," said Rotsky. "He was a hard-working guy. Nick could be a restaurant owner, he could be a magician, he could own a business. As the process was going on you just knew his heart was in football."
Rotsky would soon have to hire a new junior financial adviser. Josh McDaniels told Bill Belichick that he knew the right guy to fill the team's open personnel assistant position. In June 2001, Caserio joined the Patriots. From there, he scaled the ladder, jumping back and forth from personnel to coaching and back to personnel. Caserio has served as an offensive coaching assistant, an area scout, wide receivers coach (during the record-breaking 2007 season), director of pro personnel, and director of player personnel.
Caserio, in turn, pulled the next wave of Blue Streaks through the John Caroll to Foxborough pipeline. Frank Ross, who spent five years as a scout in New England, talked his way into a job interview after introducing himself to Caserio when the alum returned to campus. The work ethic and asset management skills most of the graduates bring to the table lets them fit right in with the Patriots.
"The way Belichick looks analytically at things maps well to the way a finance major would think about those decisions," said Andy Welki, associate professor of economics at John Carroll. "They have been at the forefront all along in figuring out who is worth what. As soon as your value starts to drop off, or as soon as the price we are going to have to pay you is too great for what we think your current productivity is, we are going to sever that tie."
Caserio and Belichick operate from the same personnel philosophy.
The personnel calculations Caserio makes, in partnership with Belichick, gave him his reputation as a key architect of the Patriots' victories in Super Bowl XLIX and LI.
Here's Caserio speaking in a panel called, "Put a Ring on It: Building a Champion," at the MIT Sloan Analytics Conference, per ESPN:
The way salary structure is put together, you have 'X' amount of players who are on elite-level contracts on your roster, you have minimum-salary players which are typically draft choices and younger players, and then you have a middle class — whatever the range may be, that is another grouping of players. A lot of those [middle class] players have a significant role and make a significant contribution to your team. What we try to do, as best we can, is identify what the player's role [is] and the cost associated with that. If the player continues in that role, and the salary is commensurate with that role, it makes sense. If for some reason there starts to be a gap there, there has to be some sort of an adjustment.
While the two figures atop the Patriots' personnel decision-making masthead share a similar team-building approach, Caserio isn't afraid to challenge Belichick if their sights don't align. Tampa Bay Buccaneers general manager Jason Licht, who came up the ranks with Caserio in New England, said that the Patriots' director of player personnel is "very cut and dry with his opinions."
"Nick is definitely not someone who is just going to agree with his boss, Bill in this case," Licht said. "I think this is really why Bill has entrusted him to run the personnel department for him, because he knows he's getting original thoughts. He knows he's getting a pure evolution, and he's not getting someone to tell him what they think he wants them to tell them."
So what's Caserio planning for the 2018 NFL draft?
Well, he's worked out two quarterbacks, Louisville's Lamar Jackson and Western Kentucky's Mike White, and stopped by at Pro Days in Toledo, Wisconsin, and Ohio State. Patriots fans will find out Thursday night what the next page in the architect's blueprint looks like.