Patriots
7 things to know about Sony Michel, the Patriots' newest running back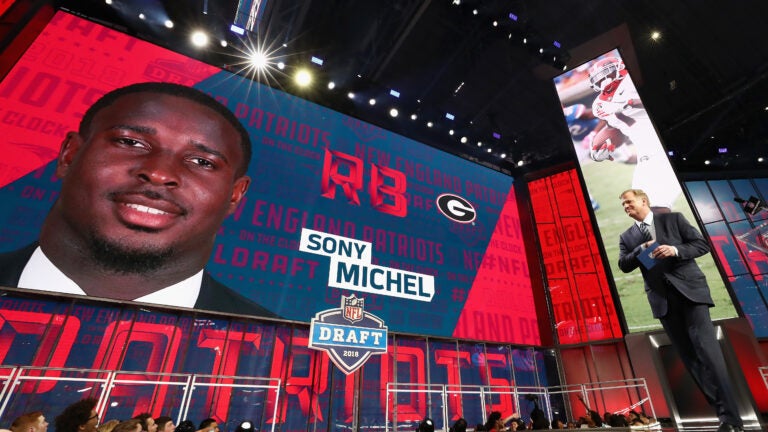 Here is a closer look at Sony Michel, who the Patriots drafted with the 31st overall pick.
College: Georgia. Position: RB. Height/Weight: 5-11 / 214.
Hometown: Plantation, Fla. High school: American Heritage. (The mascot? Patriots.)
By the numbers: In four seasons at Georgia, Michel rolled up 3,638 yards and 33 touchdowns on the ground, to go along with 621 yards and 6 TDs as a receiver. He averaged 6.2 yards per carry over his career, including a whopping 7.9 yards per carry in his final campaign.
Back to the beginning
Michel began playing football when he was 7 years old — as an offensive lineman.
"Me and my brother played guard and tackle,'' Michel said in 2015. "I had No. 70. He had No. 71. It was the weirdest thing ever. We were just big. The coach didn't know how athletic we were. But we made the all-star team that year. So I mean that's a positive.''
Michel didn't care for the sport and at 8 years old almost decided against playing further. Then he put on pads. Facing his team's running back in a drill, Michel "ran over him,'' catching his coach's eye.
"So the next day, he tried me at running back and from then on, I just started playing running back,'' Michel said.
The American Dream
Michel's parents immigrated from Haiti to the US six years after Michel's oldest sister was born. Watch the story of Michel's parents and Michel's rise in the football ranks:
[fragment number=0]
A stated feat
As an eighth grader, Michel, then 14 years old, rushed for more than 1,800 yards at the varsity level, making him the leading rusher for Broward County.
As a high school senior, Michel helped lead American Heritage, which owns more than 30 state championships across other sports, to its first football state title in 2013. That campaign, Michel racked up nearly 2,000 yards and 24 touchdowns on the ground, finishing his prep career with 6,659 yards and 81 touchdowns.
"If it wasn't for Sony Michel, we wouldn't be here today,'' Mike Rumph said after the Patriots' win in 2013. "He's a guy who is selfless. It's always about the team. All throughout the year he was getting 12 to 14 carries a game, and he never complained one time. When the playoffs came, we gave him 22 to 24 carries and he stepped it up for us. He's been the man since the eighth grade. We wanted to dedicate this day to Sony Michel.''
Part of a rotation
In Michel's first season at Georgia in 2014, he and fellow freshman running back Nick Chubb were in the same backfield with Todd Gurley, the Rams star, and Keith Marshall, who with Gurley made for an electric duo before Michel and Chubb took the baton. Throughout his time at Georgia, Michel shared carries with his fellow backs, whether as a part of the usual game plan or stepping up when a fellow back was injured.
Chubb got the call in 2014 when Gurley was suspended and then suffered an ACL tear, running for 1,547 yards and 14 touchdowns. When Chubb suffered a devastating knee injury against Tennessee early in the 2015 season, Michel carried the load, recording 1,161 yards and 8 touchdowns.
Last season, both backs went for more than 1,000 yards: Chubb had 1,345 yards and 15 touchdowns while Michel rushed for 1,227 yards and 16 TDs.
"It was a wonderful experience,'' Michel said of sharing the backfield with Chubb, his best friend. "We had so many cool memories. We had moments that were just precious. We had moments where it was not so precious. I'm excited to be a part of an organization that has great running backs, guys I can learn from, and I'm excited just to see what they have to offer. What can they teach me? How much can they teach me? I'm just so eager to know what can they teach me and I'm just excited to have other guys there that I know I can go in there and learn from; words can't describe.''
Touchdown celebration
When Michel got into the end zone as a Bulldog, he would simply wave both of his hands, his own twist on jazz hands. He would also get a lift frequently from Georgia teammate and fellow Patriots draftee Isaiah Wynn.
[fragment number=1]
FlyGuy2Stackz
Michel, a rapper in addition to his football pursuits, was first taken with recording music in middle school, watching a friend work on his laptop in a makeshift studio.
"I just found it was unique how he did all the behind-the-scenes things like mixing and mastering,'' Michel said. "That's what really caught my attention. Rapping is something I just do for fun.''
He released an EP last summer called "The Humble Hustle'' under the moniker FlyGuy2Stackz, which is also his social media handle.
Michel had a small studio in his house in Athens that he shared with Chubb, Wynn, and two other teammates. And last summer, he worked with Atlanta's Rich Homie Quan to remix Michel's song "UGA Anthem.''
"I recorded my part and sent it to him and they sent it back,'' Michel said last summer. "I had got the beat, I wrote my lyrics, did my part, did the verse and sent it to him. He did his verse, he wrote his lyrics and sent it back.''
Injury history
Michel suffered a torn ACL when he was a sophomore in high school. He missed five games in 2014 with a fractured shoulder. He broke his left forearm in an ATV accident before the 2016 season. He dealt with an ankle injury last fall.