Patriots
All clear: Tom Brady says he will definitely play in 2018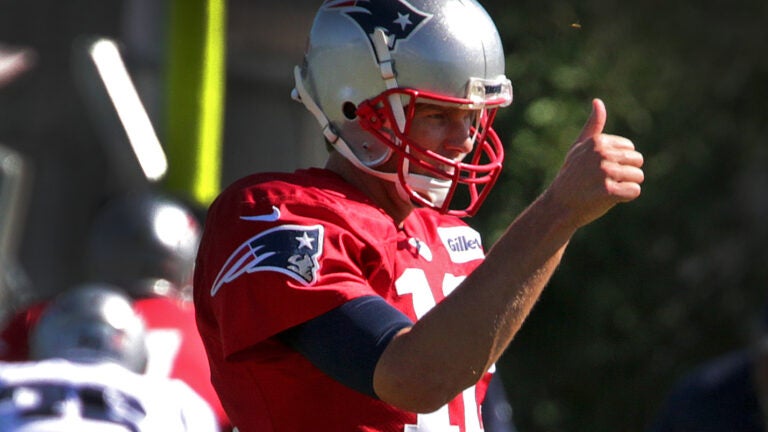 In case there was any doubt about whether he would play in 2018, Tom Brady erased it while participating in a question-and-answer session at the Milken Institute Global Conference in Los Angeles on Monday.
Asked by Jim Gray if he would be playing next season, Brady said he definitely would.
Two weeks ago, ESPN reported that Brady had not committed to playing in 2018, while adding that those close to Brady believed he would be back.
Of course, there is no requirement that players declare their intention to play. Brady's absence for the start of the Patriots' voluntary workouts have led some to believe that the quarterback is unhappy with New England. Contributing to those suspicions was the Globe's report that coach Bill Belichick stripped Alex Guerrero, Brady's close friend and business partner, of his special privileges, such as flying on the team charter to road games and receiving credentials to work the sidelines of every game.
Guerrero works out of the TB12 Center, just outside of Gillette Stadium in Patriot Place, and has treated players there with his alternative methods.
Brady touched on other topics during the session. When asked about losing the Super Bowl, Brady responded, "Last year sucked.''
Gray asked Brady if he was happy, to which Brady replied, "I have my moments.''
Brady was also asked about the issue of players kneeling for the national anthem.
"You have to have respect for everyone's opinions . . . Sports for me has been the most unifying part of my life . . . Never forget that.''
Brady made similar statements about the anthem during the season in an interview with WEEI.
"I have a lot of respect for the players around the league and for obviously my teammates,'' he said. "I said after the game I just love my teammates and it takes a lot to play in the NFL.
"The guys that have played in the past really paved the way for us and what I thought in that post is that is what makes this game great — players, coaches that come together for one goal, to try and go out there and do the best we can do every week.
"It certainly is not an easy game. It's intense. You sacrifice a lot. We're all making a choice to do that. We love doing that and I love being out there playing with my teammates. It's a great blessing in my life. That's kind of how I felt.''