Patriots
5 things to know about Braxton Berrios, the Patriots' newest slot receiver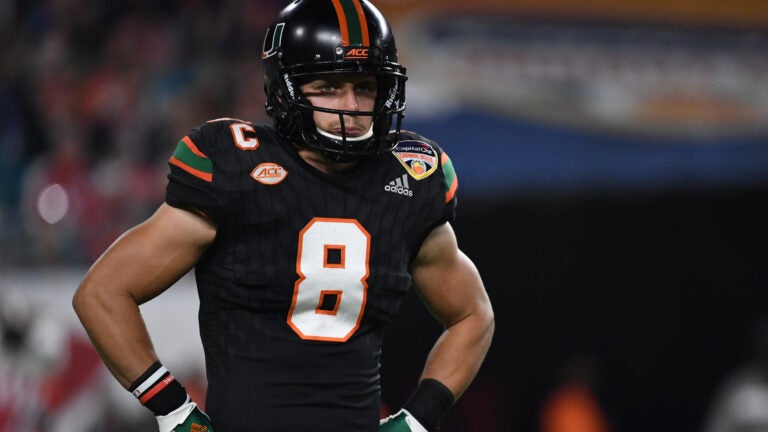 Braxton Berrios is a 5-foot-9, 184-pound wide receiver known for his quickness, route-running, and fearless catches over the middle. Sound familiar?
The Patriots selected the University of Miami product in the sixth round, No. 210 overall. Berrios becomes the latest in a long line of slight receivers who've made a living darting into traffic for Tom Brady. The resemblance to Wes Welker (and Julian Edelman and Danny Amendola) was striking even five years ago. A 2013 USA Today headline read, "Is recruit Braxton Berrios the next Wes Welker?"
The Raleigh, N.C. native will have the opportunity to answer that question when rookies report to mini camp in May.
Here's what you need to know about the Patriots' new slot receiver:
He's smart.
Berrios, a finance and entrepreneurship major, was an Academic All-American and valedictorian of Miami's business school. Speaking to reporters on a conference call after the draft, he downplayed the honor.
"Anything I try to do, anything I write my name on, I try to do it to the best of my ability. That's really all that was," Berrios said. "It wasn't that I was so smart or not even that I value academics over or even the same as football. I think that's a key part of life. They can take away football and all those things, and they can't take away your mind and the brain and the knowledge you have. But, it's just a culmination of work and just trying to do everything that was put in front of me to the best of my ability."
Berrios was also a finalist for the 'academic Heisman,' the William Campbell Award.
Of the new Patriot, New England's director of player personnel Nick Caserio said, "[He's] an impressive kid. This guy's really, really smart. He graduated in, I want to say three to three-and-a-half years, whatever it was. Played inside the formation at the University of Miami, really productive, really tough, good traits, smart, good quickness, was productive, had more opportunities here this season in Miami and he made the most of them."
Scouts say he's similar to the player he'll try to replace.
The NFL.com scouting report on the wide receiver says that "while Berrios is a little stubby and tight-hipped, he has explosive characteristics and shows the ability to uncover and the toughness to make contested catches look easy. Berrios may appeal to teams looking for a slot receiver who can work the middle of the field and attack with intermediate routes. His ability to return punts simply adds to his roster value. Getting caught up with what he can't do rather than what he can do would be a mistake."
The report lists a certain Miami Dolphin as his closest NFL comparison. As Berrios moves from South Beach to Foxborough, Danny Amendola will be headed in the opposite direction.
"They've done an incredible job in getting handed their role and working it to a master level," Berrios said of Amendola and the other Patriots' wide receivers with similar skill sets. "Obviously, I've seen them, I watch them, I study them, along with a lot of other guys in the league. They've done an incredible job and I'm really excited to learn some things."
Much like Amendola, who went undrafted before signing with the Dallas Cowboys in 2008, Berrios is accustomed to getting overlooked and underestimated. About an hour before he was selected, two rounds later than some analysts were predicting, he tweeted that he wasn't surprised by the wait.
It's okay, I'm used to this

— Braxton Berrios (@HNYNUT_BERRIOS) April 28, 2018
Unlike Amendola, the draft day call eventually came.
He performed better than NFL stars at a high school showcase.
In 2017, Berrios caught 55 passes for 679 yards and nine touchdowns as the Hurricanes won the ACC Coastal Division for the first time and advanced to the conference championship game. The team captain also excelled as the primary punt returner, averaging 15.9 yards per return.
At his pro day, Berrios ran a 4.44-second 40-yard dash, finished the 3-cone drill in 6.72 seconds, and recorded a 36-inch vertical leap. The explosiveness and versatility were on display when he was a teenager. In one high school season, he had 740 yards as a receiver, 1,260 as a rusher, and 389 as a passer.
He attended The Opening, a Nike combine in Oregon, where he was the No. 5 athlete out of 100 top recruits. In quickness and agility drills, Berrios bested current Carolina Panthers wideout Curtis Samuel and Pittsburgh Steelers star JuJu Smith-Schuster.
He made catches in the mud to get ready for catches over the middle.
Rico Berrios, Braxton's father, realized his then six-year-old son might just be a special athlete during a ferocious rain storm. Everyone else in the neighborhood was inside, but Braxton demanded to go outside and have his father "throw the ball as hard as you can, over my head!"
Over and over again, Rico recalled to the Miami Herald in 2014, "He ran full speed, made a diving catch and slid across the mud."
The pair kept up the routine, rain or shine, for years.
Rico said, "My neighbor would come out of his house and yell, 'Rico, you're crazy! You're going to kill this kid' — but his wife would say, 'No, he's not killing him. That boy is going to play in the NFL one day.'"
The neighbor's wife was right, but before he reached the NFL Berrios had a decision to make. He had over 20 Division I offers on the table on the Fourth of July weekend before his senior year of high school, but not the one he wanted. His grandfather, who came from Puerto Rico, and most of his family lived in Miami, and his father had inculcated green-and-orange fandom in Braxton.
Then, according to the Charlotte Observer, the call came from 'The U' head coach Al Golden. Berrios, who had been waterskiing on a lake, killed the engines and heard the news he'd been waiting for.
"It's one of those moments that you don't know if it will ever come, and you've been waiting on it for as long as you can remember," he said.
He returned from an ACL injury in "ridiculous" time.
At the Under Armor All-America game was tackled awkwardly in the first quarter and headed for the sidelines. But he didn't realize the severity of the injury and returned to the game, where he scored a touchdown in the fourth quarter.
It wasn't until the routine physical all players go through upon arriving at college for early enrollment that Berrios realized he'd torn the anterior cruciate ligament in his right knee.
"I walked into college with a torn ACL," Berrios said. "Everything happens for a reason, and in those times you really have to have full faith in that. Sometimes when you're in the moment it's hard to understand that and hard to really rationalize it that way."
The anticipated rehab window for the injury was nine months. Berrios returned in seven and was in the lineup for the first game of his freshman season at Miami.
"I mean, it's ridiculous that he's out there doing what he's doing," Miami coach Al Golden said at the time. "And he won't wear a brace… We're excited about him."