Patriots
5 things we learned from Tom Brady's appearance at the Milken Institute Global Conference
Brady was rather open about a number of subjects.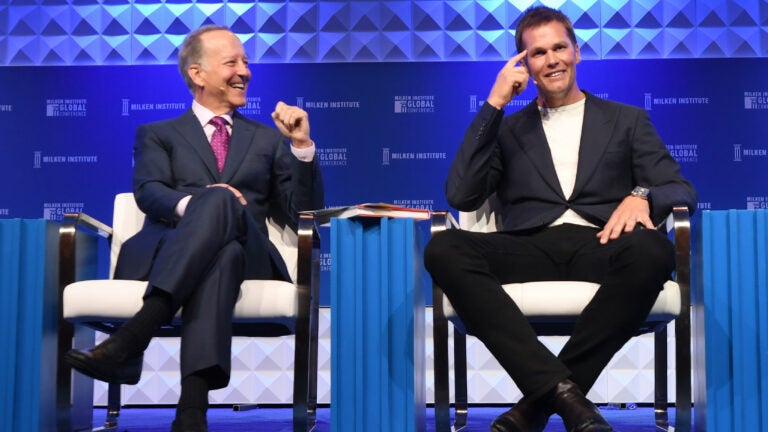 Patriots fans heard from Tom Brady Monday, but the quarterback's comments came miles away from the confines of Gillette Stadium.
Speaking at the Milken Institute Global Conference in Beverly Hills, Calif., Brady dished on a number of hot-button issues surrounding the Patriots, including Malcolm Butler's Super Bowl LII benching, his relationship with coach Bill Belichick, and his intentions with the team moving forward.
Here's what we learned from the hour-long conversation:
The mystery behind Malcolm Butler's Super Bowl LII benching lives on.
Brady told Gray he even didn't realize Butler had been benched until after Super Bowl LII was over.
"I didn't know," he explained. "Malcolm kept coming over to me during the game and was like 'Come on, TB, let's go.' And I kept going, 'What defense are we in where Malcolm's not on the field?' Is it short-yardage, goal line? Then after the game, I found out. So I just didn't know."
Three months later, Brady said he still doesn't know why Butler didn't play against the Eagles. After participating in 98 percent of the defensive snaps through the 18 games leading up to the Super Bowl, Butler was inexplicably kept on the sidelines for — with one exception to a special teams snap — the entirety of New England's 41-33 loss. His benching was deemed a "coaching decision."
"I don't know what was a part of that decision-making, but I know we were trying to win the game," Brady said. "I don't think we were trying to do anything but win."
Brady — who took time to praise Butler for his game-saving goal-line interception against the Seahawks in Super Bowl XLIX — said he wishes the cornerback had played and noted that the two have a great relationship. He said he hasn't sought out an explanation for the mystifying situation, but expressed confidence in that the team was just trying to do what was best.
"For our team, it's worked out better than every other team for a long time, so how do you nitpick one or two things?" Brady said. "Everyone is trying in my belief to do the best thing. It just doesn't always work out."
Although he may have wanted Butler in the game against the Eagles, Brady said he was — and will continue to stay — focused on controlling what he can control. The five-time Super Bowl champion credited much of his success to being able to maximize his abilities.
"I can do my job and I am going to do the best I can," he said.
He still plans to play until his mid-40s.
Despite speculation surrounding his future with the Patriots, Brady declared his intention to not only return for the upcoming season but to also play beyond 2018.
"I have personal goals," he said. "I want to keep playing. I've said for a long time I want to play to my mid-40s . . . I feel like I can do it."
"I can keep doing it because a) I love to do it and I'm willing to make the commitment to doing it, and b) I have a great plan. I have a great system in place that works well for me in order to keep me performing at my highest level."
As fervent as his passions for the TB12 Method and football are, Brady did offer a ceiling on his seemingly boundless longevity. He reiterated he wants to continue playing until he can't contribute in the way his team needs him to contribute, but also put a hard cap on his career.
"Hell no, I'm not playing until 56," he said.
Brady also alluded to potentially becoming a motivational speaker in retirement.
"How do athletes, how do people in every career maximize their potential? How can you, if you commit to the right things, be the best you can be?" he said in perhaps a teaser of what's to come. "How can you feel your best? How can you be your best? That's part of the second career of my life, but what I want to do in the meantime is inspire people through my actions."
Whether he feels appreciated by the Patriots is 'a tough question.'
Though Brady said he is generally a "very happy" and "very positive" person, he also recognized there are going to be ups and downs.
"When you have been on the same team for a long time and you have relationships for a long time, they ebb and flow like every relationship," he said, before confirming there is no other team he would rather play for than the New England Patriots.
But despite his unwavering commitment, the 40-year-old initially opted to "plead the fifth" when Gray asked if the Patriots had "appropriate gratitude" for what he's achieved — a joke that garnered some laughs from the crowd.
He never directly addressed the question — saying he thinks "everybody in general wants to be appreciated at work and in their professional life" — but said there are more people than he ever expected who do appreciate him. Brady reiterated he is focused on finding motivation from within himself, which was also a prominent message from his docu-series, "Tom vs. Time"
"What I am learning as I get older is it comes from within — the joy, the happiness, those things come from within the inside," he said. "To seek that from others, from outside influences, people you work with, people that cheer against you or cheer with you, I feel like it comes from within for me. I am trying to build up what's within me so I can be the best for me so that I can be the best for other people."
Brady said he understands many of the external influences in his life are people who are just trying to get the best out of him, but at the end of the day, he is the one who has to get the best out of himself.
He said 'humble pie' is one of the keys to the Patriots' sustained success.
Brady maintained he has a "great" and "respectful" relationship with Belichick, who has been his only coach over the course of his 19 years in the NFL. Brady acknowledged Belichick's management style doesn't make him "the easiest coach to play for," but said he still believes the 66-year-old is best coach in the history of the league for a variety of reasons.
"He's been an incredible mentor for me," Brady said. "He's taught me so much football . . . I wouldn't be sitting here without his coaching. I wouldn't have the success without how incredibly talented he was."
Brady pinpointed Belichick's consistently critical eye, which was reportedly a source of tension, as an major contributing factor to New England's prolonged success.
Despite the frequent blowout wins during the Patriots' 18-1 season in 2007, Brady said Belichick would have plenty of critiques the following day: "We sucked on defense. We can't cover a kick. We're four of eight on third down. What a joke."
"We always used to walk out of the meeting saying, 'Humble pie was served,'" Brady said. "It was a very grounding experience for all of us. If you do listen to your wife, your girlfriend, or your family, they're not giving you the truth. They don't know why you're winning or losing. But you need people to critically evaluate why good things or bad things are happening."
"Even if you win, you aren't doing everything perfect. When you lose, you aren't doing everything wrong. There's always a middle ground."
He chose his dad, Tom Sr., as the one person who has shaped his identity the most.
At the end of Brady and Gray's conversation, Brady was asked by a member of the audience to identify someone in his life who has helped formed him into the person he is today.
"My dad was the best role model a son could ever have," Brady said. "He taught me so much about working hard for his family — incredible determination, humility, and love — and that's what he was all about . . . That'd be the one."
Brady said he was thankful Tom Sr. set such a great foundation for him — and cited his father's presence growing up as one of the driving factors behind his approach to parenting his three children, even though it's not always easy.
"I need to take time so I can be available to them," he said. "I had the best dad, and I want to be the best dad for my kids. I can't always use football as an excuse or work as an excuse to allow them not to get the time they need. They are going to look back and go, 'Dad, you weren't there for me. You weren't at that. You didn't drive me to school. You didn't do this.' The model I had as a father was that he was at all the things — and I am not at all the things."
https://youtu.be/S9GbMZkNO70