Patriots
The McCourty twins tried to prank Patriots reporters during a joint press conference
"You can't trick us."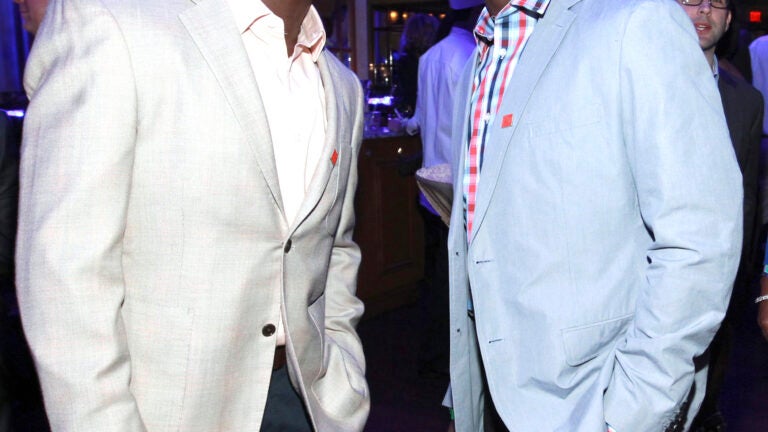 Devin McCourty says he and Jason McCourty used to dream about playing together in the NFL. And now that the two identical twins have been united on the Patriots, we're starting to get a glimpse of what they're capable of together.
Hopefully it involves more pranks.
The McCourty twins held a press conference together Tuesday and tried to pull a classic Parent Trap-style prank on the Patriots reporters congregated at Gillette Stadium.
The McCourty twins tried to fool us pic.twitter.com/oaHfGMpHqI

— Kevin Duffy (@KevinRDuffy) May 8, 2018
"How does it feel to be a Patriot?" a reporter asked at the beginning of the session, holding a microphone toward Jason, who the Patriots acquired in a trade in March.
"Feels good," Devin quickly interjected.
His brother quickly picked up on the joke.
"Going into, what, my ninth year here. Excited. Happy to be here," Jason said, pretending to be team's veteran safety, rather than the recently acquired cornerback.
"You can't trick us," another reporter said. "We know you're Jason."
Just as they have different physical playing styles, the 30-year-old brothers also have differences off the field, as Jason recently explained.
"I was in the training room and [Patriots trainer James Hardy] came up to me and started talking to me, and he was like 'You must be Jason," he told the Patriots website. "And he was just like, 'You can't be Dev, 'cause as soon as Dev walks in the training room, he's the loudest guy in the room.' So I guess that's one of the things that has continued to stay the same"
The identical twins haven't played together in 10 years, back when they were both at Rutgers. However, they do share social media accounts, and Jason even answered Tuesday that they "probably" share a telepathic twin bond.
"Been together for a while," Devin said.
"We've been together so long," Jason agreed, later adding that "there's some similarities to us, but we just shared the eggs."
"It's similar like how I am with Bill [Belichick]," Devin said. "We've been together for a while."
"So I guess him and Bill are fraternal twins," Jason joked.