Patriots
Morning sports update: Eagles' Lane Johnson still angry about the robotic Patriots' 'arrogance'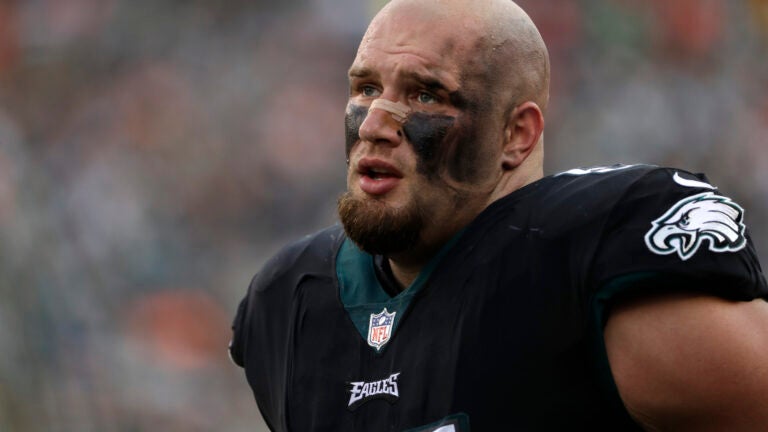 The Celtics overcame a triple-double by LeBron James to beat the Cavaliers 107-94 on Tuesday night and take a 2-0 lead in the Eastern Conference finals. In his first at-bat since being reinstated from the bereavement list, Stephen Piscotty hit a home run and saluted his late mother as he led the A's to a 5-3 win over the Red Sox.
Eagles' Lane Johnson still angry about the robotic Patriots' 'arrogance'
Lane Johnson is campaigning for a permanent place on Bill Belichick's bulletin board.
Before Super Bowl LII, the Philadelphia Eagles right tackle said Tom Brady was a "pretty boy" and "there's nothing I'd like to do more than dethrone that guy." He accomplished that goal, and after the Eagles' victory he described the Patriots as a "fear-based organization" with players who "act like f—ing robots."
Now, over three months since Philly's parade, Johnson explained where some of the ill-will he bears towards New England comes from.
"Here's what pissed me off," Johnson said on The Steve Austin Show, per ESPN. The Patriots, obviously, I respect their coach, I respect Bill [Belichick], I respect Tom Brady, but just because the way that they won the Super Bowls, the Patriot Way, is that how everybody else is supposed to do the same thing? No, it's not. And that's what I got mad at, the arrogance by them."
He added that there were words exchanged between the respective team's owners and head coaches.
"There was obviously some stuff behind closed doors," Johnson said. "Their owner talking s— to our owner. Bill talking s— to our head coach [Doug Pederson] before the game. I'm not going to say it, but a lot of s— kind [of] built up to that, and I just got tired of hearing about it, man, to be honest."
5 pivotal plays from the Celtics' Game 2 victory: Aron Baynes battled on the floor, LeBron James's chin caught a Jayson Tatum shoulder, and Terry Rozier threw down a tomahawk dunk on Tuesday night at the Garden.
"We're gonna fight," Rozier said. "We're gonna fight until there's zeroes on the clock." (Boston.com)
Cavaliers coach Tyronn Lue said the Celtics are 'gooning the game up': After his team's defeat in Game 2, Tyronn Lue offered an unusual description of the Celtics' physicality. Al Horford defended Boston's approach. The Cleveland head coach also said his team needs to be tougher, "mentally and physically." (Boston.com)
Marcus Smart on J.R Smith's fourth-quarter shove: 'I took offense to it': Al Horford came down hard after going up for an alley-oop pass in the fourth quarter and receiving a shove in the back from J.R. Smith. Smart was quick to confront Smith for the "dirty shot."
"It's like a bully," Smart said. "You keep letting a bully keep picking on you, he's going to pick on you until you finally stand up, and that's what I tried to do." (Boston.com)
Daily highlight:
https://twitter.com/celtics/status/996574434805796865?tfw_creator=mark-dunphy&ref_src=twsrc%5Etfw&ref_url=https%3A%2F%2Fwww.boston.com%2Fsports%2Fboston-celtics%2F2018%2F05%2F16%2F5-pivotal-plays-celtics-game-2