Patriots
What Boston sports radio is saying about Tom Brady missing OTAs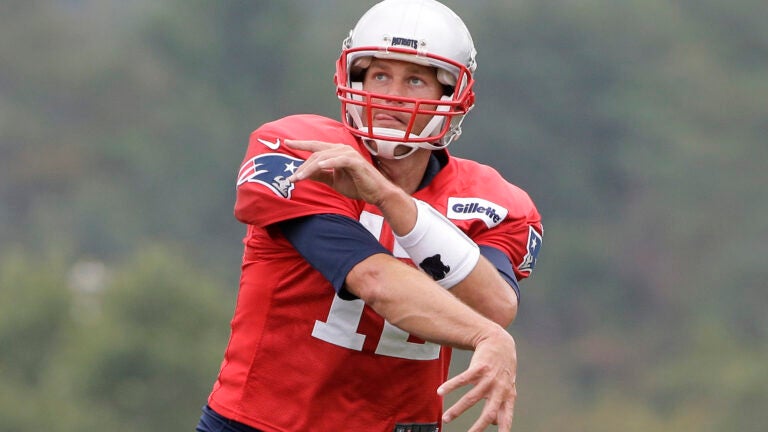 Tom Brady's words are all over the airwaves in Boston this week, but it's not a soundbite from anything the Patriots quarterback said recently. Instead, it's a clip of Brady, circa 2013, describing the importance of offseason voluntary workouts.
"You think, 'It's just an OTA in the spring time and it's not that important,' and all those things that probably could enter your mind," Brady said at the time. "The truth is, this lays the foundation for the start of training camp and if you have a good training camp, it usually means a good start to the season."
That sound plays a bit differently these days as No. 12 elects not to attend the third phase of New England's offseason program. The hosts and callers on Boston sports radio are pointing out that contrast, as well as trying to explain Brady's decision to skip Monday's OTA. Theories thrown out there include a rift between Brady and Belichick, contract demands that are going unmet, or simply shifting priorities for the quarterback and his family.
Here's what Boston sports radio is saying about Brady's absence:
Felger & Mazz (98.5 FM)
The Brady rump-swabs are gonna sit there and defend everything he does and say Brady doesn't need to be there. But these are the same people who try to tell you that Brady's all about the team. So if he's all about the team, then why isn't he there? They're mutually exclusive. — Tony Massarotti

I don't think it's about the contract. I don't. I think it's about Bill. I do. …Listen, if you're going to make my life miserable when I'm there, then I'm only going to come when I have to. — Tony Massarotti

It worked over the years because Brady bought in — and if Brady bought in, everybody buys in. But I just look at it now and say, 'He's acting like Dan Marino.' That's what he is. And I know that that is sacrilege for people here to say about the great Tom Brady — and listen, I think he's great too. He's the best football player any of us have ever seen. But this — this is selfish, childish, and downright weaselly if I'm the owner of the Patriots. — Tony Massarotti

I don't know how you can be as good you can be — as good as you've been in the past — unless you've put it all the same work you've put it in the past. — Michael Felger
Toucher & Rich (98.5 FM)
He's going to be the 22nd highest paid quarterback. Obviously he's looking around and going, 'Why can't I get paid?' …[Money] is definitely part of it. Put it this way. Even if they promise [Alex] Guerrero can come back, he's not going to cooperate until he get's paid as well. — Rich Shertenlieb

If he's concerned about money, I guarantee you it's because he's pissed off about everything else. — Fred Toettcher
Kirk & Callahan (93.7 FM)
I don't think it's that complicated. He's pissed off at Belichick, he wants Guerrero to have a bigger role, and until that happens he's not showing up. Until he has to. — Kirk Minihane

This time of year is about getting in shape, it's working out. To him — working out, getting in shape — Guerrero is an essential part of that. So he thinks it's hard for him put that aside and just show up with a smile on his face and a bounce in his step when he still feels like Guerrero is not getting the respect or the credit he deserves. — Gerry Callahan
Zolak & Bertrand (98.5 FM)
That mandatory first minicamp — he better not throw a ball 30 yards behind a guy. Or three feet behind a guy. Timing better be pretty damn good when he shows up. — Scott Zolak

What happened in the Super Bowl happened and we're all pissed about it. And I'm sure there's players that are pissed off about it too. But at some point they're going to have to play games again. That doesn't mean you have to stop being angry, but at some point you have to go back to work. — Marc Bertrand
Ordway, Merloni & Fauria (93.7 FM)
How many times have we talked about new weapons working with Tom Brady and getting on the same page? When does it start? It starts here. You grab all the new guys, you tell them how they do things here. For Bill Belichick, this is how we go about it. Welcome to the Patriot Way, all you newcomers. 'Oh really, this is how you do it? Cause the quarterback ain't here.' — Lou Merloni
We're reading into it because everyone is saying, 'Oh, he used to be the guy who always won that parking spot.' Let me explain to you. The parking spot for his group, which is kickers and backup quarterbacks, it's pretty damn easy to win. If you don't win it, then you have a problem. What are we talking about here? — Christian Fauria
Dale & Keefe (93.7 FM)
Who would you rather let down if you're Brady, Belichick or Gisele? — Rich Keefe

That's not a hard decision for me. — Dale Arnold
No, it's not. Nor for him. — Rich Keefe