Patriots
'They don't have fun there': Cassius Marsh sounds off on the Patriots
"There's nothing fun about it."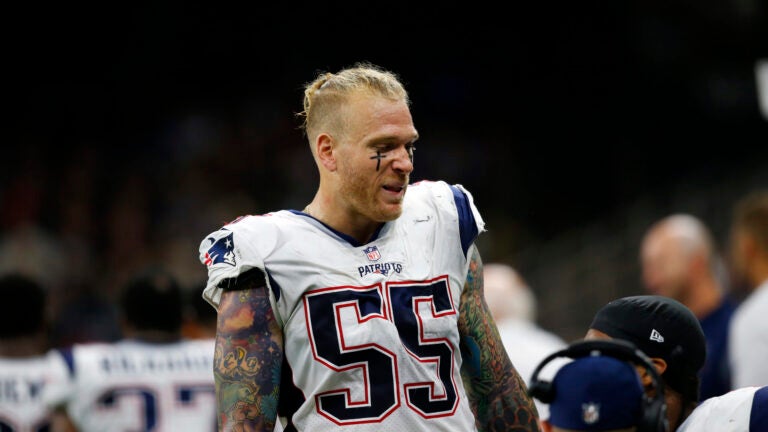 Linebacker/defensive end Cassius Marsh wanted out of New England.
Marsh told the San Francisco Chronicle recently that he "wanted to get waived,'' meeting with coach Bill Belichick just before he was cut in November. The Patriots had acquired Marsh from Seattle for fifth- and seventh-round picks in a trade last September.
In that interview with the Chronicle, he expressed displeasure about how he was used and with how the Patriots go about things.
"They asked me to do a bunch of stuff that I had never done: covering running backs and receivers and basically almost never rushing the passer, which is what I did in playing defensive line,'' Marsh said.
"They don't have fun there. There's nothing fun about it. There's nothing happy about it. I didn't enjoy any of my time there, you know what I'm saying? It made me for the first time in my life think about not playing football because I hated it that much.''
Marsh played in nine games (one start) and 25.09 percent of defensive snaps for New England, tallying one sack, a forced fumble, and 16 tackles.
"I was kind of left with a coach who it was almost like he was almost fighting to keep me off the field," Marsh told the Chronicale. "I had to really fight and scratch and claw for any opportunities I had. Obviously, we had a very deep defensive line, especially at the defensive-end position. It was just constantly being told that [I was] kind of like a backup type of guy. But I knew and believed in myself: That's not who I am."
"I confronted [Belichick] about all the things that were going on,'' Marsh continued. "I won't get into detail, but it was b.s. things they were doing. I just wasn't a fan. And so I, basically, without asking to get cut, I kind of asked to get cut . . . I had confidence that I would have an opportunity elsewhere and I would take advantage of it.''
In the final six games of the season with the 49ers, Marsh recorded two sacks, two forced fumbles, and 10 tackles.
Earlier this offseason, former Patriot and now Dolphin Danny Amendola reflected on how tough it was to play in New England and that he did not always like it.
"It's not easy, that's for sure. [Belichick]'s an [expletive] sometimes,'' Amendola said. "It wasn't easy, and he'd be the first to admit, at the [Super Bowl] ring ceremony, that it wasn't easy playing for him. The silver lining was that we were at the ring ceremony.''
Offensive tackle Nate Solder touched on a similar theme in an essay for The Players' Tribune in April.
"It can be a tough environment,'' he wrote. "It's very businesslike, and at times it can be cold. Everything in New England is predicated on performance. It's a place where people sometimes treat you differently based on how you practiced that day or how you answered a question in a meeting. One day, you could walk around the facility feeling like a Pro Bowler — the next, like you're about to get cut.
"I don't mean that to sound harsh or negative. It's also an incredible place to play, and I'm grateful for the years I spent there. It's just that it could be tough sometimes. The Patriots have set a standard, and the pressure is very real.''