Patriots
Eagles' Lane Johnson says Patriots can have rings. 'You can also have f—ing 15 miserable years.'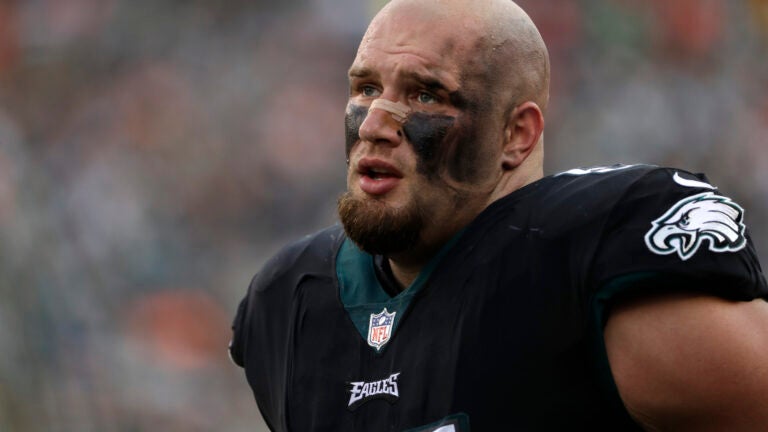 The Philadelphia Eagles are apparently interrupting each other in their hurry to criticize the Patriot Way. Lane Johnson, who's made clear his distaste for the way Bill Belichick operates, said Tuesday that Super Bowl titles in New England come hand in hand with a wretched work life.
"All these guys talking about 'I'll take the rings.' OK. You can have your rings. You can also have f—ing 15 miserable years," Johnson said, per Bleeding Green Nation.
Johnson's comments came after Philadelphia's OTA practice on Tuesday. His fellow Pro Bowler, Eagles guard Brandon Brooks, was first to talk about the team they vanquished in Super Bowl LII.
Brooks spent time on another limb of the Belichick coaching tree, playing for Bill O'Brien and the Houston Texans. On Tuesday, Brooks described life under O'Brien's regime. He was less than impressed by the experience, comparing it to when Reggie Wayne decided to retire rather than stay in New England past training camp.
"Shit is not fun there," Brooks said of Foxborough. "I was under the same regime in Houston [with O'Brien]. I almost retired. Shit was miserable, every day. Every day."
How much better is life with the Eagles?
"Night and day," Brooks said. "…Happy workers make more productive workers. When you're not having fun, man, those grinding, those hard-ass nosed days—"
That's where Brooks was cut off by Johnson.
"All the media wants to talk about is rings," he said. "Rings. I'm going to get this ring and never wear it one day. I'm going to put it away in a box. The only thing you're going to remember from your playing days, you're not going to remember the scores. You're going to remember the people you played with and how you felt. And that's the truth."
When Belichick was asked about Johnson's comments on Thursday, he did some interrupting of his own before the reporter could finish the question.
"We're focused on what we're doing trying to get better," he said, per WEEI's Ryan Hannable.