Patriots
Here's how Donald Trump reportedly reacted to Tom Brady's decision to not visit the White House last year
A new report Monday says it was a "chaotic scene" on Air Force One.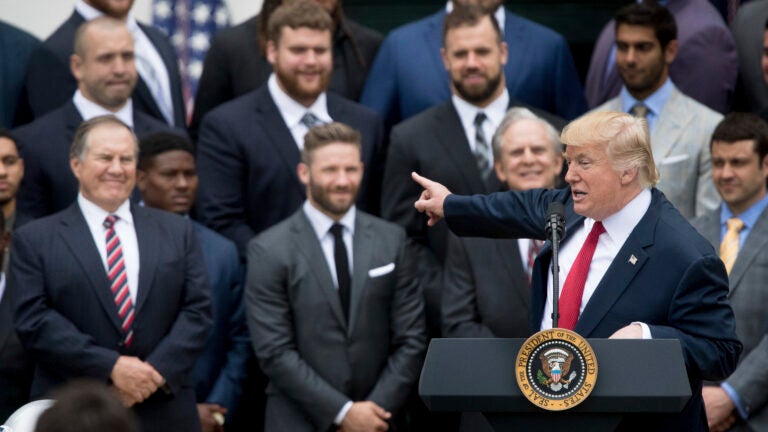 Tom Brady was one of several dozen New England Patriots players who skipped the team's ceremonial Super Bowl visit to the White House last year. Unlike some of his teammates who stayed home in opposition to President Donald Trump, Brady missed the celebratory event to spend time with his ailing mother.
Still, that rationale reportedly didn't assuage Trump's feelings when he wouldn't get to see his favorite quarterback on the South Lawn.
More than a year later, a Washington Post report Monday night pulled back the curtain on the "chaotic" scene aboard Air Force  One the day before the Patriots' visit. Flying back from an event in Wisconsin, Trump reportedly "grew angry" and even paid Patriots owner (and longtime friend) Robert Kraft a phone call.
Here's how the Post described the entire episode:
Trump grew angry in April 2017 when Tom Brady said he planned to skip the White House visit with the Patriots, huddling angrily with aides and even calling Patriots owner Robert Kraft. One former senior administration official described a chaotic scene unfolding over the heartlands of America, as Trump flew back from an event in Wisconsin. Trump made a number of calls and asked aides to help fix the situation, worried that Brady's absence would reflect poorly on him.
Of course, no number of phone calls were able to reverse Brady's decision and eventually Trump "calmed down," according to the Post. However, when the rest of the team visited, the president somewhat remarkably never mentioned Brady's name during the event, despite their 15-year friendship.
Trump's apparent preoccupation with the Patriots quarterback has reportedly continued to nag at him.
Inside the White House residence, the scorned 71-year-old president "expresses disappointment" that Brady had "distanced himself," The New York Times reported in a lengthy profile last December. Last month, Trump's chief of staff, John Kelly, reportedly marveled at the amount of time the president had spent talking on the phone to Patriots coach Bill Belichick about Brady's status.
After an offseason of questions, the 40-year-old quarterback was present at the first day of Patriots minicamp Tuesday.
The new details in the Post report Monday came as Trump disinvited the Philadelphia Eagles, who beat the Patriots in Super Bowl LII, from their respective White House visit, citing the dispute over players kneeling during the national anthem in protest of racial injustice. Brady has called Trump's past attacks on the NFL over the demonstrations "divisive."
Trump's decision Monday to disinvite the Eagles came after the team informed the White House that "only 10 to 12 people might come," according to the Post. Politico reported Tuesday the attendance would have been limited to just "two or three players, the owner, and the team's beloved mascot, Swoop."