Patriots
What Julian Edelman had to say about his return to the field
"I feel like I'm getting a day better than yesterday."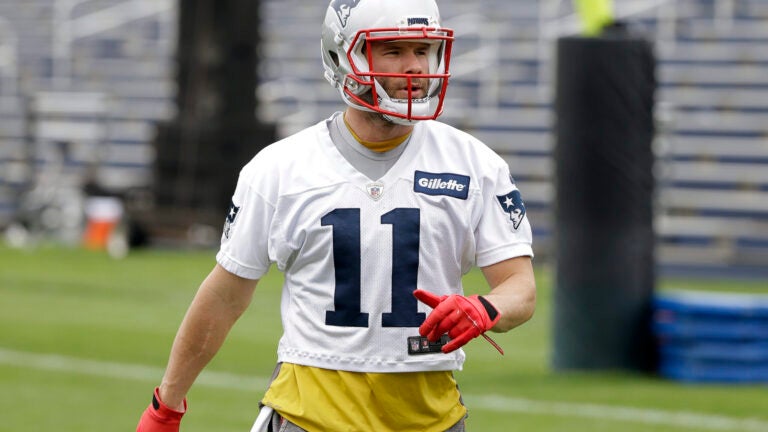 All signs have been pointing to a smooth recovery for Julian Edelman.
The Patriots wide receiver, who missed the entirety of last season due to a torn ACL, told reporters at Gillette Stadium "it's been good" to be back on the field. Edelman was present for the team's first day of mandatory minicamp Tuesday, after attending two weeks of voluntary OTAs.
"Any time you get to go out and see the fellas, play with them, talk with them, be in the huddle and look at guys, and participate in drills, that's what you play the game for ultimately," Edelman said. "It was tough to watch it on the sidelines last year. To come out here and do little things, strap on the helmet, it put some perspective on how lucky you are to get to play the game."
For the first time this offseason, Edelman had the opportunity to receive passes from quarterback Tom Brady in an official team setting. Although Brady was absent during OTAs, the pair reportedly had been meeting at Gillette Stadium "on a semi-regular basis." They also connected for several touchdowns at Brady's Best Buddies Football Challenge at Harvard Stadium on Friday.
"It was great," Edelman said of Brady's highly anticipated return Tuesday. "Any time you get the majority of the team — most of the team — out here, it's nice. I always like looking at 12."
"It's always loud with 12 out there," he added. "He's an intimidating SOB."
Tom Brady evades the pass rush from his son, Benny, to hit Julian Edelman for the touchdown. pic.twitter.com/kLFVdRELTx

— Boston.com Patriots News (@BDCPatriots) June 1, 2018
Asked if it was strange to not have Brady on the field during OTAs, Edelman said he was more focused on doing what he needs to do to get healthy and "get where [he wants] to be." He also noted he has been working with both the Patriots training staff and those at the TB12 Sports Therapy Center.
"Your confidence is built through your preparations and your fundamentals, so we've been working really hard at those things," Edelman said. "It's one of those things where each step you take, you're prepared for that step. That's how I feel."