Patriots
Julian Edelman is reportedly facing a suspension for a performance-enhancing substance
ESPN's Adam Schefter reports the suspension is under appeal.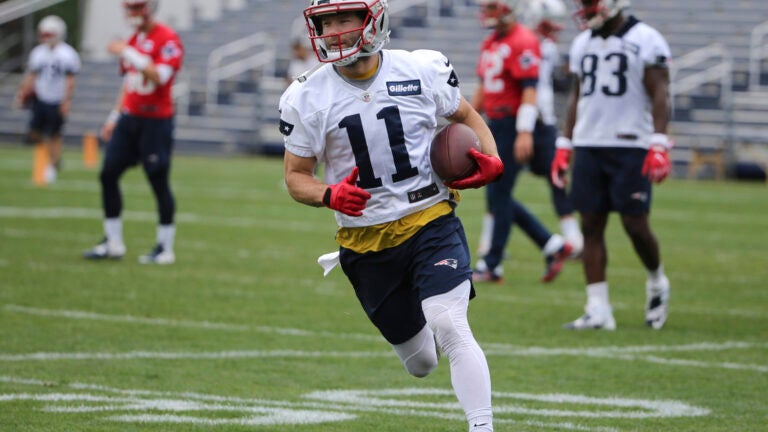 Patriots wide receiver Julian Edelman has been suspended four regular-season games for violating the NFL's performance-enhancing substances policy, according to ESPN's Adam Schefter and Field Yates.
Schefter reports the suspension is under appeal.
Patriots WR Julian Edelman is facing a four-game suspension for violating the NFL's performance enhancing substances policy, league sources tell @FieldYates and me. Suspension is under appeal.

More now on ESPN's NFL Live.

— Adam Schefter (@AdamSchefter) June 7, 2018
"These things are very confidential," Schefter said on ESPN's "NFL Live" Thursday. "All we know is that it's in the appeal process right now. And again, Julian Edelman has taken, I'm told, hundreds of tests before and not tested positive. This particular time, he did test positive for some sort of substance."
Edelman missed the entirety of last season due to a torn ACL he suffered during a preseason game against the Detroit Lions. He said after practice Wednesday it was "tough to watch" from the sidelines last year.
"To come out here and do little things, strap on the helmet, it put some perspective on how lucky you are to get to play the game," Edelman said.
New England's first four opponents of the 2018 season are the Houston Texans, Jacksonville Jaguars, Detroit Lions, and Miami Dolphins.
Former Patriots linebacker Tedy Bruschi said Edelman's potential absence will be particularly challenging for the Patriots because the team is "always figuring stuff out" during the month of September.
"From preseason to September, they're still figuring out what kind of packages work, what kind of players work in each position, those type of things," Bruschi said on "NFL Live." "It's easier and more quickly to iron out those problems if you have [Tom] Brady at quarterback, Edelman in the slot, and [Rob] Gronkowski on the other side — while you're mixing in these other pieces."
"Now that Edelman is gone, someone that you're not sure of as a player, or you don't have that much tape on, or you haven't made a conclusion on as a player is now in there," he continued. "Not only are you trying to figure out that player, you're trying to figure out what role, minus one major contributor, when they are still developing."
If the reported suspension is upheld, the Patriots' wide receiver depth chart would consist of the following players: Chris Hogan, Phillip Dorsett, Jordan Matthews, Kenny Britt, Cordarrelle Patterson, Malcolm Mitchell, Riley McCarron, Cody Hollister, Braxton Berrios, and Matthew Slater.
Edelman would also forfeit $470,588.20 in base salary.