Patriots
What we learned from the Patriots' mandatory minicamp
Brady, Gronk, and Hightower are back. Edelman might be gone for a while. Bill's still Bill.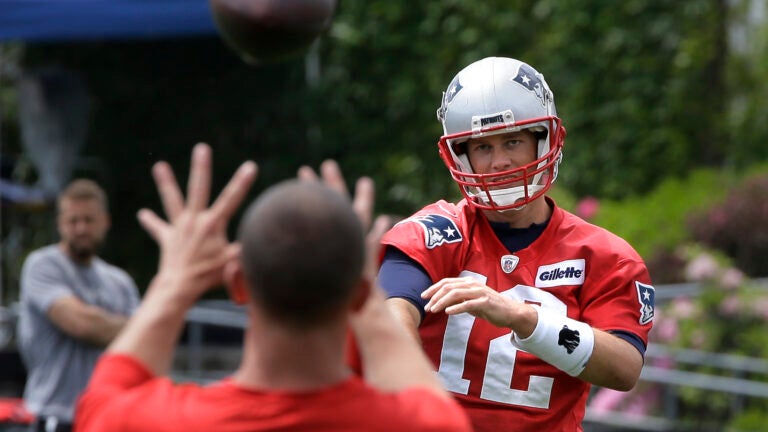 Attendance might be taken at OTAs, but mandatory minicamp is the first time NFL players are required to show up. The Patriots held their minicamp outside of Gillette Stadium from Tuesday to Thursday this week. All hands were on deck.
Here's what we learned from Foxborough this week:
Julian Edelman might miss four games.
After practice Wednesday, Edelman told reporters it was "tough to watch" from the sidelines last year as he recovered from a torn ACL. The little things, like strapping on a helmet, are a reminder of how fortunate players are to be a part of the sport, he said. However, the Patriots wide receiver might be back on the sidelines, helmet off, when the team opens the season against Houston.
ESPN's Adam Schefter — and an anonymous Reddit user — reported Edelman has been suspended four regular-season games for violating the NFL's performance-enhancing substances policy. He's appealing the suspension.
Schefter reported Edelman has taken hundreds of tests before and not tested positive.
"This particular time, he did test positive for some sort of substance," he said.
If the suspension stands, Edelman would forfeit $470,588.20 in base salary and the Patriots would turn to their wide-receiver depth chart — Chris Hogan, Phillip Dorsett, Jordan Matthews, etc. — to replace one of Tom Brady's favorite targets.
Alex Guerrero said TB12 had nothing to do with the suspension.
On Tuesday, before the news of his suspension broke, Edelman was asked if it was difficult not to push himself to make a faster recovery. He answered in the affirmative.
"Yeah, I mean, everyone's a competitor, so sometimes you're your worst own enemy when you're trying to do that," Edelman said. "But it is what it is and there's a big part of the process and I've got a lot of guys, training staff helping me out — TB12, all that stuff — to get to where I want to be."
Edelman is a client at the TB12 Center at Patriot Place, where he works with Brady's trainer Alex Guerrero. That connection was immediately questioned as soon as the wide receiver's suspension made headlines, but Guerrero denied any link between his treatment and the failed drug test.
"I've known Julian since his rookie year and he is a phenomenal athlete who takes his training seriously — it's disappointing to hear today's news," Guerrero said in the statement issued Thursday night. "Elite athletes sometimes work with multiple coaches and health professionals as part of their off-season training."
"Here at our facility, we take a natural, holistic, appropriate and, above all, legal approach to training and recovery for all of our clients," he continued. "And anyone who would suggest otherwise is irresponsible, and just plain wrong."
Brady's back and feeling lots of love.
The Patriots quarterback skipped the team's voluntary offseason workouts, but he's been putting in extra work since reporting to practice Tuesday. Brady has stayed on the field to throw with Edelman and Jordan Matthews after the rest of the team left.
The 40-year-old told reporters he never considered retirement during his time away. His press availability came before the Edelman news broke, but Brady did talk about why he missed OTAs.
"It's obviously important for everybody and our coaches do a great job of getting us ready," he said. "Just some personal reasons for me, but I'm here now and focused on what I need to do, like I always am, and this year."
Brady also addressed the reported rift between him and coach Bill Belichick.
"I've been here for a long time and I love this team and I love this organization and I love playing quarterback for him," Brady added. "I loved it last year and I'm having a lot of fun now, so that's obviously what's most important to me."
Belichick is staying with a long-term view of the Patriots' progress.
One day at a time. That's the mantra in Foxborough this summer, like it has been for every Belichick summer before. The Patriots head coach refused to go into detail about any particular player's improvement, choosing instead to focus on the collective's work.
On new wide receiver Cordarrelle Patterson's play thus far:
"You know, all the players that have been here this spring have improved and work hard, make progress. He's certainly in that group. Glad we have him. Good to work with. Talented player."
On working with the new kickoff rules:
"Yeah, we'll see. We've got a long way to go. We'll experiment with some things, take a look at it. Think it's a long way to go."
Belichick knows the improvements are hard to notice when you're in the thick of training, but he can see the forest through the trees.
"Just trying to keep stringing days together here in the spring," he said. "We add a little bit each day. Just keep trying to move things along. Feel like we're getting things accomplished, but always want to try to move a little faster than you're moving, but when you look back, you can see a lot of progress and we've seen that. It's another day here."
Rob Gronkowski's glad to be back after considering retirement.
The tight end confirmed this week that there was an ounce of truth behind all those ambiguous statements and anonymous reports — he did think about retiring this offseason.
"It definitely was in the mind," Gronkowski told reporters Tuesday.
He said that we wanted to get his body right again and make sure his mind was in the right place. He asked himself whether he really wanted to go through it all again, then made sure he was physically capable of doing so.
"I feel like I'm just going to do what's best for myself and take care of myself because if I can't take care of myself, I can't take care of anyone else and I can't help out the team," Gronkowski said.
Obviously, he decided to come back for another year of spikes.
"I feel like I definitely made the right decision coming back out," he said.
One interesting Gronk tidbit from minicamp is that as he walked past one of his teammate's interviews, he was overheard laughing, "They trading me still?"
Dont'a Hightower is embracing the grind after missing most of last season.
The linebacker's 2017 campaign ended after five games when he tore his pectoral muscle against the Atlanta Falcons. Back in action this week, Hightower said that he was frustrated by the injury and happy to be back on the field.
"Absolutely," the defensive captain said Wednesday. "Being out last year and even a little bit more the year before that, it just feels good to be out here and be able to communicate, go through the worst part and embracing the (camp stuff), as they say, with my teammates."
It wasn't his first time missing time for the Patriots. He has yet to play a full schedule in six years with the team, missing 24 of a possible 96 games as a professional.
"It just (stinks) not being out there," he said. "I know in my career in the league I've missed a lot of games. It's definitely not anticipated and it's not something I look forward to doing or want to do. But it's part of it. Just not being out there during the regular season, let alone the playoffs, it (stinks) and it hurts."
He managed to stay close to his fellow linebackers, though, with the aid of a giant group chat.
"We've got a big old group chat," Hightower said. "Whether it's a funny meme or somebody's got a question about football, or we're talking about something happening on TV, or the (NBA) Finals or whatever. We've got a tight-knit group and we stay close."