Patriots
Video: Watch Rob Gronkowski freak out as his horse makes a late push
In what should come as no surprise to anyone, the Patriots tight end was quite fired up.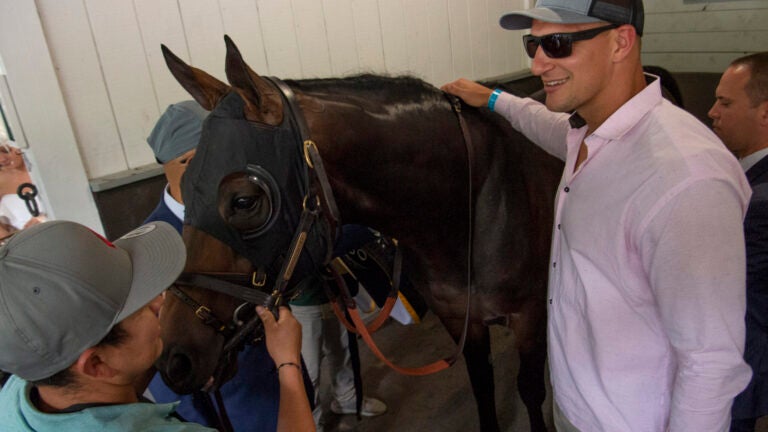 Rob Gronkowski had the time of his life watching Gronkowski on Saturday.
He wasn't marveling at highlight reels, looking back at old party footage, or even checking himself out in the mirror.
No, this was Rob Gronkowski, the Patriots tight end, blown away by the horse Gronkowski at the Belmont Stakes. Though Justify ultimately captured the Triple Crown, that didn't dampen the human Rob Gronkowski's enthusiasm along the way.
live look at Gronkowski watching Gronkowski pic.twitter.com/Tin4WRxZDj

— NBC Sports (@NBCSports) June 9, 2018
He was already fired up that the race was on 6/9. The fact that the odds for his horse miraculously opened at 69-1 put him in an even better mood.
When the 3-year-old thoroughbred started out slowly, Gronkowski was understandably disappointed, but he immediately returned to form as the colt surged from last place all the way to second.
NBC Sports shot a video of Gronkowski and his posse erupting as the horse made its push.
"It's in second!" Gronkowski belted. "Faster!"
Gronk and all his buddies placed $69 bets on Gronkowski the horse to place, so they're heading back to New England very happy. pic.twitter.com/eQ6OBpGGsC

— Nora Princiotti (@NoraPrinciotti) June 9, 2018
Moments later: "He's about to beat him!" three times, then "No way!" No, he didn't beat him, but he made Gronkowski proud.
Of course there were the jokes about a Patriots-related horse finishing in second, but all Gronkowski had to do was show his haters the money.
After betting $69, his group reportedly walked away with $950. Not a bad day at the office.
"At first I was like, 'Dang, we're in last place by like 15 yards,'" Rob Gronkowski told The Boston Globe. "But I was like, 'The race ain't over, you know?' And then he's getting closer and closer and all of a sudden he is fourth, third, second, and I just started going ballistic."