Patriots
In interview with Oprah, Tom Brady praises impact of players kneeling during the anthem
"I thought it was great."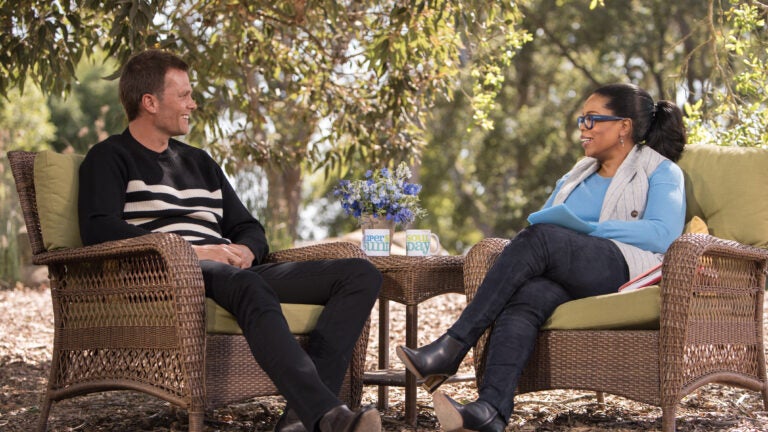 Despite the divisive national debate over NFL players kneeling during the national anthem, Tom Brady says the protests resulted in "a lot of good, healthy conversations" in the Patriots locker room.
In an interview set to air Sunday with Oprah Winfrey, the Patriots quarterback said that during his long career in sports he's come to empathize with the experiences of other players who are of a different "color, race, [or] belief."
"I respect why people are doing what they are doing," Brady said in a clip published Thursday by Winfrey's TV network, OWN. "And they're doing it for different reasons, and that's OK. You know, you can do things for your reason. They can do things for their reason, and you have respect for that."
"I thought it was great," he added.
Former San Francisco 49ers quarterback Colin Kaepernick began kneeling during the national anthem in 2016 to protest racial injustice in the United States. However, the controversy was reignited last season when President Donald Trump verbally attacked the league for not punishing players who knelt during the anthem.
Brady said the Patriots had held meetings after practice on how to deal with the "particular situation at the time." More than a dozen Patriots players knelt during the pregame anthem prior to the game immediately following Trump's comments, while the rest of the team locked arms in a showing of unity. Brady called Trump's comments "divisive" following the game.
Even though Kaepernick has remained unsigned since the 2016 season, other NFL players, including some members of the Patriots, have continued to speak out against system racism and police brutality.
"We support what people are going through," Brady said in his interview with Winfrey. "I've been playing sports long enough [to know] everyone comes from something different and I think showing respect for everybody, in a locker room, with a team of guys trying to go in the same direction — you better have that empathy for everybody. That's what sports are about."