Patriots
Is it still fun to be a Patriots fan?
With all of the success has come a sense of inevitability that has drained the joy from so much of the process.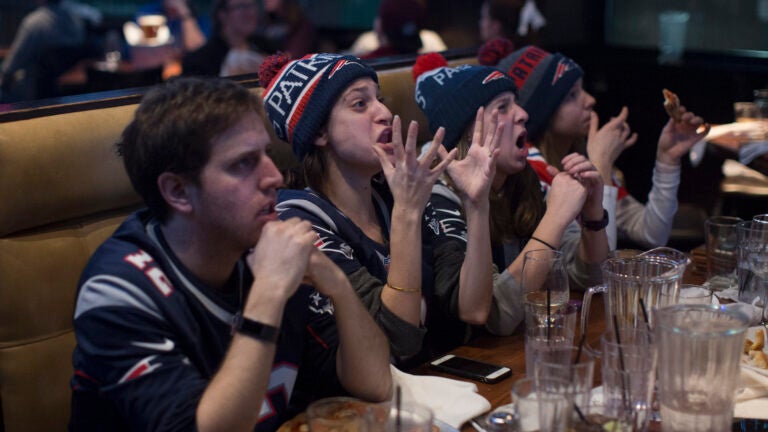 COMMENTARY
Given the storylines that have swirled around his Patriots over the first half of this year, Bill Belichick chose a most appropriate way to wrap up the team's offseason program last week.
Instead of spending last Monday on the backfields of Gillette Stadium, he opted to turn Fenway Park into America's Most Beloved Backyard. Instead of another day of drilling and installation, he went with cornhole and friendly competition. And instead of preparation, the focus was shifted to appreciation and fun.
Fun, of course, has for some been a focus of what's happening in Foxborough for months now. It's been a theme throughout the rebuild from the Pats' latest Super Bowl loss, with opinions on the club's demanding culture coming from such disparate ends of the celebrity scale as the connected Gisele Bündchen and the inconsequential Cassius Marsh, and from outsiders like the Eagles' Lane Johnson, who seized his team's triumph as a chance to question the merits of the much-ballyhooed Patriot Way of business.
New England's players, both past and present, have pushed back against suggestions that misery is an accepted part of life at Patriots Place, with their most compelling case for the benefits of working within Belichick's system made by simply flashing the carats on their finger(s) — particularly for those who consider their part in five world titles, eight conference championships, 15 division crowns and 241 wins a fair exchange for the stern staredowns, film-day undressings, or general expectation of personal sacrifice. There's also been acknowledgement that it's a job. Much of what the coach expects is merely consistent with being a professional.
But amid the back-and-forth has emerged a question for those who aren't being paid to put up with it:
Is it still fun to be a Patriots fan?
Based on the premise that winning is fun by nature, the affirmative should be an easy answer. And it has been in the past. Often. It wouldn't be easy to pick a favorite among New England's most pleasurable football moments of the past 16 years, the list of candidates only beginning with the improbable ride of the 2001 team, three Super Bowl titles in four years, an undefeated regular season, the continued excellence of the greatest quarterback who ever lived, the take-that title of the 2014 season, and the epic comeback that capped the 2016 campaign with another trophy. Undoubtedly there are dozens of moments between those milestones that can't surface on a Pats fan's memory without also surfacing a smile.
But is it still as fun when winning is no longer a goal, but a mandate — and when Super Bowl-or-bust expectations seem to have sapped the joy from so much of the process? These days the Patriots' sole delineation between success and failure is a championship, and under that weight it's difficult to draw satisfaction from the small victories.
Is it still fun to look forward to gameday each week, given that? Ugly wins have become almost unacceptable, as have even half-games where it's a struggle. But gone, too, are the days when a loss could just be a loss, without being an indictment on things like roster construction or arrogance. There's hardly that fan-anxiety experience of fretting over the ramifications of a loss, given that a rinse-and-repeat run to the AFC title game always still seems inevitable.
Is it fun rooting for a team when every game isn't analyzed on its own merits, but is instead dissected under the microscope of what it means for the team's aspirations for January and February? Patriots fans don't get to bask in the afterglow like followers of other teams do. Even at playoff time, Pats fans seem conditioned to be more concerned that Tennessee led 7-0 after a quarter than impressed that their team rattled off the next 35 points in what should be the ultimate survive-and-advance scenario.
So is it still as fun even when the winning does happen? Compare it to the experience of nearly 17 years ago. More recently, compare it to the experience of being a Celtics fan this past spring. That team had significantly less chance of winning a championship than last year's Patriots did – yet which was the more exciting and enjoyable follow?
Is it fun when the title-prize payout capable of making everything worth it is finally within reach after six months of stress and buildup – but Malcolm Butler gets benched and the defense looks brutal without one of its starting cornerbacks?
Is it fun when that decision dominates post-game chatter, among fans and media alike, but the coach who made that decision offers no details about it afterward?
Is it fun when other fanbases are celebrating their victories, or their acquisition of players like Jimmy Garoppolo or Jamie Collins, and Patriots fans are left to speculate and stew in their frustration without fully understanding why it's "in the best interest of our football team"?
Is it fun realizing that "In Bill We Trust" is not necessarily a carte blanche acceptance of everything Belichick does – but more so a resignation to the reality that there's no other choice, because further detail is not likely forthcoming?
Is it fun rooting for this team when fans of so many other teams get to enjoy the excitement of an eventful and electrifying offseason? When Butler, Garoppolo, Danny Amendola, Dion Lewis and Nate Solder all get contracts elsewhere – while Brandon Bolden, Joe Cardona, and James Develin are the guys the Pats re-sign?
Is it fun when other teams are throwing big money at big-play receivers, and the Patriots trade their homer-hitting wideout for a first-round pick – that they use to add an offensive tackle?
Is it fun that, while all of that is going on, there's talk of Rob Gronkowski mulling retirement and potentially taking a Hall of Fame weapon away from the offense, at least in part because he's unhappy with how he's being treated?
And is it fun when all of this happens against a backdrop where New England's fans, after 17 years of magic, are essentially being made to decide between a coach and a quarterback who should both be beyond reasonable reproach? Picking sides between Belichick and Tom Brady used to be part of a fun debate about which deserved more credit for this unprecedented run, but at this point the choice seems more reflective of whose petulance a person finds more tolerable.
Is it fun to see Brady drift from a deity in these parts to someone who is gradually becoming more and more difficult for fans to embrace? Remember, 16 months ago he had a local TV ad ready to run after the Super Bowl that openly mocked the NFL commissioner; a few days later he told Peter King he had all the answers, his relatability has been sliding ever since.
Is it fun to be worried that Brady's priorities have shifted since he received his Deflategate redemption, and then to have those concerns validated when he tells Oprah he sees an end coming "sooner rather than later" just eight months after the Pats traded away a potential franchise-furthering replacement? As hard as he used to prepare for the next season of football, his increased branding and presence among the global elite, at the expense of voluntary workouts, suggests he's now putting that effort into that instead preparing for the next phase of his life.
Is it fun to hear the names Brady or Belichick on TV or radio, and instantly know the conversation is either about how soon or how ugly the demise of this dynasty will be?
Then, is it fun to invest all this energy in a team that — just as things seem to be normalizing, and everyone reports to minicamp – has its most popular and productive receiver get popped for performance-enhancing drugs?
And is it fun to look toward the start of training camp next month, when another season begins anew, and do so with little hope that a fresh start will fix any of this?
Come to think of it, that brings another question for the football fans of New England:
Are you ready for some football, or what?