Patriots
Gotham Chopra gives an update on the status of 'Tom vs. Time' and his sports media company with Tom Brady
Chopra, Brady, and Michael Strahan are working on several projects within "Religion of Sports."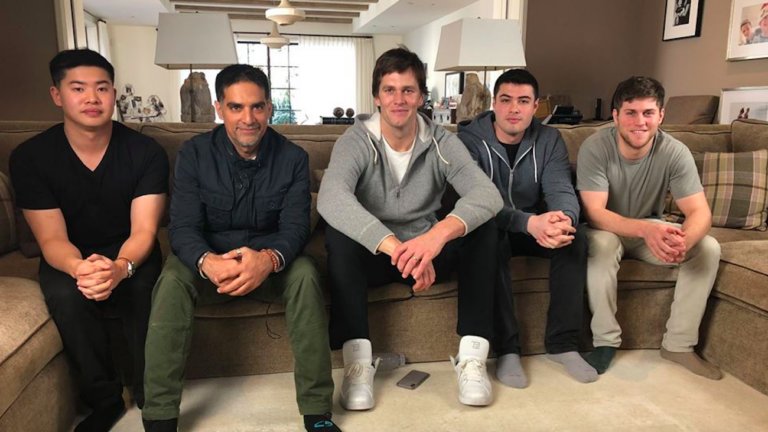 To fans awaiting a second season of Tom Brady's docu-series, "Tom vs. Time," filmmaker Gotham Chopra — the man behind the camera — says pump the brakes.
"I think, for us, there never was a real consideration," Chopra told Boston.com. "It was great, and it was unique timing last year in terms of things going on, you know, with Tom turning 40 and the [Patriots] season, and then it kind of just — except for the final score — worked out perfectly. It was just the perfect storm. I think we all really enjoyed it, but also didn't feel like there was any need to do it again."
Chopra, who directed and produced the first season of "Tom vs. Time," recently accompanied the Brady family on a trip to Qatar, sparking some speculation future episodes were in the works. But he insisted that wasn't the case.
"We spent so much time over the course of last year, so it was nice to see them," Chopra said. "It was really more as a friend, I went. We have so much other stuff going on now, like Tom's part of our show, 'Religion of Sports,' and our company, so in some ways, because Tom's so busy, he was like, 'Hey, just come and we'll talk about all that stuff in this exotic, amazing place' and so we did."
Brady, Chopra, and retired Giants defensive end Michael Strahan are co-founders of a sports media startup called "Religion of Sports." The company is responsible for both "Tom vs. Time" and a self-titled show, "Religion of Sports," which offers deep dives into niche communities and highlights subjects more off the beaten path than, say, the NFL. Chopra said he, Brady, and Strahan are often "trawling the internet" and putting their heads together to generate new ideas for compelling stories.
"There's a lot of texting and sharing of stories going around," he said. "But, because the word is out, we also get filmmakers approaching us."
One of the subjects in an upcoming "Religion of Sports" episode, for example, is Iceland's national soccer team. After 12 attempts, the nation qualified for its first-ever World Cup this year. Chopra said Brady recently sent him a stat that said 99.6 percent of the Icelandic population watched the team's first game.
"He's now tapped into all this, so it's pretty great," Chopra said. "I think, as everyone sees, not just through 'Tom vs. Time,' but through his social media activity, he's very engaged. He likes the content thing. He's having fun talking about stories and just exploring different things."
Another subject of an upcoming episode is Isle of Man TT, an annual motorcycle race that takes place on an island off the coast of England.
"It's like the most dangerous sporting event probably on the planet," Chopra said. "These guys ride 100 mph around this island on motorcycles. Every year, people die — they've been doing this for 75 years — and yet they still do it because there's something about it, testing mortality that drives people."
Other projects in the pipeline for Brady, Chopra, Strahan, and "Religion of Sports" include a podcast, which will feature a blend of stories involving high-profile athletes and community-driven subjects. Chopra said the topics selected will reflect "why sports matter," the ethos of the trio's company. 
"Religion of Sports" also recently launched a newsletter, titled "Sportuality," which is currently documenting a "conversion by immersion" experiment with a writer following the World Cup. According to Chopra, the writer has never cared for soccer but is watching every single game of the 2018 World Cup to see if he can decode the craze behind the tournament and understand why the event is such a big deal — a concept they are considering applying to other sporting events, like the Super Bowl.
Beyond that, Chopra is working on a few professional projects — including a series with LeBron James — Brady is preparing for his 19th season in the NFL, and Strahan will continue to be a part of ABC's "Good Morning America."
As the group goes about their daily lives outside of "Religion of Sports," there's one thing Chopra said happens without fail whenever they are able to get together.
"The first thing that is always brought up — by Michael, I will say — is 18-1 and the Super Bowl and how nobody picked [the Giants] and all that stuff," he said. "Tom just sorta shrugs his shoulders and is sort of like, 'What am I supposed to say?' Except for the fact that he's still playing and has won two Super Bowls since."