Patriots
Catching up with old friends: Wes Welker
The former Patriots wide receiver recently returned to Boston.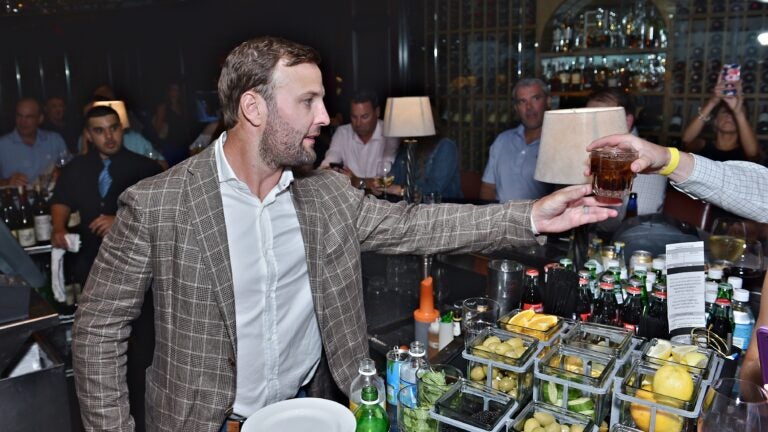 Patriots quarterback Tom Brady reconnected with one of his favorite receiving targets Saturday afternoon — and earned a few extra points for style.
Former Pats wide receiver Wes Welker managed to field a long pass from Brady while riding on the back of a moving golf cart. Brady shared a video of the impressive trick catch (as well as a few outtakes) via Instagram.
Welker — who still holds the Patriots' all-time record for number of receptions — had returned to Boston to participate in an annual celebrity bartending event. Hosted by Dr. Matthew Lopresti and Dr. Robert Leonard, the night benefited the "Young Fight Strong" program at Lifespan Cancer Institute in Providence.
Though Welker said he and Brady still keep in touch through text messages and FaceTime, he also admitted he doesn't get to see his former QB very often.
"I'll get to see Tom every once in a while but, you know, it's rare," Welker told Boston.com. "Whenever we play them, but that's pretty much it."
It won't be too long before the pair sees each other again, as the Patriots host the Houston Texans in September for their first game of the 2018 regular season.
Following his 12-season NFL career, Welker now serves as an offensive assistant for the Texans. The 37-year-old is entering his second season working under Houston's head coach Bill O'Brien, who previously held several roles as a member of the Patriots coaching staff. Welker says he's noticed a few similarities (e.g. scheduling, "the way things are run," media policies) between the two organizations. 
Some other Patriots notes from Welker. . .
1. He didn't have much to say about the recent backlash surrounding The Patriot Way:"It's hard to be critical of anything when you're winning. Should it be more fun when you're winning like that? Maybe. I don't know."
2. Prior to his New England days, Welker played two seasons with the Miami Dolphins and, at the time, coach Nick Saban. He said he saw similarities (e.g. media policies, emphasis on matchups) between Saban and Patriots coach Bill Belichick, but it was difficult to put his finger on the differences.
"It's hard to explain why they're different," he said. "It's interesting because when I was in Miami, I was a captain there, so I had a lot of conversations with Nick, you know, about different things on a more personal type of level, whereas that never really happened in New England. So I probably just knew Nick a little bit more on a personal level than coach Belichick."
Welker said, of all the things he's learned from the two, he hopes to adopt their "tell-it-like-it-is" approach into his coaching practices.
"The honesty they show to the players, like, 'Hey, this needs to get better' or 'Keep that up,' I appreciated that," he said. "I'm sure my delivery would be different than anybody else's, but I always appreciated their honesty with the players."
3. Welker had the opportunity to play for not only two of the greatest football coaches of all-time but also two of the greatest quarterbacks of all-time.
After his tenure with the Patriots, Welker logged two seasons with retired quarterback Peyton Manning and the Denver Broncos. He detected an obvious commonality between the two passers, whom he called "the ultimate competitors."
"They're very similar in the way they keep people accountable and they're always striving to get better week in and week out," Welker said.
4. As for something Brady might not get credit for?
He has all the accolades — five-time Super Bowl champ, three-time NFL MVP, three-time NFL passing yards leader, four-time NFL touchdowns leader, etc. — but Welker gave a little reminder about how demanding and how tough it is for the soon-to-be 41-year-old to continue doing what he's doing.
"I think just his relentless pursuit of perfection," Welker said. "Really from the moment he wakes up to the moment he goes to sleep, it's football and my family and really staying on top of those two things and making priorities for them and really carving out his day to make sure he's the best husband, father, and football player he can be. He stays on a very, very strict regimen to make that happen, which is a hard thing to do when you're getting pulled from so many different angles."