Patriots
Tom Brady makes surprise visit to BC football
Brady stopped to speak with Eagles quarterback Anthony Brown.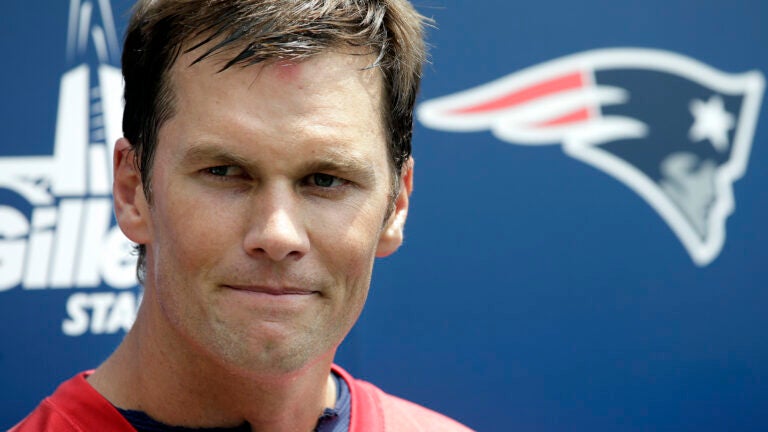 Playing football at Boston College has its perks. Forget the prestige associated with lacing it up for a storied Division 1 program. Who knows when the winningest quarterback in Super Bowl history will drop by for a chat?
The Patriots' Tom Brady visited Chestnut Hill and the Boston College campus Sunday, stopping to speak with Eagles quarterback Anthony Brown and offensive coordinator Scot Loeffler.
[fragment number=0]
Loeffler, who is also the quarterbacks coach at Boston College, knows Brady from their days in Ann Arbor, Mich. Loeffler first broke into the coaching ranks as a graduate assistant at Michigan in 1998 before going on to become the Wolverines' quarterbacks coach in 2002. Brady played for Big Blue from 1996-99.
Per associate athletics director Jason Baum, Brady has stopped by BC on numerous occasions over the years to shoot the breeze with his college coaching acquaintance.
Brown is still enjoying his college experience and would do well to soak up whatever wisdom Brady may have dropped during his visit. Last season as a redshirt freshman, Brown completed nearly 52 percent of his passes, tossing 11 touchdown passes and nine interceptions in 10 games for the Eagles. His campaign was cut short last November when he suffered a non-contact right knee injury that resulted in season-ending surgery.
Brown is expected to be fully cleared for practice when the Eagles open preseason camp on August 3.
The Eagles' precocious 19-year old wasn't the only one to benefit from Brady's visit. The five-time Super Bowl champion made time for a few youngsters lining the Eagles' athletic facilities.
[fragment number=1]