Patriots
Bill Belichick texted Jimmy Garoppolo after each of his starts with the San Francisco 49ers
No hard feelings?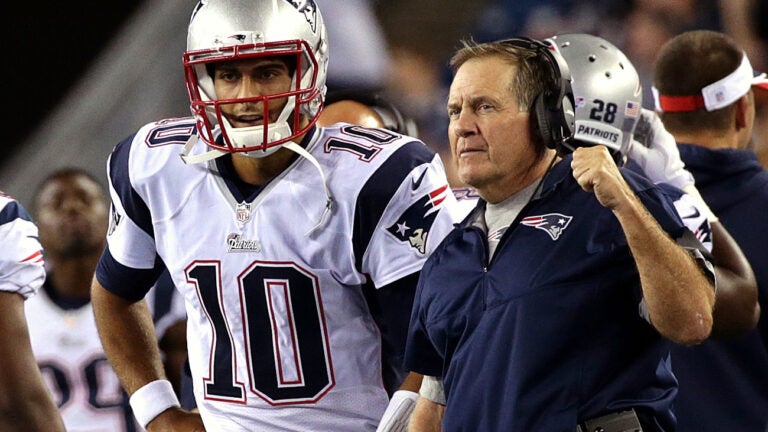 They're now over 3,000 miles apart, but Patriots coach Bill Belichick and his former backup quarterback Jimmy Garoppolo have established a new tradition.
According to Sports Illustrated's Jenny Vrentas, Belichick texted Garoppolo after each of his starts with the San Francisco 49ers to congratulate him for his performance. Garoppolo started — and won — five straight games for the 49ers to close out the season. He threw for 1,542 yards and six touchdowns.
Before he was traded to San Francisco in a surprising mid-season deal, Garoppolo was the backup quarterback for three seasons in New England. The Patriots received just a second-round draft pick in exchange for Garoppolo, which 49ers coach Kyle Shanahan's dad, Michael, told Vrentas, "was almost too good to be true." Shanahan and 49ers general manager Mike Lynch accepted Belichick's offer within 10 minutes of fielding the phone call.
Vrentas reports the trade was likely the result of Belichick's respect for both Shanahan and his father as well as his belief that Garoppolo would do well under Shanahan's system. According to multiple reports, the Cleveland Browns offered the Patriots more for Garoppolo than the 49ers, but Belichick elected to pass.
Other nuggets from Vrentas's story on Garoppolo:
When Belichick and Shanahan met in March 2017, Shanahan had inquired about Garoppolo. But Belichick said he was not available.
Prior to the 2014 NFL Draft, the Patriots scouted Garoppolo once at Eastern Illinois. Garoppolo's coach his junior and senior season, Dino Babers, told Vrentas they "didn't even stay for the whole practice."
Growing up, Garoppolo idolized Brady. Babers said he was "so excited" to meet with Brady's agent, Don Yee, who, of course, ended up being his as well.
Offensive tackle Joe Staley told Vrentas he'll call out Garoppolo for sharing too many of the same sayings as Brady: "I'm always calling [Jimmy] out on that, like, 'Hey, that's not your saying—that's Tom's saying! Get something else!'"
Garoppolo's closest friends on the Patriots were offensive tackle Cam Fleming and retired center Bryan Stork.
Garoppolo's father, Tony, said Brady was a mentor to his son: "I think they had a competition amongst themselves, and Jimmy gave Tom a little push. But it's not like Tom Brady is some average quarterback. He wasn't going anywhere. Jimmy knew that. At the same time, he took the opportunity to learn from [Brady]. Tom was a mentor to him. We couldn't ask anything more."