Patriots
These are the Patriots tight ends competing for limited roster spots
The competition behind Rob Gronkowski will be fierce.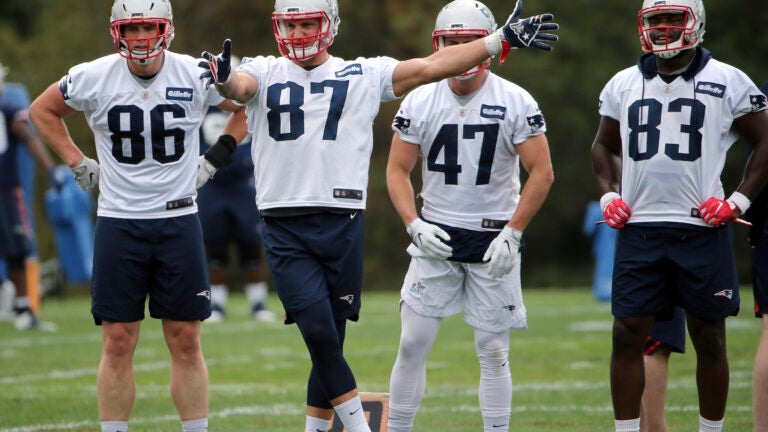 After all the talk of retirement, and the ongoing discussion over his durability, Rob Gronkowski is expected to start the ninth season of his NFL career on time at Patriots training camp this week.
The 29-year-old tight end remains one of the league's premier playmakers, and figures to once again factor heavily in the Patriots' offense.
What about the players behind him on the depth chart? Should Gronkowski suffer another injury, who would fill the enormous Gronk-shaped hole at his position?
Here's a look at the Patriots' tight end depth chart at the start of 2018 training camp:
Rob Gronkowski: By any measurement, Gronkowski has been a player Tom Brady has depended on in clutch situations since 2010. This was as true as ever last season, with Gronkowski setting a career record for yards receiving in a comeback win against the Steelers in December (nine catches, 168 yards). He also had two touchdowns in the Super Bowl.
In 2018, it will be business as usual for Gronkowski in the Patriots' offense. If he can stay healthy, he will be a focal point in both the passing game and (given his superb blocking ability) the running game as well.
Dwayne Allen: Labeled a disappointment in his first season with the Patriots (he made only 10 catches for 86 yards and a single touchdown), Allen is hoping to make a strong push in his follow-up year.
Working with Tom Brady in June obviously can't hurt, and Allen has had productive seasons before (collecting eight touchdowns in 2014 and six in 2016). As non-Gronkowski tight end options in the passing game go, Allen has potential.
Troy Niklas: Signed by the Patriots in April, the former Notre Dame tight end arrived from the Cardinals. In Arizona, he struggled through injuries in his first few NFL seasons, catching only 19 passes in four years.
Yet Niklas, only 25, has a lot of upside. He was once a four-star recruit out of high school as an offensive lineman, and his blocking ability could make him a valuable contributor. Also, as a college senior, he hauled in 32 catches for 498 yards and five touchdowns. A few years into his NFL career, Niklas could finally develop into an all-around contributor.
Jacob Hollister: A season ago, Hollister won the job to be the team's third tight end largely based on his work at training camp and in preseason. After making the roster, he posted four catches in the regular season, and could make a bid to jump farther up the depth chart in 2018.
Will Tye: The former Salisbury School standout joined the Patriots' practice squad last season and signed a futures contract in February. The 26-year-old posted over 80 catches for more than 800 yards receiving in two up-and-down years with the Giants, and still retains the potential to be a successful pass-catching tight end.
Ryan Izzo: The final pick made by the Patriots in the 2018 draft, Izzo was selected in the seventh round (250th overall) out of Florida State. Izzo is a tight end who excels at blocking, and will get a chance to make the roster on that ability as well as anything he can show in the passing game.
Shane Wimann: As an undrafted rookie, Wimann faces an uphill battle to make the roster. He caught a team high seven touchdowns as a senior at Northern Illinois last season while also serving as a critical run blocker. His route to making the survive the cuts isn't impossible (given the example of Hollister a year ago), but Wimann will have to jump over several players on the depth chart to do it.