Bill Belichick
What experts are saying about the 2018 Patriots
"One thing's for sure: The next few months won't be boring."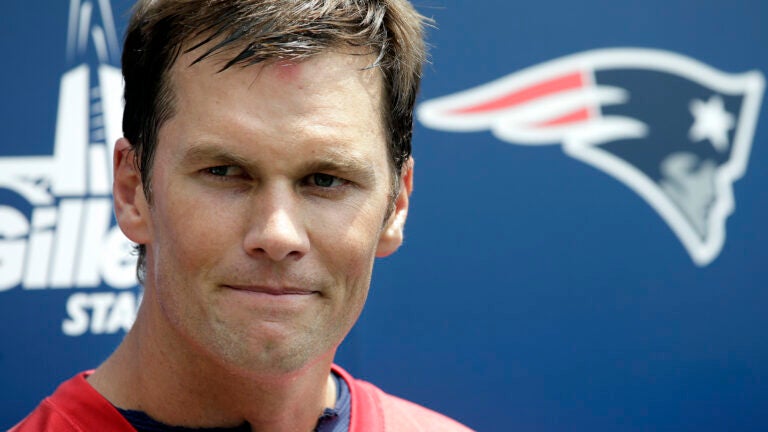 The Patriots report for training camp on Wednesday. As the defending conference champions begin another long, near-inevitable slog toward the AFC Championship game, there are some notable changes to the team that fell in Super Bowl LII.
Malcolm Butler's a Titan. Brandin Cooks calls Los Angeles home. Matt Patricia leads the Lions. Meanwhile, New England traded for Trent Brown, signed Adrian Clayborn, and drafted nine rookies. Most importantly, Brady and Belichick are back.
While the questions that have dogged the team this offseason — about the relationship between those franchise cornerstones, about Rob Gronkowski's contract, about Alex Guerrero's role going forward — might not get answered at the podium, fans will have the chance to see the on-field product for themselves when the gates open at Gillette Stadium Thursday.
Here's what experts are saying about the Patriots as they prepare to chase a sixth Lombardi Trophy:
Ben Volin, Boston Globe
The last time we watched the Patriots play football, the defense allowed 41 points and 538 yards to Nick Foles and the Eagles in Super Bowl LII. But they didn't do much to fix the defense in the offseason.

The good news for the Patriots is they tend to do well when expectations are lower. They have had 13 seasons under Belichick in which they lost their last game (or didn't make the playoffs) — and six of those 13 times, the Patriots have reached the Super Bowl the next season, with four championships.

But Belichick doesn't have to worry about keeping his team grounded this year. The media and prognosticators are doing it for him.
Mike Reiss, ESPN
A Week 11 bye is well placed for the defending AFC champions, giving them a mid-November break. If everything goes according to plan, they will be ready to make their patented late-season push. But one thing that showed up in 2017, and bears watching this year, is that the first month of the season was essentially an extension of the Patriots' preseason (they were 2-2, and one could say were fortunate not to be 1-3). So an overall prediction of 11-5, which is below the team's normal standard, takes that into account while also considering that five of the team's first nine games are scheduled for prime time. A Monday night game in Buffalo on Oct. 29 could be one of the most rabid, pure football environments on the entire NFL schedule.
Karen Guregian, Boston Herald
As for Belichick, he is reportedly irritated because he believes Brady tugged on Robert Kraft to make moves (Jimmy Garoppolo, Josh McDaniels) which ultimately forced Belichick's hand. My sources confirm Brady had a hand in bringing McDaniels back at the 11th hour, after the latter was headed to Indianapolis to be the Colts coach.

But does it matter if the head coach and quarterback are still bickering when training camp starts Thursday? The short answer is no.

While it would make many in Patriot Nation feel better if the duo ironed out some of their differences — coming to some compromise on Guerrero, agreeing to terms on an extension, etc. — it really doesn't have to happen for them to be successful this season.
Albert Breer, Sports Illustrated
I still think the Patriots win 12 games, and that Brady will be an MVP candidate and Gronkowski will be the best tight end in football. But again, that doesn't mean all this offseason drama couldn't bite them down the line in the playoffs, when the margin for error shrinks. Or with how their young players develop over the next few years.

Everything clearly hasn't been fine with the Patriots over the last year, nor has everything been fixed since the season ended. One thing's for sure: The next few months won't be boring.
Mike Sando, ESPN Insider
'[Tom Brady] has won five Super Bowls, but think about the Super Bowls they lost,' a defensive coach said. 'People forget, against the [2007] Giants, in the fourth quarter, he marched them down, he scored a touchdown and it took a helmet catch [by David Tyree] to win. They sacked him six times, hit him like 11 times — it was the best defensive performance you could ever have had, and the guy still almost won the game.'

Offensive coordinator: 'It looks like he is getting better. He is such a quick decision-maker, he is so accurate, they keep expanding what they are doing, the burden is on him, they don't play good defense anymore. He carries that team.'

GM: 'The thing that is cool about Brady and people on the outside don't understand about the NFL is, it is the person he is. It is the leadership he brings to that building. He makes everybody excited about working there, playing on Sundays. Is he an a–h— sometimes? We all are. But he exudes success and confidence. That is so hard to find in a quarterback.'

Defensive coordinator: 'Bill Belichick is an outstanding coach. If that guy [Brady] is not quarterbacking, then he is like the rest of us, trying to get our s— together. Brady is just a special dude. The guy understands going back to college that he has to compete for everything all the time. That is what makes him great.'
Greg Bedard, Boston Sports Journal
According to multiple sources, nothing has been hashed out between the three of them, at least at this time. That could certainly change as they come off vacation and ready for the season. But sources say the more likely scenario is that things are worked out slowly during camp — or not at all.

Belichick continues to be irritated that Kraft has increasingly interjected himself into areas that were largely Belichick's domain during his tenure with the Patriots. That includes the owner's deference to Brady and his role in the retention of Josh McDaniels.
Andy Hart, Patriots Football Weekly
Injuries and inability to fit in killed the Patriots depth last fall from front to back on defense. While health in July doesn't really matter, the roster looks deeper this fall. Danny Shelton has the potential of a former No. 12 pick and will be motivated to prove himself in his new home. Jason McCourty is a proven veteran cornerback. Rookie draft picks Ja'Whaun Bentley and Christian Sam add potential to what had been a paper-thin linebacker group. Young guys like defensive end Keionta Davis or rookie cornerback JC Jackson may be sleeper contributors. Maybe things won't look so deep come September or even December, but right now the cupboard appears to be a bit more stocked on defense for presumed first-year playcaller Brian Flores.
Kevin Duffy, Boston Herald
The most common group here and across the NFL has been "11" personnel, comprised of three receivers, one running back and one tight end. That probably won't change. But the frequency with which the Pats utilize other groupings will likely be adjusted. The two tight-end set ("12" personnel) is intriguing, and the idea of playing two running backs together, a seldom-used but highly effective lineup, becomes increasingly appealing.

The Pats are loaded in the backfield, even with the departure of Dion Lewis. James White is as polished a receiver as any back in the league, Rex Burkhead is a unique with diverse skills, and first-round pick Sony Michel is a potential stud.
Nate Davis, USA Today
(11-5): Helps when you can count on five or six wins in divisional play. Despite the turnover on offense and Julian Edelman's suspension, hard to believe they won't still cruise to a first-round bye. At minimum.