Patriots
Rob Gronkowski talks retirement rumors, decision to skip OTAs, and plans for the upcoming season
"I feel like I'm ready to go, physically and mentally."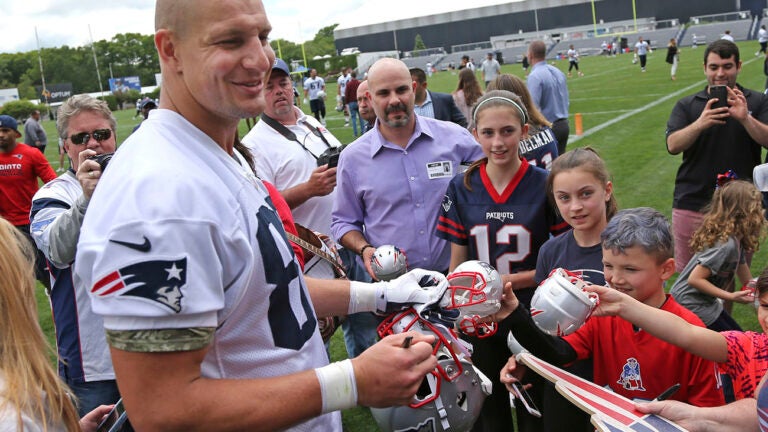 Patriots tight end Rob Gronkowski says he skipped the team's voluntary workouts in May because he wanted to keep his body "fresh" and take both a mental and physical break from football.
Gronkowski — who says he's "definitely ready" to return to the field now — told Sports Illustrated's Ben Raskin the rationale behind sitting out OTAs was the same rationale behind considering retirement earlier this offseason. Amid reports about his unhappiness in New England, Gronkowski had remained non-committal about the upcoming season for several months after Super Bowl LII.
"I was seeing how I was recovering, how my body was feeling," Gronkowski told Raskin. "Taking a little break mentally and physically from the game. Just seeing how I felt and seeing if I wanted to do it another year and if I was able to endure another season. That was the main thing. I feel like I'm ready to go, physically and mentally."
Gronkowski said he "can't really give a ranking" regarding how he feels about the upcoming season compared to years past, but noted he feels "good." Despite the buzzworthy offseason — marked by several things, including his contemplation of retirement and rumored internal turmoil — Gronkowski said the team is ready to put the Super Bowl LII loss behind them and rebuild with the current roster.
"It's a long season," he said. "You have to endure all the practices, all the games. Every day you are trying to feel the best you can to be out there with your teammates. You always want to feel good."
Coach Bill Belichick did not comment Wednesday on Gronkowski's decision to skip OTAs, nor did he comment on the status of any contract negotiations between the Patriots and Gronkowski. Belichick said he is focused on training camp and putting the team in a position to, once again, be competitive.
Gronkowski, too, is looking forward to doing whatever he can to help the team. He said he'll work to improve his game by continuing to study the ins and outs football.
"There is no such thing as knowing too much," he told Raskin. "There are so many plays, so many coverages. You just want to learn the game of football, to learn as much as you can. There's always a growing curve for that, every single year."
Oh, and as for that comment ("Be FREE, Be HAPPY") he left on former Patriots wide receiver Danny Amendola's Instagram? While some interpreted it as a shot at The Patriot Way, Gronkowski said it wasn't directed at anyone specific.
"That's for the whole world," he said. "That would be amazing if the whole world was free and happy. I love life. Free and happy."