Patriots
Here's what Bill Belichick had to say on the first day of Patriots training camp
"It's a long day. It's a big day."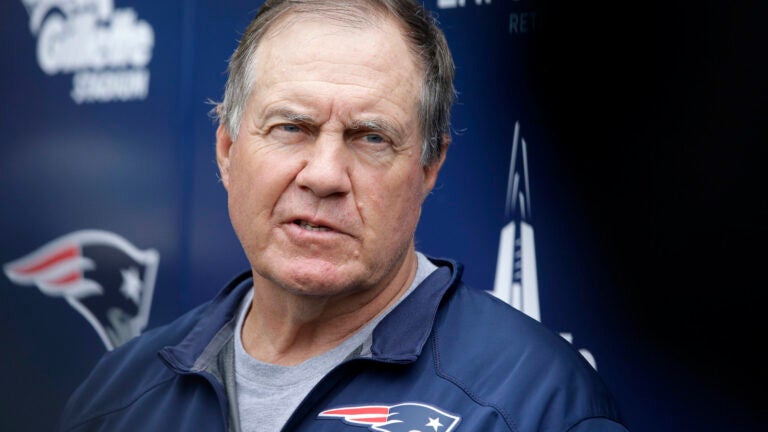 Bill Belichick stayed true to his day-by-day approach on the Day 1 of Patriots training camp. Although New England's head coach noted there's a long way to go and a lot of work to do, he said it's "always good to get underway."
Belichick didn't offer any new insights into his relationship with Tom Brady as he addressed the media on the practice field at Gillette Stadium. Nor did he get into specifics about changes to Alex Guerrero's role, in light of Julian Edelman's suspension. However, Belichick did confirm that the trainer is not a member of the Patriots staff.
Here's what the Patriots head coach had to say before the start of Patriots training camp:
Q: By my count, this is your 43rd training camp. Does it ever amaze you that you've been doing this for so long?
BB: Yeah, I don't really think about that a lot. Right now, what I'm trying to think about is how to have a good practice today, how to get off to a good start and how to build on that. And, so, it's 2018. I'm not really that concerned about 1975 right now when it started. It was a great year, it's great memories, but right now I'm focused on this team and what I can do to help our football team in 2018. I hope that's where everybody else is, too.
Q: What do you look forward to most on Day 1 of training camp?
BB: Well, it's a long day. It's a big day. We have a lot of opportunities today to get better. Hopefully, we can maximize all of them or as many as possible. That's our goal every day.
Q: With a player as versatile as Julian Edelman, is it challenging to make up for that production in the first four games?
BB: Yeah, right now, again, we want to have a good day the first day of training camp. So, games six weeks, 10 weeks from now are not really – we know they're coming. We'll deal with them when they get there. Right now, we've got a lot of things to do for training camp that are much more on the front burner than anything in September or October or December.
Q: Given that he missed most of the offseason program, were you pleased to see Tom Brady report early this week?
BB: Well, all the quarterbacks are required to report, and they all did like they always do. So, Tom's never missed anything that's been required.
Q: So, is the relationship between you and him all good right now?
BB: I feel like I have a good relationship with all of our players. I hope so.
Q: Were you ever concerned that he wasn't going to be committed to this season?
BB: No.
Q: Do you have any memories of Tony Sparano and did you have a relationship with him?
BB: Yeah, of course. My condolences to Tony, Tony's son, Tony Jr., his family. It's obviously very unfortunate. He was a great associate and a person and family I have a lot of respect for. I never coached with Tony on the same staff, but relationship came as competitors, and I have a lot of respect for him. Obviously, it's an unfortunate day for us and a sad day for the Vikings and the National Football League.
Q: Does Josh McDaniels have any increased roles this year or is he doing exactly what he was doing last year?
BB: Yeah, Josh's role is the same as what it's been.
Q: Are you grooming him to be your successor?
BB: I'm trying to coach our football team the best I can to help it have a good year in 2018. That's what my job is.
Q: From what you've seen of Danny Etling in OTAs and minicamp, what have you liked so far?
BB: Danny's smart, he works hard, he's been in a couple different offensive systems, so he has some familiarity with different things. I mean, he's not a quarterback that's been in the shotgun his entire college career or anything like that. So, he's got a long way to go, like any first-year player does, but he's smart, he works hard, he pays attention. We'll see how it goes.
Q: What have you seen from Trent Brown so far and where do you see his potential?
BB: Trent has had some limitations in what he can do, but he's worked hard. He's working his way back in there. It was good to see him out here the last couple days. Excited to work with him. He's done everything we've asked him to do. He's been limited, not by his choice, just the situation that he was in, but he's worked hard and he's acclimated himself. I think that he's working well with the team, so we'll see how it goes.
Q: In the wake of Edelman's suspension, do you have any concerns about players receiving training or treatment from Alex Guerrero?
BB: We instruct all of our players the same way, and we'll continue to do that. I mean, we never want to do anything that we're not allowed to do. We always want to play and abide by the rules, and we want to, at the same time, do what's best for the team. So, we'll continue to instruct all of our players that way in every area.
Q: Have there been any changes in terms of policy or privileges when it comes to Guerrero treating players here at the facility?
BB: Yeah, I'm not going to get into the specifics of what our staff does and so forth.
Q: Is he on the staff?
BB: No.
Q: With regards to McDaniels, how much of a benefit is it to you to get him back on the staff and in the same role?
BB: I've had a long relationship with Josh and a good one. I think he's a great coach. I love working with Josh.
Q: What sort of role did you play in bringing him back?
BB: Yeah, you'd have to talk to Josh about Josh's situation, his decision-making and all that. That's a question for him. I couldn't answer that.
Q: How important is continuity with the coaching staff?
BB: I don't know. Every team has it every year, has changes every year. So, I don't know. If you get the answer to that one, let me know.