Patriots
Taking a look at Tom Brady's backups on the Patriots' depth chart
It's once again Brian Hoyer and a rookie 7th-round pick backing up Brady.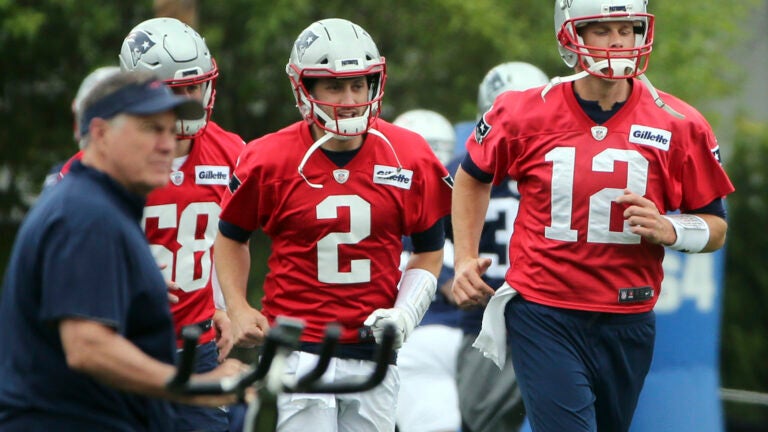 With the heir apparent gone, the Patriots enter the 2018 season with lingering longterm questions at quarterback. As for the short term, the situation is as stable as its ever been with an upright Tom Brady.
Jimmy Garoppolo's abrupt departure in a trade to the 49ers in Oct. 2017 left New England bereft of its backup. To fill the vacuum, former Brady understudy Brian Hoyer vacated the depth chart Garoppolo was headed for in San Francisco in a roundabout exchange. His return gave the Patriots a clear No. 2 signal caller.
Yet the question of who might succeed Brady persisted into the offseason. The NFL draft was expected to be where the buck stopped in quarterback speculation, with several potential names mentioned. But it wasn't until the 219th pick (in the seventh round) that Bill Belichick finally picked Danny Etling.
With Hoyer and Etling to fill out the quarterback depth chart behind Brady, there's actually a degree of familiarity. Having Hoyer and a rookie seventh-round pick behind the future Hall of Famer was exactly how the roster looked at training camp in 2010.
Whatever questions Patriots fans have about this year's duo of backup quarterbacks, preseason will provide ample time to see some answers. As relentlessly competitive as Brady is even about getting preseason snaps, the soon-to-be 41-year-old will likely be allowed only limited playing time. This will give Hoyer and Etling a chance to get reps.
Here's a preview of the Patriots' depth chart at quarterback behind Brady:
Brian Hoyer
Now 32, Hoyer has been through an eventful period since his first run in New England. Involved in several quarterback competitions during his time away from the Patriots, he's now back where his NFL career began.
He was signed by the Patriots as an undrafted free agent in 2009. Immediately, Hoyer was put into competition with three other quarterbacks, but survived to become Brady's backup. It was a role he would hold until the end of training camp in 2012, when he was among the last training camp cuts.
After brief stints in Pittsburgh and Arizona, Hoyer ended up in Cleveland. The Ohio native actually emerged from a two-year tenure with a winning record as the Browns starter, a run which included a remarkable comeback against the Titans from a 28-3 deficit (winning, 29-28), and an infamous quarterback competition with Johnny Manziel.
Hoyer next signed with Houston, where he reunited with former Patriots offensive coordinator Bill O'Brien. In another quarterback competition, Hoyer emerged victorious against fellow former Brady backup Ryan Mallett. The perpetually unpunctual Mallett was relegated to the bench, as Hoyer led the team to a 9-7 record and a playoff berth. Still, he was cut following a disappointing shutout loss in the playoff to the Chiefs.
After his 2016 season was ended as Bears quarterback due to broken arm in October, Hoyer signed with San Francisco in the offseason. He was named the inaugural quarterback of the Kyle Shanahan era with the 49ers, but failed to win a game (going 0-6).
If Brady was injured, or unable to play, Hoyer appears to currently be the established second player on the depth chart. A "quintessential backup," his ceiling would obviously be lower than the stratospheric quarterbacking level of Brady. Still, he possesses the attributes of a competent quarterback and is familiar with the Patriots' system.
Danny Etling
Following all of the speculation over which quarterback the Patriots would take in the 2018 draft, few had Etling as a potential pick. He was seen as a late-round possibility, but not the kind of addition that would assuage fears over the team's longterm plans after Brady.
Here's Patriots director of player personnel Nick Caserio explaining how Etling was scouted:
So far in training camp, Etling has been working overtime to learn the offense. And even during voluntary team activities in the offseason, he benefited from not only his presence, but Brady's absence.
Even with all of the extra work, Etling still faces a tremendous battle to make the roster.
Like Hoyer, he's familiar with quarterback competition. Arriving at Purdue as a freshman four-star recruit, Etling battled Rob Henry for the starting job. Despite winning and posting decent numbers as a freshman, the Boilermakers went 1-11. In his second season, Etling lost his starting role.
Transferring to LSU, Etling again faced competition for his job. Midway through the season, he was handed the reins and went on to throw 27 touchdown passes against only seven interceptions over the next season and a half.
Etling has a fairly prototypical quarterback build, and reportedly throws a quality deep ball. Yet like all rookie quarterbacks, he has a steep learning curve, and is no guarantee to survive training camp cuts.