Patriots
4 things to know about Eric Decker, the newest Patriots receiver
The Wonderlic, baseball, and reality TV are all a part of Decker's profile.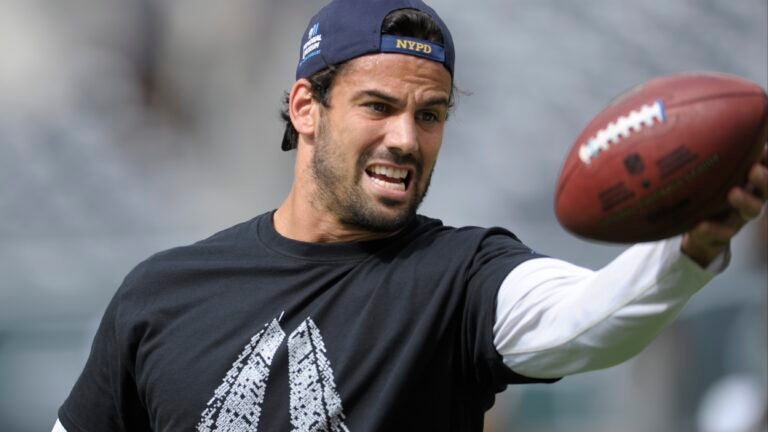 The Patriots' wide receiver depth chart got a little more crowded on Thursday when team reportedly agreed to sign veteran Eric Decker to a one-year contract. This comes only days after Jordan Matthews was released.
The 32-year-old has been in the NFL since he was drafted in the third round by the Broncos in 2010. Decker, who has 439 career catches in the regular season, was not re-signed by the Titans after the 2017 season. He's worn No. 87 his whole career, which began because he was drafted with the 87th overall pick.
The former Minnesota standout has the size (at 6'3″) and speed to potentially be an intriguing option in the Patriots offense. New England hosted Decker for a workout in late July.
Here are a few things to know about Tom Brady's newest target:
He scored highly on the Wonderlic.
At the NFL's annual rookie combine, one of the tests given to invitees is a 50-question exam. It's called the "Wonderlic" test, and has produced some notable results over the years.
In 2010, Decker scored higher than every other player at that year's combine. His total was an impressive 43 (out of 50). It still ranks as one of the best scores in Wonderlic history, as Decker's wife, singer Jessie James Decker, proudly shared in 2017:
Fun fact: my hubby scored a 43 on the wonderlic test for NFL players. One of the top 10 highest in NFL history. Not just a pretty face ?

— Jessie James Decker (@JessieJDecker) August 8, 2017
Multiple Major League Baseball teams drafted him.
A three-sport athlete in high school, Decker continued to play multiple sports in college at Minnesota. He chose to play both baseball and football.
On the baseball diamond, Decker hit .324 in 110 games. It led to him being drafted in Major League Baseball in both 2008 and 2009 by the Brewers and Twins, respectively. The only thing he appeared less enthusiastic about was the frequent questions it led to at football media days:
His best NFL seasons were with Peyton Manning.
In 2012 and 2013, Decker averaged 86 catches for 1,176 yards and 12 touchdowns with the Broncos. It was no accident that this period coincided with Peyton Manning's arrival in Denver.
With Manning directing the offense, Decker saw his targets increase dramatically. And the Broncos became the highest scoring offense in NFL history in 2013.
If Decker survives training camp cuts and makes the Patriots' roster to open the season, he will join receivers like Wes Welker and Austin Collie as players to catch regular season passes from both Brady and Manning.
He's had a reality television show with his wife.
For three seasons to this point, the Deckers have been the focus of a reality television show called "Eric & Jessie."
The show began in 2013, with the most recent season happening in the fall of 2017 following a multi-year hiatus. It's covered mostly the personal lives that the two lead (along with their children), though it has occasionally crossed paths with football.
The show was there when Decker's Broncos lost to the Seahawks 43-8 in Super Bowl XLVIII:
https://www.youtube.com/watch?v=zZBRV06zsBs