Patriots
What Julian Edelman had to say about coming back from his 2017 knee injury
"I don't have my camp legs, I don't have football legs and it's evident out there."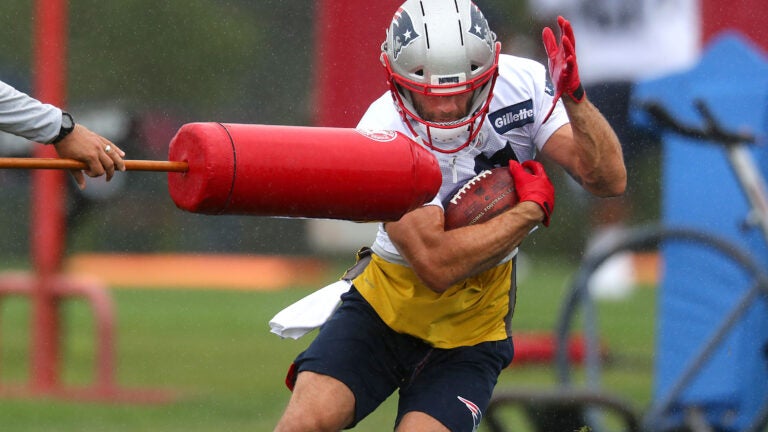 A year ago in preseason, Julian Edelman suffered a torn ACL. The injury ruled him out for the entire season, and threw the veteran wide receiver into a protracted rehab process. As Edelman described on Friday, the journey back isn't over yet.
So far in the 2018 training camp, Edelman has been an active participant in Patriots training camp practices. He's run routes, caught passes, returned punts, and carried the ball on end-arounds.
And while the 32-year-old will miss the first four games of the season anyway due to his performance enhancing drugs suspension, Edelman acknowledged that he's still not physically back to where he was before the injury:
It's been a grind. Honestly just trying to get your legs to – you're compounding day after day after day after day. When you're working in the offseason, you may put three together – I think we're on what, eight today? So you're always trying to go out and get better and I have to do a lot better. I feel like I got to get my legs under me a lot more. I don't have my camp legs, I don't have football legs and it's evident out there. You get tired, you create bad habits, you don't run your routes right and you get yelled at in meetings for it. I'm expecting to do that because I got to pick it up. I wasn't as good as I want to be today and feeling that's because I'm not in the best shape right now.
When Edelman was last healthy in 2016, he received 159 targets from Tom Brady. Since 2013, he's been rivaled only by Rob Gronkowski as Brady's favored option in the offense.
"You just keep on going out and you grind," Edelman said of his way forward. "You keep on when you're tired, when you don't feel well. You got to be able to perform when things aren't going great and that's what this does. That's what eight days in a row does and that's what going out in training camp – there's no light at the end of the tunnel right now. You got to go out and embrace it and take advantage of each day."