Patriots
Former Patriots quarterback Damon Huard explained what it's like to be Tom Brady's backup
Huard also discussed life after football and his famous scout team performance in the role of Peyton Manning.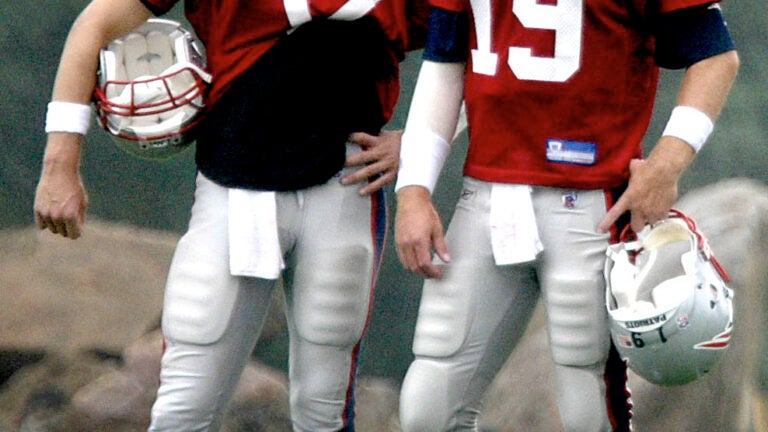 One of the byproducts of having the same starting quarterback for nearly two decades has been the sheer number of backups who have rotated in and out over the years. Tom Brady's reign in New England has been so long that his original backup is approaching a decade since he was in the NFL.
But for Damon Huard, who played in New England from 2001 to 2003 and retired after the 2008 season, life away from football has suited him just fine. Now in a role at the University of Washington, Huard is also a co-owner of Passing Time Winery with fellow ex-NFL quarterback Dan Marino.
Huard was in New England for an especially significant part of Patriots history: The rise of Brady. And he had a unique vantage point as a fellow quarterback. He recently spoke with Boston.com about his experience with the Patriots, his famous scout team emulation of Peyton Manning, and life after football.
This interview has been lightly edited and condensed for length and clarity.
So after the 2000 season, you were a free agent. How did you end up in New England?
Damon Huard: There were only a couple of teams that were interested in me at the time. It was the Colts and the Patriots. I knew Drew Bledsoe, he was a good friend of mine, being a fellow Washingtonian. So they brought me in to back up Drew, and it seemed like the right fit.
You get to training camp in 2001 and it's you, Drew, Michael Bishop and also Tom Brady. What was your early impression of Tom?
Huard: I just remember him being super, super competitive. He loved to practice, loved to compete, and was a great dude. He had no ego, was a great listener, just a good friend. We just connected right away, made it real easy. But he was really competitive. He would get excited over completing a first down pass in 7-on-7. He just had that same enthusiasm you see from him today. He brought that in practice every day way back when. Really sharp guy.
I remember Bill bringing me in at the end of the preseason telling, 'You had a good camp, but we're going to make you the No. 3. We just feel like Brady has a better feel for the offense right now.' And he was right. Tom had been in it for a year, and he was really sharp. I just look back on the moment and think if Bill hadn't gotten it right and made him the No. 2, just think where he might be today? [Laughs]
But to that point, the competition for backing up Drew ended up mattering a lot early in that season. What was Drew's injury – and Tom's subsequent performance as starter – like from your perspective?
Huard: Yeah, Week 2, Drew was knocked out of the game, and the rest is history. It was a big deal, but Tommy wanted that moment his whole life. And he was ready for it, and was going to make it happen. Obviously he did, but then really the tough decision was the one Bill had to make about 10 weeks later. We were winning football games, but they'd just paid Drew Bledsoe $100 million, and that decision to stick with Tom has obviously been well documented, but not one that many franchises or head coaches will make considering the money at stake. But it ended up working well for him.
After that season, Drew was traded and it officially became Tom's team. You were there for an additional two seasons. What was the day-to-day like in the beginning of the Brady era as one of the quarterbacks alongside him?
Huard: It was great, and I was the first one, how about that? Obviously Tom pretty much became a superstar overnight winning that Super Bowl. And certainly there was a lot of attention around him and the program with his success, and rightfully so. But I never felt like he changed or became something different as a teammate or a friend as far as his work ethic or all of those things. Did I know that he was going to go on to become arguably the greatest quarterback to ever play the game? I did not! But I certainly knew that this guy was a grinder and that he loved the game. I think that chip that's lived with – falling so far down the draft board and always competing at Michigan but them never really buying into him – all that stuff is what makes him.
To this day, I think the thing I love about him the most – and I don't talk to him that much but we'll text here or there – but it's just how competent he is. And I know you hear that word all the time, but I remember talking to him before Super Bowl XLIX and he was telling me, 'Oh we have the best game plan, we're going to win!' It reminded me of back in the day, he just believes he's always going to win. And there are so many guys who have doubt, 'Oh I don't know if we can beat these guys.' He just doesn't have that mentality, everything's so positive.
So one of the things that you're known for from your time in New England was your effectiveness on the scout team before the AFC Championship in the 2003 season. Were there other times where you were able to have that kind of impact, or was that the one that really stuck out in your opinion?
Huard: Well I think it was partly because Bill recognized me after the game, people remembered that. But yeah it was every week, you take pride in it, you have fun and try to make the defense better. I got used to it because I was a backup for a long time [laughs]. And thank God I got to play a bunch towards the end of my career in Kansas City, because my legacy would've been being 'that guy who was the good Peyton Manning scout team quarterback. Good job, Damon.'
How did it work with the scout team setup before Super Bowl XXXVI?
Huard: I think Drew and I both did a little bit of that. Tom was coming off the high-ankle sprain, and so I think there were some questions leftover from the Steelers game as to whether he could play. So I think Drew got a few reps that week, so I would've had some of the scout team stuff. But there are only so many players on an NFL roster, which is ridiculous to me. Even back then I think we only had five practice squad players. So 53 and five, that's less than 60, and guys are always hurt. You only have so many bodies to practice, so it wasn't like I would get a whole heck of a lot of throws, especially with the first team offense, so I'd get my reps with the scout team.
Has Peyton Manning ever mentioned that to you? Did he ever tell you, 'Hey, stop imitating me'?
Huard: No, and I've bumped into him a few times over the years. And I wasn't going to be the one to say, 'Hey dude, I really like to play as you in practice. It's so cool.' It's funny though because sometimes people say I look like him. I think I'm much better looking, but I do hear that from time to time [laughs].
When you stepped away from football a few years later, what was the transition process like for you? I know it can be natural for NFL players to have trouble transitioning out of the game.
Huard: Yeah some of them do, and I see it all the time. You're part of something cool, that fraternity of NFL players, and then it goes away. It is hard, there's no question. I was pretty fortunate to come back home and had a lot of friends and family here in Seattle and got this cool gig at the University of Washington and stuck with that.
And I've always had this passion to make wine with my former teammate, Dan Marino, and we'd always talked about one day when I was retired, let's go forward with that. It's funny but originally it was actually going to be me, Drew [Bledsoe], Dan and Rick Mirer way back when in the early 2000s. We'd formed an LLC and we were going to dive into it together, but then I realized living thousands of miles away from where it was all going to happen was too much and there were too many moving parts in the wine industry. But the minute we were all done, we kind of all did our own thing. It's fun to be involved in the industry. That's been awesome.
You have a role at Washington now. How long have you had that?
Huard: I've been working here since 2010, so it's been a few years now. I'm kind of a Jack of all trades, master of none. My title is director of external relations for Husky athletics, and I'm involved in some donor relations, player development, I'm the color analyst on our radio broadcast. At the end of the day, I'm really a Husky ambassador. It's really an awesome role, and it's changed a lot over the years. It was kind of just fundraising at first when we had the new stadium, then I was working more just with football. And now I'm kind of back to some of the donor stuff, so it's kind of moved all over the board a little bit. But it's been awesome. I've even been the NFL liaison at times. I've been able to get my football fix, but still live a normal life.