Patriots
5 things to know ahead of the Patriots' first preseason game
It's almost that time of year.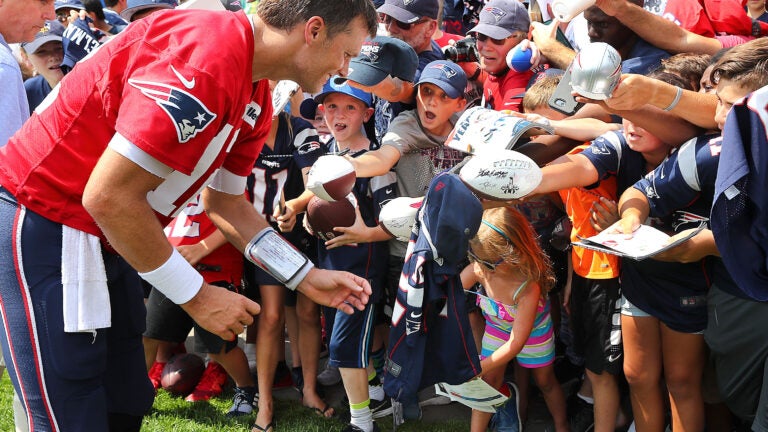 The Patriots will play their first preseason game of 2018 Thursday.
Here's what you need to know before they take on the Washington Redskins:
Tom Brady probably won't play much — if at all.
Quarterback Tom Brady hasn't played in New England's past two preseason openers, but he has participated in years past. Brady took seven snaps in 2015 and 16 snaps in 2013. Both outings were two-series long.
Brady, who recently turned 41 years old, has been present for the entirety of training camp, after skipping part of the team's offseason program. Recent practices have been noticeably light for Brady, as backup quarterbacks Brian Hoyer and Danny Etling have been taking the majority of the reps in 11-on-11 play.
Julian Edelman is eligible to be active, even though he is suspended.
Wide receiver Julian Edelman is eligible to play in all four of the Patriots' preseason games, but he will still miss New England's first four regular-season games for violating the NFL's performance-enhancing substances policy. Edelman appealed the punishment, but the suspension was upheld by the league.
Once Week 1 arrives, the 32-year-old will not be allowed to attend regular-season practices/games or contact any Patriots personnel. Edelman "will be eligible to return to the Patriots' active roster on Monday, Oct. 1," per the NFL.
The PUP list is empty, but that doesn't mean all players are ready to take the field in a game.
According to the NFL transaction wire, the Patriots' physically unable to perform (PUP) list is officially empty ahead of their season opener. Players who opened training camp on PUP included wide receiver Kenny Britt, safety Nate Ebner, cornerback Cyrus Jones, and cornerback Jonathan Jones. Ebner (ACL), Cyrus (ACL, meniscus), and Jones (ankle) — who were all recovering from season-ending injuries last year — suited up for their first practice Tuesday. The trio was limited in practice, a walkthrough, Wednesday and likely won't be available Thursday night.
Other players who are expected to be sidelined due to health or rehab reasons include: offensive tackle Marcus Cannon, offensive lineman Jason King, linebacker Harvey Langi, running back Sony Michel, and special teamer Matthew Slater. Michel was absent from Wednesday's practice and will miss more time after undergoing a minor knee procedure Saturday to drain fluid from his knee. He is expected to return for New England's regular-season opener against the Houston Texans.
Both fresh faces and returning players will be looking to get noticed.
Wide receiver: Without Edelman (and Danny Amendola and now Malcolm Mitchell), there will be an opening at wide receiver for youngsters like Braxton Berrios, Phillip Dorsett, and Riley McCarron. Dorsett and McCarron were both on the team last season, but neither received logged significant playing time. Berrios and McCarron — who are both listed at 5-foot-9 — seem to check all the boxes as a prototypical slot receiver, but Dorsett, at 5-foot-10, could also step into that role after being used primarily as an outside receiver and deep threat due to his tremendous speed.
Other names to watch are newly acquired Eric Decker, who could become a reliable go-to option for Brady, and Cordarrelle Patterson, who will most definitely be used as a returner but may also try to carve out a role as a traditional pass catcher as well.
Cornerback: Stephon Gilmore likely has one of two starting jobs locked up, while Jason McCourty and Eric Rowe are leading the competition for the second. The Patriots, however, have been giving nearly every cornerback a shot at reps with the starting secondary. With Cyrus Jones and Jonathan Jones still rehabbing, J.C. Jackson will have a chance to show what he can do Thursday night. Undrafted out of Maryland, Jackson says he's been "competing [his] ass off" to try and make New England's roster. Ryan Lewis and Duke Dawson are others in contention.
Tight end: Rob Gronkowski will return as the team's No. 1 option, but who will fill that backup role? Dwyane Allen is coming off a disappointing first season in New England, where he logged career-lows in targets, receptions, yards, and offensive snaps. Allen said he feels "a lot better" this year and hopes to make an impact on the field. 24-year-old Jacob Hollister is also looking to become a contributor after signing with the Patriots as an undrafted free agent last May.
"Jacob improved a lot last year and he's gotten off to a good start this year," Coach Bill Belichick said. "He's still got a long way to go. He has a lot of football in front of him. He didn't have a lot of experience — had some — but has gained a lot and will gain a lot more. I think he's got a great future. He works hard, he's a tough kid, he plays hard, practices hard and has become much better at his fundamentals and techniques at his position."
The decision isn't necessarily indicative of what's to come.
As head coach of the Patriots, Belichick holds a 39-34 (.534) record during preseason play — a mark that pales in comparison to his 214-74 (.743) record during the regular season.