Patriots
Eric Decker on his underwhelming training camp: 'There's no excuses for it'
"I've got to do better."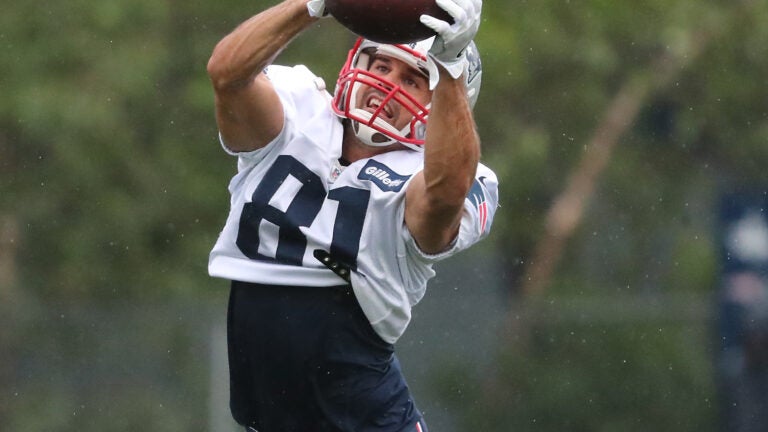 New Patriots wide receiver Eric Decker isn't shirking responsibility for his lackluster performance during training camp.
"There's no excuses for it," Decker told reporters after Monday's practice at Gillette Stadium. "It's something I've obviously got to address. In my mind, that's why God created practice. It's just to be able to get better and try to flush that out. My job is to catch the football, so I've got to do better in that field."
Decker — who signed a one-year deal with the Patriots earlier in August — has dropped several catchable passes during recent practices. The 31-year-old also did not register any catches against the Washington Redskins during New England's preseason opener, though he was on the field for six offensive snaps.
The tangible results haven't materialized quite yet, but Decker said he feels "more comfortable" with the Patriots' playbook and called his tenure "a work in progress." He hopes his meticulous preparations will pay off soon.
"Things are slowing down mentally," he said. "I've just got to be able to get on the field, execute, and be able to not think about things and just react. I'm getting there. Every day is a learning experience and an opportunity for me to get better."
Decker said jumping right into training camp after missing out on minicamp and OTAs has been a bit of a transition. Even though he worked out individually as a free agent, he noted it's not the same as "simulating live against a defensive back, getting in the huddle, getting out of the huddle, running against a defense, and executing." Decker will get his next shot at game reps Thursday against the Philadelphia Eagles — and he's confident things will turn around.
"It's part of the game," Decker said. "We're all human. We're all going to make mistakes, but don't let it become a habit. Don't let it happen over and over again. This game is about mental toughness. You've got to understand that you've got to bounce back. They're going to be asking you to respond. It's not really what you do in that moment, it's how you react to it. I've played a lot of football. I've had a few drops in my day. I have had many catches as well. I know how to bounce back and get to it."