Patriots
Tom Brady says he 'absolutely' plans to play against the Eagles in Patriots' second preseason game
"I'm doing really well."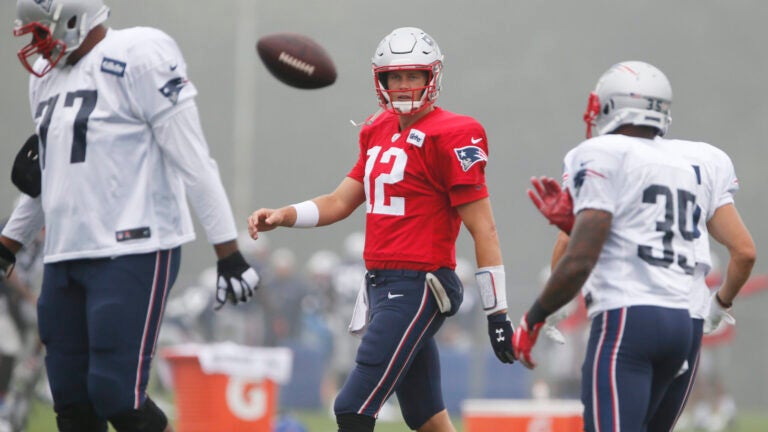 He didn't log a snap during the Patriots' preseason opener against the Washington Redskins, but quarterback Tom Brady said he "absolutely" plans to play against the Philadelphia Eagles on Thursday in New England's second preseason game.
Brady — who was reportedly sidelined last week due to a sore back — told WEEI's "Kirk & Callahan" Tuesday morning he's "doing really well."
"I'm doing well," Brady said. "I'm doing really well. You just always have little things you're working through, that's part of football season, but I feel really good."
According to NFL Network's Ian Rapoport, there is "not much cause for concern" regarding the 41-year-old's reported injury. Brady's DNP against the Redskins is not necessarily unusual, sore back or not, as he also sat out New England's preseason openers in 2017 and 2016. Even if he does play Thursday, backup quarterbacks Brian Hoyer and Danny Etling will likely get some reps as well.
Coach Bill Belichick recently acknowledged the team's back-to-back extended postseasons is one of the factors that can impact players' preseason workloads, including Brady's. Brady's recent training camp practices have been noticeably lighter than usual, but he said that's not a reflection of their significance. He called practice "the most important part of the day."
"The thing about our team is we try and perform at a very, very high level," Brady told WEEI. "8-8 isn't the expectation for our team. Doing something 50/50 isn't going to work out well for our team. I think we will all be frustrated by that level of performance. When you try and do things at an extremely high level, at a 14-2 level, a 15-1 level, it requires a different level of stamina and competition."
Brady said he is still working on developing trust with some of the new players, like wide receiver Eric Decker. During Monday's practice, Brady's frustration was evident when he punted a ball into the stands in response to an incompletion.
"I don't think the drill necessarily ended the way I wanted it to," he said. "I wouldn't make too much of that. I wish we were kind of always in regular-season form, but we are still working through some things."