Patriots
5 takeaways from the Patriots' preseason win over the Eagles
James White asserted himself as the team's primary multi-purpose back.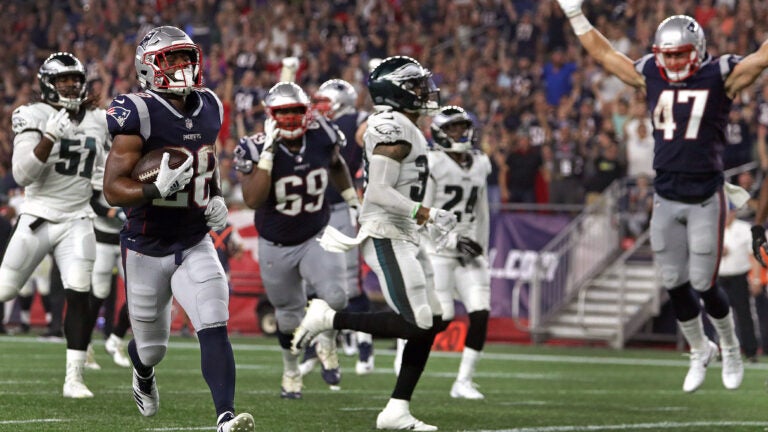 COMMENTARY
Five takeaways from the low-stakes Super Bowl XLII rematch between the Patriots and Eagles, which the Patriots won, 37-20, to pick up their second victory of the preseason:
Brady is back.
A week after the Brian Hoyer-helmed Patriots offense struggled to get anything going early, the GOAT returned to his rightful place behind center – and instantly the operation appeared to be demonstrably smoother.
Surrounded by personnel that appeared tailored to an up-tempo passing attack, Brady orchestrated the Pats' opening series with efficiency, hitting on all five of his throws, including a four-yard touchdown toss to Chris Hogan on which the quarterback slid into space to the right of his pocket and created a clear lane between his location and the back of the end zone.
The second series saw Brady suffer from some inaccuracy, badly missing an open post route and hanging up a pair of deep balls as New England seemed intent on testing its vertical passing game, though he got back into a groove on the Pats' next possession. Returning to his favorite targets and preferred patterns, he moved the offense 61 yards in nine plays and hit on six straight pass attempts before Stephen Gostkowski converted a 37-yard field goal attempt.
Brady's final throw of the night was a screen that James White took 20 yards for a touchdown, capping a four-play march that opened New England's edge to 27-7 and finalizing his night at 19 of 26 (73 percent) for 172 yards and a couple of scores. All together, that totaled up to a passer rating of 116.2 – and an encouraging return to the field for the Patriots' most important player.
'Sweet feet' steps up.
While Rex Burkhead and Sony Michel remained sidelined by injuries, White asserted himself as the Patriots' primary multi-purpose back by immediately getting into sync with Brady.
Including his scoring scamper, White caught six passes out of the backfield, good for 61 yards. He is always a dependable weapon for Brady through the air, but White's most impressive play Thursday might have been his second rushing attempt of the night. White got the ball on third and 2 – a down and distance where Burkhead, Mike Gillislee, or perhaps Jeremy Hill would typically be the back of choice – and he converted by bouncing outside when his initial surge was about to be stuffed. He broke contain and quickly burst for 22 yards (plus 15 more when his tackler initiated contact with his head).
White finished with 92 yards from scrimmage on 10 touches in two quarters of action. Gillislee also got some time with the first unit, picking up 22 yards on nine carries. Hill followed up a strong performance against Washington with a less remarkable performance (six rushes, 31 yards); Ralph Webb scored twice in the preseason opener, then made little impact in the second exhibition (five rushes, 15 yards).
Assuming Brandon Bolden (three carries, 35 yards) earns a roster spot on special teams, and with James Develin in the mix as a full back, that trio of Gillislee, Hill, and Webb are likely competing for a single roster spot in advance of the Sept. 1 reduction to 53 players. That battle will be worth watching over the two remaining preseason tilts – but once things kick off for real, White showed Thursday why he will be a major piece of what the Patriots do offensively.
Clayborn could be a key.
Adrian Clayborn had six sacks in a game last season, when he was a member of the Falcons – and Thursday night he gave Patriots fans a chance to see for themselves how a performance like that is possible.
Starting on the defensive line, Clayborn bullied his way into the backfield with regularity. He routinely worked his way into the face of Nick Foles, and was the initial disruptor on sacks registered by Patrick Chung and Adam Butler, each of whom cleaned up after things collapsed around the quarterback. Then Clayborn got a sack of his own, cutting around the corner and knocking the ball from Foles as he cocked to throw, creating the fumble that Ja'Whaun Bentley would scoop and take to paydirt.
Trey Flowers has yet to play in the preseason, but is expected to be ready to go when the regular season begins. If he can continue to blossom as an edge rusher, and Clayborn can be the physical force he was Thursday – and has been at points in his career – the Patriots could have the personnel to apply the type of pressure on opposing quarterbacks that was lacking last season. Especially with Dont'a Hightower contributing from the linebacker level, and if Deatrich Wise and Derek Rivers can be factors in their second years.
Cornerbacks remain a question.
The most compelling question relating to the Patriots' defense is how the various roles will shake out among the cornerbacks. And Thursday did little to answer that question.
At this point, Stephon Gilmore appears to be the only sure thing among the first-team. Against the Eagles, the Pats deployed veteran Jason McCourty and rookie Keion Crossen as their two other starting corners – but neither of them seized the opportunity. McCourty was burnt badly by Philly's Shelton Gibson for a first-half touchdown, and he did not back up his coach's praise with a matching performance.
Crossen played as New England's nickel cornerback with the starters, though he was flagged for a pair of pass interference penalties that cost the Pats 50 yards in a span of three plays and led to the Eagles' first touchdown. Then, on Philly's final drive of the first half, he gave up a 24-yard catch before being called for holding in the end zone.
The next tier didn't exactly shine, either. J.C. Jackson was beat for a 57-yard gain along the right sideline. Jomal Wiltz surrendered a second-half touchdown catch. And injury kept rookie Duke Dawson from demonstrating his capabilities. Injuries have also limited Jonathan Jones and Cyrus Jones to this point.
So, then, it looks as though Eric Rowe is the frontrunner to start opposite Gilmore – but there's little clarity on who would cover a slot receiver, who might be the next man up, or even who'll make the team as something more than a core special teams asset.
Roles and roster spots are up for grabs.
With jobs at stake in these exhibitions – in terms of both employment and opportunities – there were plenty of Patriots with something to play for Thursday. Among the more interesting developments were:
Cordarelle Patterson saw the field as a receiver earlier with Brady than he did a week earlier with Hoyer, and appeared to work his way open for a first-down gain – but the quarterback sailed the throw high and wide. Patterson did catch a ball from Brady later, a wide receiver screen that the speedster nearly turned into a touchdown and that might've been a preview of the way the Pats will look to find ways to get him free in space. In fact, later in the game, Hoyer slung it out to Patterson who made one move to evade a defender, then dashed 11 yards to the end zone.
For a second consecutive week, Riley McCarron was given the initial opportunities as the Patriots' return man.
After not being targeted in the preseason opener, Julian Edelman had the ball go his way on the Patriots' second series, reeling it in for an eight-yard gain.
Rookie first-round pick Isaiah Wynn saw his first action as a pro, taking over at right tackle for New England's second offensive series. On his second drive, however, he exited after seemingly tweaking something in his leg while finishing a block. LaAdrian Waddle, who has assumed a starting role while Marcus Cannon remains limited by injury, took the snaps before and after Wynn's appearance.
Eric Decker didn't see the field until once Hoyer had taken over. He's struggled with drops during practice – then let a catchable ball slip through his fingers Thursday.
After Dont'a Hightower played into the second quarter against the Redskins, he didn't play at all against the Eagles.
Patrick Chung continues to fly around the ball and get into the offensive backfield.
With no Rob Gronkowski, Jacob Hollister worked as the first-team tight end and got the look from Brady on the first snap of New England's two-minute drill. He snagged it, despite taking contact, to start the series with a 22-yard pickup.
Christian Sam, another rookie jostling with Bentley for responsibilities as a linebacker, helped his cause with an alert interception after the ball bounced off the hands of an Eagles receiver.