Patriots
'I try my best to paint an accurate picture of him': Takeaways from Jose Baez's biography of Aaron Hernandez
Baez has an alternative theory or explanation for everything.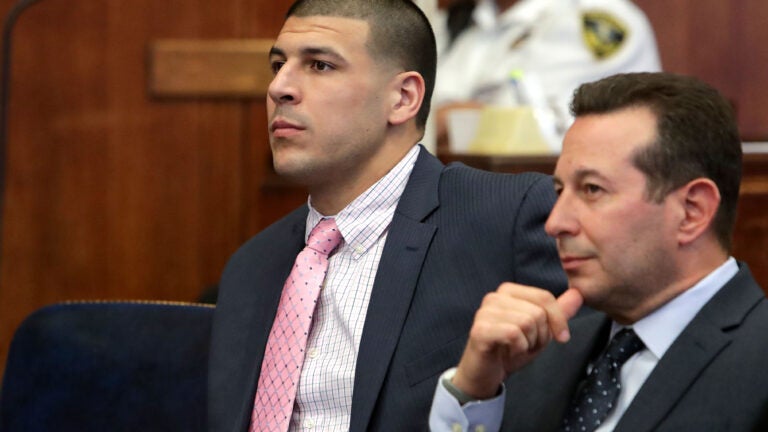 Jose Baez dishes plenty of dirt in his forthcoming Aaron Hernandez biography, which hits shelves on Tuesday.
In "Unnecessary Roughness: Inside the Trial and Final Days of Aaron Hernandez,'' the attorney who got Hernandez acquitted of a 2012 double murder squashes the rumor about the jailhouse letters, sheds fascinating new details about Hernandez's trade request to Bill Belichick, and describes Hernandez's final days as an inmate and later suicide victim.
But Baez, who also successfully defended Casey Anthony in 2011, is also adept at creating reasonable doubt. And readers hoping to get a clearer picture of Hernandez will instead find themselves further confused about Hernandez's secret off-field life, as well as whether he was involved in the 2012 Boston double murders and the 2013 murder of Odin Lloyd, of which Hernandez was convicted.
Hernandez was acquitted of the double murders on April 14, 2017, and hanged himself in his jail cell five days later at 27 years old. Baez presents an entirely different side of Hernandez than the one portrayed in courtrooms and the media.
"I try my best to paint an accurate picture of him,'' Baez said in a phone interview Friday. "There are some negative things that I write, but the overall purpose is to show the other side for what's already been written.''
Baez certainly portrays Hernandez in a positive light. He says the rumors of Hernandez being in a gang are nonsense, and that his gun tattoos are simply "symbols of strength.'' Baez says Hernandez was such a criminal novice that he had to buy his guns from Florida, because he didn't know where he could get any in Connecticut. But Baez does write that Hernandez was put in an isolated cell and had nearly 100 disciplinary offenses in his stays at Bristol County Jail and Souza-Baranowski Correctional Facility.
And Baez has an alternative theory or explanation for everything, often using the "I'm not saying, I'm just saying'' technique.
Baez doesn't explicitly point to Hernandez's Stage 3 CTE, which was discovered post-mortem, as the cause for his unpredictable behavior. He just drops casual hints. (Baez is currently suing the NFL on behalf of Hernandez's daughter for concealing the effects of CTE.)
"When did Aaron decide this would be his last night on earth? Maybe the disease CTE knows,'' Baez wrote. And, "You can't hold anyone with a serious brain disease responsible for their actions any more than you can a four-year-old child who pulls the trigger of a gun and kills a sibling.''
While the meat of the book focuses on the 2012 double murder trial, New England readers will be most interested in the details about the Patriots, who declined to comment for this story, and their handling of Hernandez's murder trials and off-field issues:
■ Hernandez's troubles began in February 2013, a week after Alexander Bradley was shot in West Palm Beach, Fla. Hernandez was at a photo shoot in Phoenix, and Bradley repeatedly sent him threatening text messages. Hernandez contacted Belichick and set up a meeting in Foxborough, but Hernandez didn't show. They then agreed to meet at the Combine in Indianapolis.
■ At this meeting, Hernandez told Belichick he feared for his safety, and requested a trade, ideally to a team on the West Coast. Baez wrote that, "Aaron told me the coach was incensed by the idea, and reminded Aaron that the team had made a significant investment in him.'' Belichick told Hernandez to contact the Patriots' director of security, and to get a new residence.
Baez remains upset at the Patriots for not taking Hernandez's trade request seriously.
"Had they taken it seriously, how would things have worked out?'' he said.
■ Hernandez then didn't speak with Belichick until May, when Hernandez asked when he should arrive for offseason rehab work. After the Lloyd murder in June, Belichick and Hernandez had a five-minute conversation, in which Hernandez said he was "absolutely not'' involved.
■ After the Lloyd murder, Belichick met with police in his office with his attorney present, and refused to be recorded, which the police obliged. That "made it clear the cops were there as fans, not investigators,'' Baez wrote.
■ Baez subpoenaed Belichick to testify in the Boston double murder case while he was at the University of Miami Pro Day in 2017, but Baez decided not to call him to the stand.
"Given the complexities of Belichick's schedule, I made the decision that we didn't call him,'' Baez said. "It would have been a pain in the ass to get him there, and I'm sure he would've fought it as much as he could to prolong it.''
■ Baez blasts Belichick and Patriots owner Robert Kraft for rushing to judgment and releasing Hernandez as soon as he was arrested.
"You're innocent until proven guilty in this country, but not in that organization,'' Baez said.
■ Before the 2011 season, Hernandez sold his No. 85 jersey to Chad Ochocinco for $50,000, then "floated'' the money to a drug dealer and got back $120,000.
■ But Baez wrote that Belichick liked Hernandez as a football player because Hernandez "did things exactly the way he wanted.'' And Hernandez told Baez that he was close with quarterback Tom Brady.
"Brady always wanted to know where I was at all times,'' Hernandez said, via Baez. "He would always tell me, 'Stop hanging with those guys, get your (expletive) together.' One of the things I regret is not listening to him more.''
Baez casts plenty of doubt on several prominent episodes in Hernandez's life. He provides evidence attempting to squash the "spilled drink theory'' in the 2012 double murders, and wonders if the violence inflicted upon the two victims was actually drug related.
Baez has an alternative theory for the 2013 incident when Hernandez supposedly shot Bradley in the face, costing Bradley his eye. Baez has an alternative theory for the 2007 shooting Hernandez was allegedly involved in in Gainesville, Fla.
Baez also casts plenty of doubt about the rumors of Hernandez being gay.
Shayanna Jenkins, the mother of Hernandez's daughter, wrote in the foreword, "Aaron was very much a man with me. I saw no indication he was gay or homosexual.'' But Baez writes that the police found a man known to both Hernandez and Jenkins, and he "confirmed to the police he had a romantic relationship with Aaron.''
One rumor that Baez squashes definitively is the one that Hernandez left a jailhouse letter to a boyfriend. Baez publishes the three letters, which are addressed to Baez, Jenkins, and Avielle, Hernandez's daughter. The inmate who started that rumor was seeking a financial payout and made up the story.
Baez also casts doubt on Hernandez committing suicide, saying it caught him and everyone completely off guard. Baez mentions the lack of a toxicology report. "What if Aaron was poisoned in prison or given a sedative and then a hanging was staged?'' he wrote.
Urban Meyer, Tim Tebow, and the University of Florida also get wrapped up in Hernandez's story. Baez writes about Hernandez having little care for the rules while in college.
"Every time I was on the field I was high on weed,'' Hernandez said, via Baez. "I would not play without weed.''
Baez writes that Hernandez's behavior was so bad at Florida that Meyer wanted to kick him off the team before his junior season (2009), but Tebow stepped in and said if you kick Hernandez off, you have to kick Tebow off, too. Meyer relented, but said Hernandez had to leave the program after 2009.
This story sounds a bit dubious given Meyer's history of recruiting troubled but talented football players, and giving them extra chances.
"All I can tell you is what Aaron told me,'' Baez said.