Patriots
Morning sports update: Kenny Britt detailed his frustration with a lingering hamstring injury
"I miss every bit of it, to tell you the truth."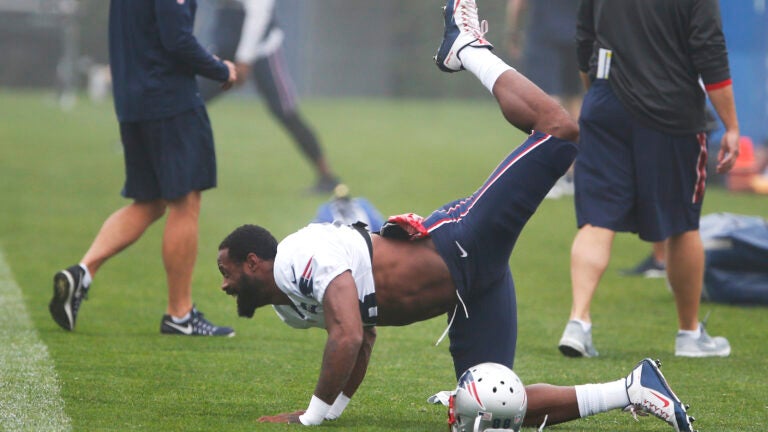 The Red Sox traded Jalen Beeks to the Rays for pitcher Nathan Eovaldi last month. On Sunday, Beeks returned to Fenway Park, limiting Boston to two hits in four innings as Tampa Bay won 2-0 on the road.
Here are some more sports headlines to get you caught up as you start your day:
Kenny Britt detailed his frustration with a lingering hamstring injury
Kenny Britt's hamstring has kept him from fully participating in 11-on-11 drills with the Patriots. The veteran wide receiver suffered the injury during minicamp in June.
"I definitely feel like I'm behind, because I'm not out there with the guys, getting the chemistry that I need with the quarterbacks and just with everybody on the same page with what we do," Britt said, per NESN.
The Patriots signed Britt in December after he was released by the Cleveland Browns. He appeared in three games for New England, catching two passes for 23 yards as he adjusted to the new system. The 29-year-old, a 1,000-yard receiver in 2016, said he expected to be out there with his teammates during training camp this summer, "but my hamstring told me something different."
Britt noted there haven't been any meaningful setbacks with the injury, describing it as "manageable." Although he's been able to take part in some parts of practice, he's missed out on the 11-on-11 reps with Brady — reps that were made especially valuable by the quarterback's absence during OTAs.
The Patriots depth chart at the position is topped by Chris Hogan and Phillip Dorsett until Julian Edelman returns for Week 5. At 6-foot-3 and 228 pounds, Britt would be a welcome and imposing addition to those ranks. The nagging injury, however, makes it difficult for him to look too far ahead.
"You never know with a hamstring," he said. "One day you'll feel good, and then something's in the air and [it's] popping. And other days, you might feel bad and then get the fastest time you ran out there. So it's really a feel thing, day in and day out."
ESPN's Jessica Mendoza on why the Red Sox' playoff run will be different this time: Mendoza, in her third season as an analyst for Sunday Night Baseball, spent a couple of hours talking to Boston.com about beer, baseball, and what it's like working with A-Rod.
"I just love outliers, in any field or walk of life, things that are really different," she said. (Boston.com)
More strikeouts than hits? Welcome to baseball's latest crisis: This could be the first season in major league history to feature more strikeouts than hits, a slowdown that worries many league officials. Thirty years ago, batters compiled nearly 13,000 more hits than strikeouts. This season, through Saturday, it was nearly even, with hits only slightly ahead: 31,369 hits and  31,210 strikeouts. (Boston.com)
Simone Biles dresses 'for the survivors' while winning 5th US title: Biles won her fifth U.S. women's gymnastics title Sunday at TD Garden. She designed the teal leotard she wore during the competition, choosing the shade of teal that represents survivors of sexual abuse.
"[The color] is for the survivors," Biles said. "I stand with all of them and I think it's kind of special to unite [people]." (Boston.com)
Daily highlight:
https://twitter.com/USAGym/status/1031359920665505792