Patriots
Patriots offensive line on Isaiah Wynn's injury: 'Someone has to step up'
"I hope he attacks the recovery process and gets back to being healthy as soon as he can."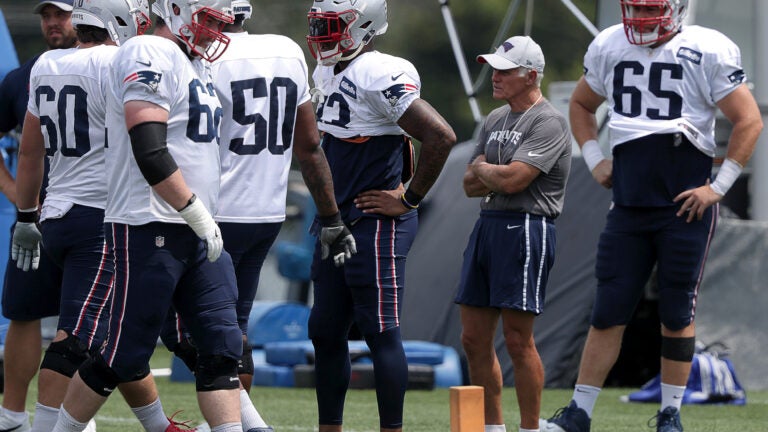 The 2018 Patriots couldn't escape their preseason without a high-level season-ending injury. It happened in preseason game number two.
The circumstances were especially unfortunate, as first-round draft pick Isaiah Wynn tore his Achilles, ruling him out for the season. The result is the Patriots lose a talented and versatile lineman.
For now, the Patriots are expected to have sufficient cover even without Wynn. But the loss of the rookie in a preseason game, before he even had a chance to make an NFL debut in the regular season, was clearly a disappointment.
"It sucks for him and sucks for us to lose that guy," said tackle La'Adrian Waddle. "I hope he attacks the recovery process and gets back to being healthy as soon as he can. We're going to miss him but at the end of the day we're going to keep chugging along. Someone has to step up."
As to which player will step up, that remains to be seen. Two preseason games and a string of practice sessions remain for offensive line backups to make an impression. At the moment, it appears Trent Brown (acquired in the offseason from the 49ers) is slated for left tackle, while Marcus Cannon will start at right tackle.
Waddle, who played extensively in 2017 when Cannon was hurt, will likely be the the swing tackle in case further depth is needed.
Beyond that, there are question marks at tackle. As many as seven offensive lineman are competing for what will likely be three roster spots.
One player in the mix is Ulrick John, a 26-year-old tackle who is with his fifth NFL team.
"It's real unfortunate that that happened to him," John said of Wynn, "but we're still going to do our best to go out there and prepare every week and do our best on game day."
The danger for lineman, as with other players, is the ongoing threat of injury before the games actually count. Preseason games can help players acclimate to the speed of play, but – as Wynn discovered – can exact a heavy toll.
For Waddle, he's only worried about what he can control.
"You don't think about that," said the 27-year-old when asked about the preseason injury risk. "Obviously you want to come out healthy but it's about going out there and trying to play the game the right way and hoping that everything else just takes care of itself."
For players like John, who is in the midst of a very competitive battle to make the 53-man roster, preseason games are a chance to prove his worth. And because of that, his approach is simple.
"I'm just going in and trying to remember my fundamentals on every down," said John. "That's what gives me the best chance I have to make this team at the end of preseason."