Patriots
Patriots' Vincent Valentine has experienced a lot in two years
"A lot of successes, a lot of failures, but I feel like it was ultimately a lesson and I grew through it all."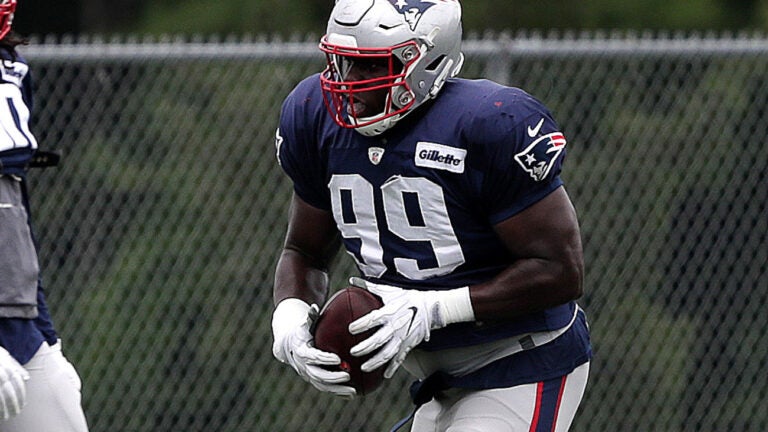 FOXBOROUGH — Few youngsters are better equipped to deal with the ups and downs of the NFL calendar than Patriots defensive tackle Vincent Valentine.
In two years as a pro, Valentine has experienced the gamut of football emotions, a designation generally reserved for a veteran. He ascended to the upper reaches of the sport as a rookie in 2016, helping New England to a Super Bowl victory over Atlanta. Less than a year later, a bum knee placed Valentine on injured reserve, where he spent the 2017 season.
All the perspective Valentine has gleaned in his brief stint in Foxborough brought about a change in his overall temperament.
"From my rookie year to my second year was night and day,'' he said. "A lot of successes, a lot of failures, but I feel like it was ultimately a lesson and I grew through it all. I was able to get stronger mentally, physically, and spiritually. It was definitely a learning experience in my life, a growing experience, growing me from a young man to actually carrying myself as a man. It's kind of different.''
Valentine broke onto the professional scene as an imposing run-stopper out of Nebraska. In his first regular-season game, Valentine sacked Arizona's Carson Palmer. Valentine tallied 19 tackles in 13 games — two of which he started — and added two tackles as a reserve during the postseason.
At 6 feet 3 inches and 315 pounds, Valentine checks off the primary box for a defensive tackle by occupying vast amounts of space in the trenches. Part of the growth he hoped to display in his second season involved shedding the tag of "run-stopping specialist,'' in favor of a more well-rounded moniker.
Exhibiting an ability to consistently apply pressure on quarterbacks is part of Valentine's progression, and it starts by grinding on the practice field during training camp.
"When you go into the league as a rookie, you're still younger, you're still learning,'' he said. "Then that second year you have to make a big jump. I think I made those jumps in my mentality, carrying myself as a pro and just working hard every single day.''
The 24-year-old is one of many on a defensive front bursting with potential. Danny Shelton and Adrian Clayborn join a group that produced lackluster results in 2017 but flashed glimmers of hope.
"We're young, we're happy,'' said Valentine of his linemates. "We have good chemistry together. It's just great being with those guys, learning from those guys. They have a lot of experience, a lot of playing time. It's a very strong bond in our room and you can feel it just by being in the room. It's just great.''
Backup plans
Special teams is an afterthought to some casual NFL fans, but not for coach Bill Belichick.
Cultivating special teams depth is a tiresome process that requires experimentation in the earliest stages of the season.
There are kickoff, kickoff return, punt, punt return, field goal, and field goal block situations, all of which must be accounted for, each requiring 11 competent bodies. Coaches must identify and groom backups at each spot, often drawing upon a pool of players who exhibited similar skills in their primary roles. Then comes the trouble of comprising units for specialty situations, such as the hands team.
It's a convoluted process.
"That's 66 spots that you have to have somebody behind the primary guy in each spot,'' explained Belichick. "So, you start doing the math. I mean, you can't get one guy to back up each spot, so we have to develop that type of depth for ourselves, particularly in the kicking game.''
Camp is prime time for tossing players into unfamiliar environments with the hope they can add depth at an undermanned special teams slot.
"Especially at this point in time, that second, third, even fourth week of preseason, now's a good time, or maybe sometimes the best or only time, to play players in multiple positions,'' said Belichick.
"So, maybe not his primary spot that he's been in but now it's a different spot, and that may give us more depth and see how his versatility is able to help our team in the long run."