Patriots
Morning sports update: Aaron Hernandez allegedly sold his Patriots jersey number for drug money
The story is detailed in a new biography written by Hernandez's former attorney.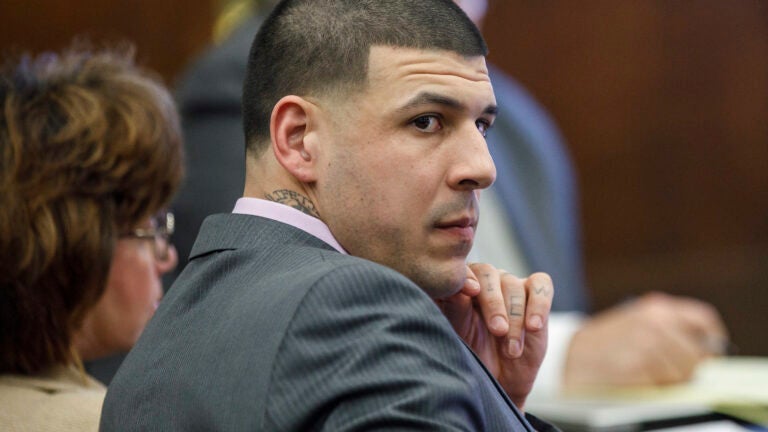 Xander Bogaerts hit two solo homers and Mitch Moreland added a two-run homer as the Red Sox beat the Indians 10-4 on Wednesday night to halt their three-game losing streak. Andrew Benintendi had a three-run double to cap a big fourth inning for the Sox, which lost the previous two nights in a matchup of AL division leaders.
Here are some more sports headlines to get you caught up this morning:
Aaron Hernandez allegedly sold his Patriots jersey number for drug money
Jose Baez reveals a number of details about Aaron Hernandez in his new biography of the former Patriots player, outlining a trade request Hernandez made to Bill Belichick and publishing the letters he sent from prison. The attorney, who represented Hernandez in his 2017 double-murder trial in Boston, also relayed a story involving the tight end's jersey number, Chad Ochocinco, and an alleged drug deal.
Hernandez wore No. 85 as a rookie in New England in 2010-11. After the season, the Patriots acquired Ochocinco in a trade with the Cincinnati Bengals. Per Yahoo Sports' Dan Wetzel, Baez writes in "Unnecessary Roughness: Inside the Trial and Final Days of Aaron Hernandez" that Hernandez saw a business opportunity in the veteran wide receiver's arrival.
Hernandez offered to sell his number to Ochocinco, who had legally changed his name from Chad Johnson to the Spanish word for "eighty five," for $75,000, according to Baez. Ochocinco countered with an offer of $50,000, which Hernandez accepted. He then took the funds and "floated" them to his cousin's husband, T.L. Singleton, who allegedly used the money to finance a wholesale drug deal and gave Hernandez back $120,000, Baez wrote.
Both players told ESPN at the time that no money had been exchanged to facilitate the number change. Hernandez said he was simply welcoming a new teammate, noting that he "thought [Ochocinco] may look better and play better in 85, because that's his last name. So why not give it to him?"
Ochocinco added that the gesture was "Mr. Hernandez's way of greeting me here. He gave me the number. I didn't have to pay anything."
According to the book, Hernandez initially denied to Baez that the money was used for a drug sale but eventually changed his tune.
"OK, I knew what he was going to do with it, but it was not something we ever spoke of," Hernandez said, per Baez. "He just paid me back."
'I definitely have gotten a lot stronger': Here's what Jayson Tatum's been up to: The Celtics forward has been all over the map after an impressive rookie year, working out with Kobe Bryant, returning home to St. Louis to have his high school jersey retired, and talking trash to Joel Embiid. Tatum says it doesn't matter whether he starts or comes off the bench this season.
"I understand how deep our team is," he said. "I just care about winning and doing what I can while I'm on the floor." (Boston.com)
The Patriots' wide receiver depth chart just lost another player: The Patriots released Kenny Britt, who was struggling with a hamstring injury he picked up during minicamp in June. The wideout signed with New England in December and played in three games last season. (Boston.com)
What Tom Brady had to say about his new helmet: The Patriots quarterback was one of several NFL players who had to change their helmets by the start of the 2019-20 season after 10 styles were banned by the league for performing poorly in laboratory tests.
"Hopefully, the helmet provides more protection," Brady said. "I've been wearing a very old helmet for a long period of time, but it's worked pretty well, too, so that's why I haven't been — I've been a little hesitant to change." (Boston.com)
Daily highlight:
https://twitter.com/RedSox/status/1032462810679308288