Patriots
'I can't sing': Patriots players remember their first NFL preseasons
"That kind of woke me up, like you're in the NFL now going against pros. It was definitely intense. I won't ever forget it."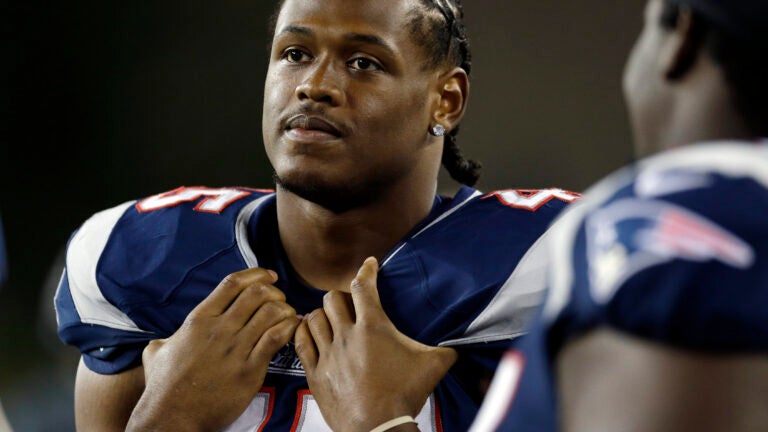 FOXBOROUGH — For Patriots rookies in 2018, making the team is about acclimating as quickly as possible to life in the NFL.
Luckily for them, they're surrounded by a locker room of teammates who have gone through the same experience. While the cornerstone players of the Patriots' dynasty might seem like they simply began their football careers as mature veterans, the truth is that they all began as rookies like everyone else.
Even Tom Brady, in his 19th season, was once an anonymous first year player. Robert Kraft is said to have erroneously called the future Hall of Famer "Kyle" in a short conversation, mistaking the then-unknown backup quarterback for Kyle Brady, a tight end on another team.
Boston.com recently gathered stories from four Patriots players about their rookie preseasons. Here's what they had to say:
Patrick Chung, second-round pick (2009)
On his rookie preseason:
"My rookie year, we had two practices a day, with pads, so let's start there. A different time, but I understand it's hard for a young guy coming in trying to make a name for himself and find a role on a team. Sometimes it gets a little nerve-racking.
"I was luckily around a lot of older veterans. Tedy Bruschi, James Sanders, that kind of taught me how to be a professional as fast as I could. It's hard, because you're coming from college, where there isn't crazy structure like this organization. Just being able to learn fast, you only make it as hard as you want to. So if you come in and know you have to work to do all these things, to even just be on a team, the faster you figure things out the easier it'll be."
The difference between being a freshman at college and an NFL rookie:
"First, a freshman, they have a scholarship. So you're there. Here, you mess around in the NFL, they can just get rid of you. In college, it's different because they're going to school there. It's football, but it's a business. You have to be a professional. You have to be a grown-up and conduct yourself in the right way, or you're just not going to be here."
If he had to sing or tell jokes:
"Sing? No, they made us tell jokes and cut our hair and stuff like that. We still make them tell a joke or something like that. If you can sing, great. But you just have to go up there and do something, it's not crazy. But we had a good group of veterans, they didn't go crazy with that stuff."
Brandon Bolden, undrafted (2012)
On his rookie preseason:
"It was just 'wow.' Undrafted rookie to coming into the locker room with [Rob Gronkowski], Tom Brady, Deion Branch, Vince Wilfork. I came in when a lot of guys were on their way out, so came in at a good time. I was hanging with a lot of great veterans. I learned a lot. It was a big eye opener. They were always trying to make that first rookie training camp more comfortable, instead of, 'Oh, you're the new guy, you're the rookie.' They wanted to make everybody comfortable, and make sure you knew what you were doing.
"And that's what we're trying to do now. That's kind of how the culture is here. The older guys kind of looking out for the younger guys, making sure they're stepping in the right direction."
On if he started doing special teams in preseason knowing it might help him make the cut:
"I was just trying to make the team. In college they mentioned that if you weren't the best guy, you weren't going to be doing just one thing. So try and pick up something else, and I've been playing special teams since my junior year in college. I've stuck with it ever since."
If he had to sing or tell jokes:
"I can't sing. I let that be known when they were doing it. I didn't even want to hurt anyone's ears with me going up there. They found other ways to see what else I was good at. But singing was out the window."
Dont'a Hightower, first-round pick (2012)
On his rookie preseason:
"It was a big learning experience, obviously difference from college pregame and also halftime itself was like the biggest adjustment, but it was good. I had a great room of linebackers to help me along the way. There wasn't a lot of rookie hazing or whatever you want to call it."
If he had to sing or tell jokes:
"It was little stuff like that, or getting them water or maybe a joke or something before meetings. But it wasn't anything crazy. It was a great room like I said. I had Jerod Mayo, [Niko] Koutouvides, [Brandon] Spikes, [Dane] Fletcher, and they helped me out a lot with preseason and not being overwhelmed."
His first moment where he really realized he was in the NFL:
"I remember my first open field tackle was against Shady [LeSean McCoy] when he played for Philadelphia. I mean, it's Shady, the dude is elusive as hell, so my first open field tackle was against one of the best running backs in the league. I was pretty geeked after that. That kind of woke me up, like you're in the NFL now going against pros. It was definitely intense. I won't ever forget it."
The difference between being a freshman at college and an NFL rookie:
"It's two different worlds, it is. Going to college, you don't really know anybody. You might see a couple of recruits or whatever, but that's more just kind of getting to know the guys. Coming to the NFL, I was a little starstruck. I was in the locker room with Jerod Mayo, somebody I used to watch play for [Tennessee], and then the greatest quarterback of all time in Tom, and also Gronk. It was a culture shock."
David Andrews, undrafted (2015)
On his rookie preseason, and making an early impact:
"It was definitely tough. I was fighting to make the football team. Being a rookie center, undrafted, it was tough, especially because as a center you have to step in and try to lead a group, make a lot of calls. I put a lot of effort into it, and things worked out in the end."
On being in the first team early on:
"I tried not to think about that. It was just more like, 'Man, I need to make this football team.' It was not really about how awesome it was. It was more stressful than that."
The difference between being a freshman at college and an NFL rookie:
"They can't cut you in college. At the end of the day, you're going to get three square meals and place to lay your head at night in college and a free education. Here, if you don't get the job done, there are guys knocking on the door who will. So as much fun and awesome as this is, it's our profession. It's how we provide for our families, so it's more real-life."