Patriots
5 things to know ahead of the Patriots' third preseason game
New England won its first two games.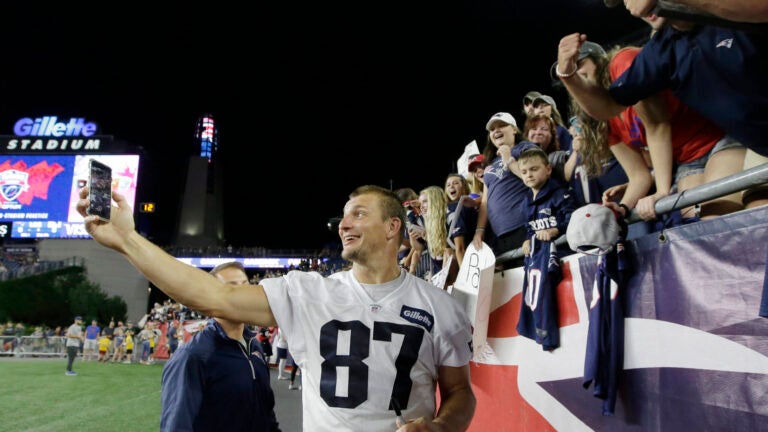 The Patriots will play their third preseason game of 2018 Friday.
Here's what you need to know before they take on the Carolina Panthers:
Alex Guerrero made the trip.
Quarterback Tom Brady's body engineer and business partner Alex Guerrero traveled with the Patriots to North Carolina via the team plane, according to multiple reports Thursday afternoon. A seat on the Air Kraft was one of several privileges coach Bill Belichick revoked from Guerrero in December.
Regaining his flight access is a significant development, as restricting Guerrero's involvement was identified as one of the issues reportedly driving a wedge between Brady and Belichick. Other than confirming that Guerrero does not work for the Patriots, which he did again during training camp this year, Belichick hasn't had much to say about Guerrero's role with the team.
According to the Boston Globe's Jim McBride, Guerrero still won't be on the sidelines Friday. NFL Network's Mike Giardi tweeted Thursday his understanding is that "the Pats organization wants to avoid what could be perceived as a conflict of interest between the TB12 business and the team."
Guerrero and Brady opened the TB12 Sports Therapy Center at Patriots Place in September 2013.
There's an opening at wide receiver — again.
The Patriots released Kenny Britt on Wednesday, further depleting an already-thin wide receiver corps. Britt is recovering from a nagging hamstring injury, so he would not have played Friday even if he were still on the team. The 29-year-old joins Malcolm Mitchell and Jordan Matthews as injured receivers who were cut during training camp. The roster moves give several players an opportunity to contribute:
Other receivers — Cordarrelle Patterson is expected to be a useful kick returner for the Patriots, but the 27-year-old also flashed his abilities as a traditional receiver against the Philadelphia Eagles last week. Patterson recorded four catches for 51 yards, a total that could have been even higher had he stayed in bounds on a second-quarter catch-and-run. He scored a touchdown in the third quarter off a play that featured a nifty juke move on his way to the end zone.
"He's so dangerous when he gets the ball in his hands, and obviously, over the course of his entire career, that's the way it's been," Brady said after the game.
A second option at receiver is Phillip Dorsett. A dangerous deep threat with tremendous speed, Dorsett could step into an expanded role — perhaps in the slot — after logging 194 yards on 12 catches last season. Dorsett has one catch on five targets through New England's first two games this preseason, but the 24-year-old has expressed confidence in his route running and ability to play every down.
Newly signed Eric Decker is a third name that could break through, despite struggles throughout training camp. Decker has had to quickly learn the Patriots' playbook after he was signed earlier in August. The 31-year-old dropped several catchable passes during both practices and games, giving him no lock on the team's 53-man roster. Decker has acknowledged his poor performance and hopes to prove himself before the final cutdown date in September.
Riley McCarron, Braxton Berrios, and Devin Lucien round out the depth chart.
Running backs and tight ends — Given the uncertainty among wide receivers, Brady will likely turn to his running backs and tight ends for familiarity. Against the Eagles, James White once again proved he's a reliable option both on the ground and in the air. White was targeted six times by Brady and made all six catches. He logged 61 receiving yards and a touchdown, in addition to 31 rushing yards on four carries. With the departure of Dion Lewis — and the absence of Julian Edelman in the slot to start the season — White is expected to get more touches this year.
Brady could also target his tight ends, which include Rob Gronkowski, Dwayne Allen, Jacob Hollister, and Will Tye. Gronkowski, the clear front-runner of the bunch, has yet to play in a preseason game this year, while Allen has been a nonfactor with an undisclosed injury. Hollister and Tye have both shown they're viable contenders in gaining Brady's trust as a pass catcher.
Trade or free agent targets — Over the past six years, the Patriots have made 17 trades in August or early September, including five last season. It's entirely possible one of Brady's go-to receivers this season isn't in New England yet.
If he plays, Tom Brady will be rocking his new helmet.
Brady was one of several NFL players who had to change their helmets by the start of the 2019-20 season after 10 styles were banned by the league for performing poorly in laboratory research testing for impact severity. Players may continue to wear the banned styles during the upcoming season, but Brady has already traded his Riddell VSR-4 for the Riddell Precision Fit SpeedFlex.
The transition has been relatively smooth for Brady, who admitted last week he was initially "very resistant" to the switch. Brady said Wednesday there are just a "few little tweaks" he'd like to make, but, otherwise, things are off to a good start.
"For the most part, it's really comfortable," he told reporters before practice at Gillette Stadium. "I asked the guys, I said, 'Do I look any younger or faster in it?' They said, 'Yes,' so I feel like I might keep it."
One of the features Brady would like adjusted is the helmet's face mask.
"You've seen something a certain way for a long period of time, so I like as much vision as possible with the peripheral vision," he said. "It's all important — it all matters — so, yeah, just making sure it's kind of similar to what the experience has always been. Like I said, there are still some tweaks to go, and I'm working it out."
Another Patriot has fallen victim to a season-ending injury during preseason.
The Patriots will need to channel their depth at offensive tackle after rookie offensive lineman Isaiah Wynn tore his left Achilles' tendon against the Eagles last week. He is expected to miss the entire season, which means swing tackle LaAdrian Waddle will get more reps alongside left tackle Trent Brown.
Belichick was complimentary of Waddle's contributions Monday.
"He's done a solid job," he said. "He's an experienced player. He's spent multiple years in our system, playing both sides. He gives us a solid, consistent level of play."
Marcus Cannon — who was the Patriots' starting right tackle before suffering an ankle injury during Week 8 last season — will also see some action once he gets healthy. Cannon missed his 12th straight preseason practice Wednesday due to an undisclosed, muscle-related injury that is reportedly minor. The Athletic's Jeff Howe reports Cannon will return in time for the regular season.
The starter to watch is Rob Gronkowski.
Gronkowski has yet to take a preseason snap this year, telling reporters Sunday he doesn't know if he'll see the field against the Panthers Friday, either.
"It's always a coach's decision on whether or not I'm playing in these games or not," Gronkowski said. "I'm ready at all times. Whatever it is this week, I don't know the situation, but I'm ready to play. If I have to play, I'm ready to do whatever I get asked. I'll prepare all week like I'm going to play, like I do every other week."
Although Gronkowski recently said playing in preseason is "always beneficial," not getting snaps in August isn't unusual for the 29-year-old. Gronkowski logged 46 snaps in two preseason games last year, but he didn't log any in the four years prior. As one of the team's more injury-prone players, it makes sense if the Patriots are being cautious with Gronkowski's usage. After all, the physical toll football has on his body was among the reasons he was considering retirement last year.