Patriots
Tom Brady cuts WEEI interview short over questions about Alex Guerrero
"I said, 'I don't want to get into it.'"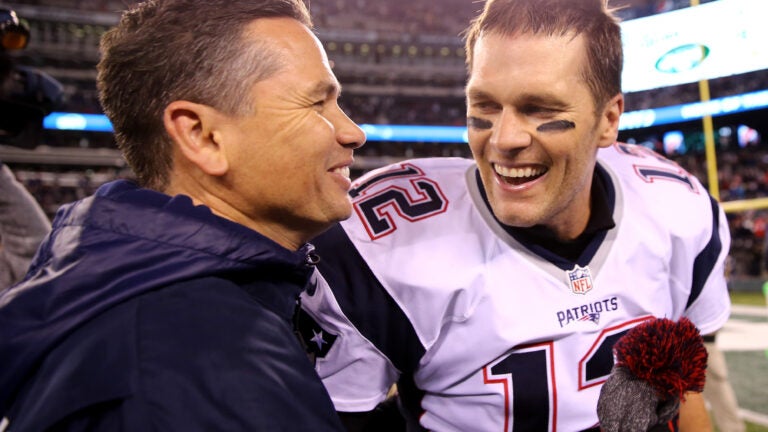 Patriots quarterback Tom Brady abruptly ended his Monday morning interview with WEEI's "Kirk & Callahan" over repeated questions about his trainer and business partner Alex Guerrero.
"Tom Brady just ended his interview with us after [host] Kirk Minihane asked him about Alex Guerrero's new travel arrangements with the Patriots this year," the show tweeted shortly after Brady hung up.
Guerrero traveled with the Patriots to North Carolina via the team plane, according to multiple reports Thursday afternoon. A seat on the Air Kraft was one of several privileges coach Bill Belichick revoked from Guerrero in December.
Regaining his flight access is a significant development, as restricting Guerrero's involvement was identified as one of the issues reportedly driving a wedge between Brady and Belichick. Other than confirming that Guerrero does not work for the Patriots, which he did again during training camp this year, Belichick hasn't had much to say about Guerrero's role with the team.
Here is Monday's exchange between Brady and Minihane:
Minihane: "We saw the reports this weekend that Alex was on the team plane, which he wasn't for the second half of last year, I guess, and not on the sideline. Is that accurate?"
Brady: "Yeah, he was with me this last week, so it was — yeah."
Minihane: "So what changed in him not being on the team plane last year and this year? Was that just communication back and forth? Or was that an understanding of other things? What led to that being able to happen this year?"
Brady: "You know, I don't wanna — I'm not getting into all that."
Minihane: "OK. Yeah, when I ran into him at the Super Bowl last year in Minneapolis, I remember talking to you about the time when I talked to him there, he had said, in his opinion, that all the stuff had been overblown, that he and [coach Bill] Belichick had a pretty good relationship even then. Would you say that was true?"
Brady: [pauses] I said, 'I don't want to get into it.'
Minihane: "OK."
Brady: "I mean, everybody knows it's well-documented, you know, the work he and I do together."
Minihane: "No, I know. I understand that. I'm just trying to figure out because I saw the reports this weekend that he's traveling with the team. Was he on the sideline on Friday?"
Brady: "Yeah. Alright, guys, have a great day. I'll talk to you later." [Dial tone.]
The interview lasted just over six minutes.